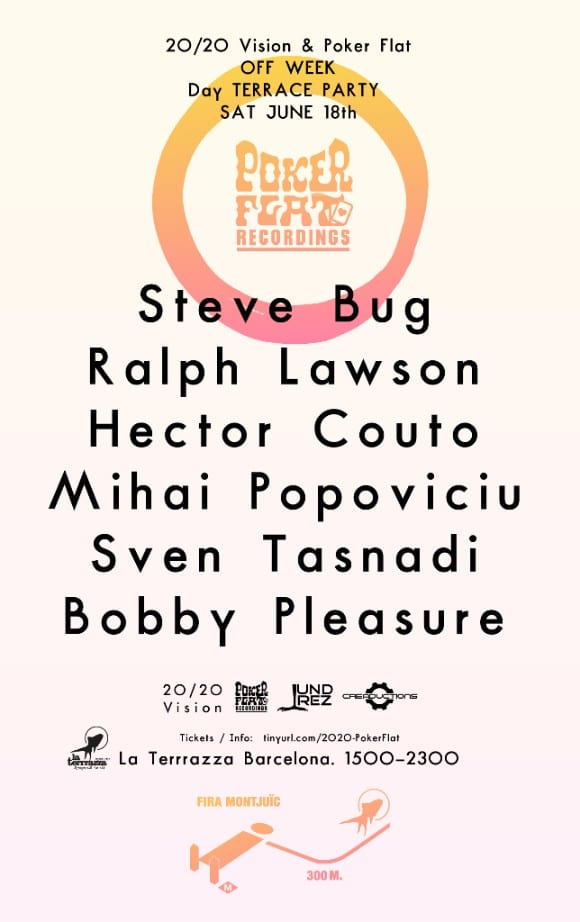 Poker Flat Recordings @ OFF WEEK 2016 Barcelona
20/20 Vision and Poker Flat team up for a daytime terrace party celebrating OFF Week 2016 in Barcelona on June 18th at the classic outdoor venue – La Terrrazza.
This is the third time the much respected labels have joined forces to party in the sun. The most memorable time being an incredible Day / Night at Boo Beach club in 2013. Although from different countries the two labels share the rich history of house music and a true understanding of electronic music in all it's formats. They also know how to throw a great party and La Terrrazza, up in the hills of Montjuic in Poble Espanol is the perfect venue. The show features a super strong line up – Steve Bug, Ralph Lawson, Hector Couto, Mihai Popoviciu, Sven Tasnadi and Bobby Pleasure.

Steve Bug is one of a rare breed of DJ / Producers who is a master of both. Bug has been tireless in the studio since the late 90s with a string of much loved classic recordings including 'Loverboy', 'Traffic Signs' and 'Raw Elements'. But his strength on the decks is also well known, with his series of 'Bugnology' and 'Da Minimal Funk' mix compilations. But there's still no better place to witness the Bug in action than live in-the-mix.
Ralph Lawson is best known for his work behind the 20/20 Vision label and long standing residency at the legendary back to basics club in Leeds. Lawson is first and foremost a DJ, renowned for long sets and an eclectic taste in electronic music. Yet he has also been behind more productions than many realise; recording alongside Chez Damier as Chuggles, 2020Soundsystem, Wulf n' Bear, Otaku and most recently Lost in Time.

Hector Couto is fast becoming a new star of house music with a quick fire run of releases on Get Physical, Material, Soulman and Hot Creations. The Spanish DJ is also playing as a headliner in his own right and is a key player at the 'Do Not Sleep parties' in Ibiza.
Romania has been responsible for a string of great producers emerging from their underground scene recently including; Raresh, [a:rpia:r], Premiesku and joining us on this party – Mihai Popoviciu. Mihai is one of the most consistent producers in tech house with a near faultless run of tracks.
Sven Tasnadi, from Leipzig, is an artist whose work spans across both imprints with several EPs on 20/20 and Poker Flat as well as Matthias Tanzmann's excellent Moonharbour label. We round off the line-up with East London's Bobby Pleasure, a regular at the excellent Gottwood festival, who is well known for getting the party started right.
First and foremost it's all about the party, a get together of like minded people having fun in the sun and checking out some killer grooves. If you want to get a taste of how we do things here is a short film from last time…
20/20 Vision & Poker Flat Off-Week Terrace Party @ Facebook
20/20 Vision & Poker Flat Off-Week Terrace Party @ Resident Advisor