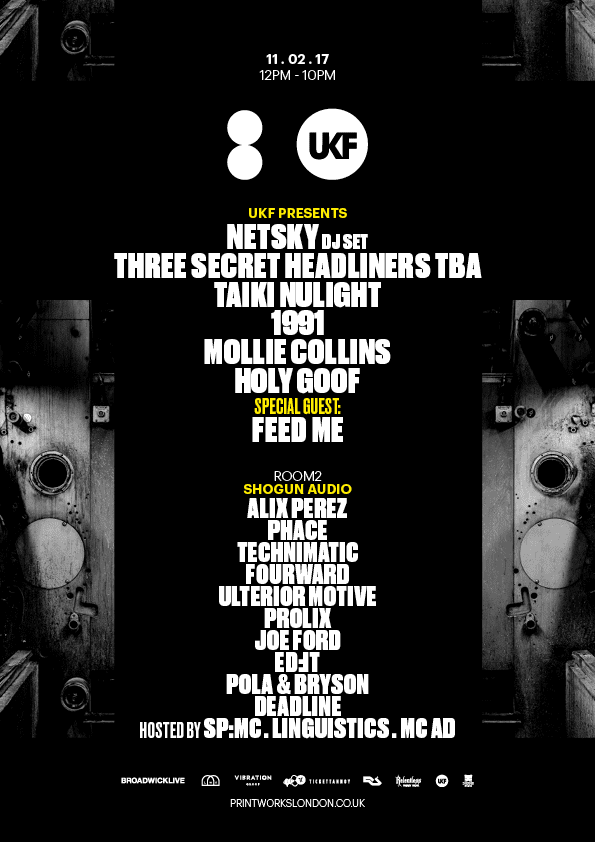 Printworks London Reveal UKF Presents Lineup
Save the date: Printworks London have just revealed the only bass event they have in their first electronic music series, and it's certainly one to write home about…
Following an impeccable run of events across the globe in 2016, UKF are back in London hosting the main room with a line-up of heavyweight proportions. With Shogun Audio bringing their signature sounds to room 2, expect the walls to rattle with nothing but the finest sonics in one of the city's most impressive venues.
Picture a massive industrial warehouse set across an amazing site in London's Docklands, with a full day of the scene's biggest names providing the soundtrack.
The event will take place in The Press Halls space at Printworks London.
Housing the giant printing presses that once churned out the Metro and Evening Standard newspapers, the Press Halls are a fully soundproofed space, so expect proper sound levels.
Promising fully bespoke production, LWE and Broadwick Live will make the most of the Press Hall's rare potential, adding fully-fitted L'Acoustic and SB28 loudspeakers in the main room, designing an automated lighting truss that makes the most of the vast heights and installing over 100 lasers and spotlights to illuminate the dramatic industrial features.
Room 2's sound will be provided by Void.
General tickets on sale midday 21st December 2016 – www.printworkslondon.co.uk