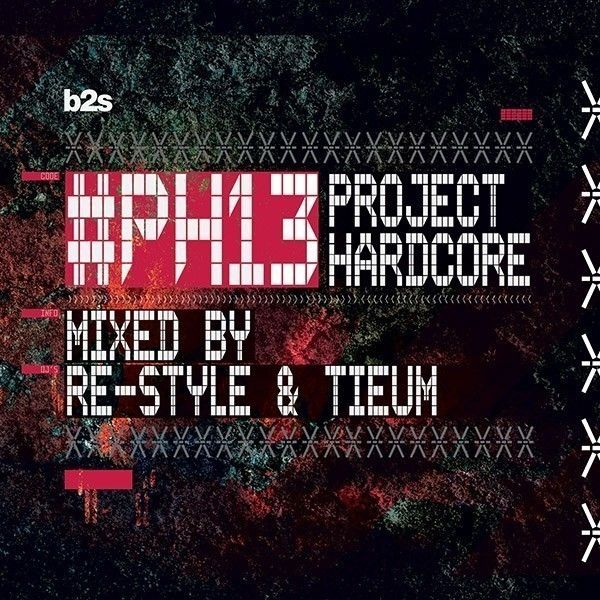 Project Hardcore: #PH13 mixed by Re-style & Tieum
Hardcore lives like never before. The movement is spreading, the music evolving, new hardcore soldiers recruited and artists just keep on spoiling us with powerful tracks. Out of this turbulent and fast moving scene there's one concept in particular that captures the very essence of modern hardcore: Project Hardcore! On the 14th of December 2013, b2s welcomes their dedicated followers in the Klokgebouw at Eindhoven. #PH13 stands for an intimate night, in a dark and industrial setting, with a line-up that will raise your heartbeat with at least 20 BPM. It's modern hardcore in all its glory and might.

That same power can now be listened to with the official #PH13 compilation! None other than Re-Style and Tieum used their knowledge, passion and skills to create two mixes which are a wonderful representation of what makes hardcore so beautiful today.

Re-Style has created the official anthem for #PH13 together with MC Alee, called 'Victims Of The Project'. This smashing hit has a prominent place on the first mix, put together by Re-Style himself. From the very first track, A Perfect World' by The Outside Agency, the sublime choice in records by Re-Style leaves no doubt over what this mix is about: pure Hardcore, nothing else. The remix of Ophidian's 'The Middle Children' by The Viper, 'Breathless' by the beautiful Miss K8, not to mention the collaboration between Re-Style and Angerfist called 'Just Like Me', only the best have been selected for this mix. Every track is amazing on its own, but also contributes to the overall exiting build-up of the mix. From the intensity provided by Promo's 'Life From The Other Side' (Ophidian remix), to the more cheerful Bass-D & Re-Style's 2013 remix of Paul Elstak's classic 'Rainbow In The Sky', it's all on there.

The second part of this compilation is mixed by Tieum, the maestro from France. Currently a member of the infamous Neophyte family, he's known for cranking things up a bit. He focuses more on the speed and the raw bass, whereas other tend to put the emphasis on the melody. He opens up with Deka 187 – 'Merciless' (Embrionyc remix), and that's exactly how he continues, mercilessly. Tieum also put a collab with Angerfist on here, called 'Dirty Man', and his own piece of art 'Night Rider'. You'll also find a lot more exotic names on this mix, like OGM 909 ('Crimin-al', F. Noize remix), Exotane with 'Challenge' and 'Dream of Death' by Unexist. And to complete this jaw crunching mix, Tieum finishes with 'Coming At You Strong' by Neophyte, Rob Gee and Tieum himself.
Put it all together and you've got one hell of a compilation. A more than complete picture of the current state of Hardcore, and a glimpse of the near future. Both Re-Style and Tieum prove themselves the legends we hold them to be with these mixes.
'Project Hardcore' is now digitally available through among others iTunes and Beatport, but also as CD in shops.
Tracklist
01 Mixed by Re-Style
1 The Outside Agency – A Perfect World
2 Frequencerz – Tomorrow and Beyond (Re-Style & Korsakoff Remix)
3 Meccano Twins & Art of Fighters – Electrogod
4 Noize Suppressor – Music Makes Me High
5 Gunz for Hire – Bolivia (Endymion Remix)
6 Ophidian – The Middle Children (The Viper Remix)
7 Re-Style & Catscan – Reclaim
8 Miss K8 – Breathless
9 Re-Style – Get It Crackin
10 Re-Style – Mastermind
11 AniMe – Rock For Real
12 Promo – Life From The Other Side (Ophidian Remix)
13 Re-Style feat. MC Alee – Victims Of The Project (Official Project Hardcore 2013 Anthem)
14 Re-Style & Catscan – Commander
15 Paul Elstak – Rainbow In The Sky (Re-Style & Bass-D 2013 Remix)
16 Re-Style – Renovation (Angerfist Remix)
17 Dune – Rainbow To The Stars (Re-Style Remix)
18 Tha Playah & Angerfist – Just Like Me
19 DaY-mar & Re-Style – Declaire
20 Obscurity – No Loyalty

02 Mixed by Tieum
1 Deka 187 – Merciless (Embrionyc Remix)
2 Mecanno Twins – Tendrills Of Agony (Tieum Remix)
3 Section Grabuge – People Will Die (Tieum remix)
4 Angerfist – Right Through Your Head (Tieum Remix)
5 Tieum – Night Rider
6 Tieum & Angerfist – Dirty Man
7 Bloodcage – Reject
8 Miss Twilight – Grind (The Sickest Squad Remix)
9 Darkcontroller vs Hellter Skellter – Take This
10 Exotane – Challenge
11 Affective dizorder – Shut Up
12 Chrono – Ghetto Shit (Imperium Bass Remix)
13 Unexist – Dream of Death
14 Miss K8 – Unforgettable
15 Neophyte & Tieum – Les Saboteurs
16 Rayden – Push The Button
17 The Punisher – Bang Bastard
18 OGM 909 – Crimin-al (F. Noize Remix)
19 Andy The Core – Say It
20 F. Noize feat. Glenx – Superman 2012
21 Lenny Dee & DJ Narotic – Pump Ure Fist (Tieum Remix)
22 Neophyte Tieum & Rob Gee – Coming at you Strong

www.beyourselfmusic.com www.b2s.com