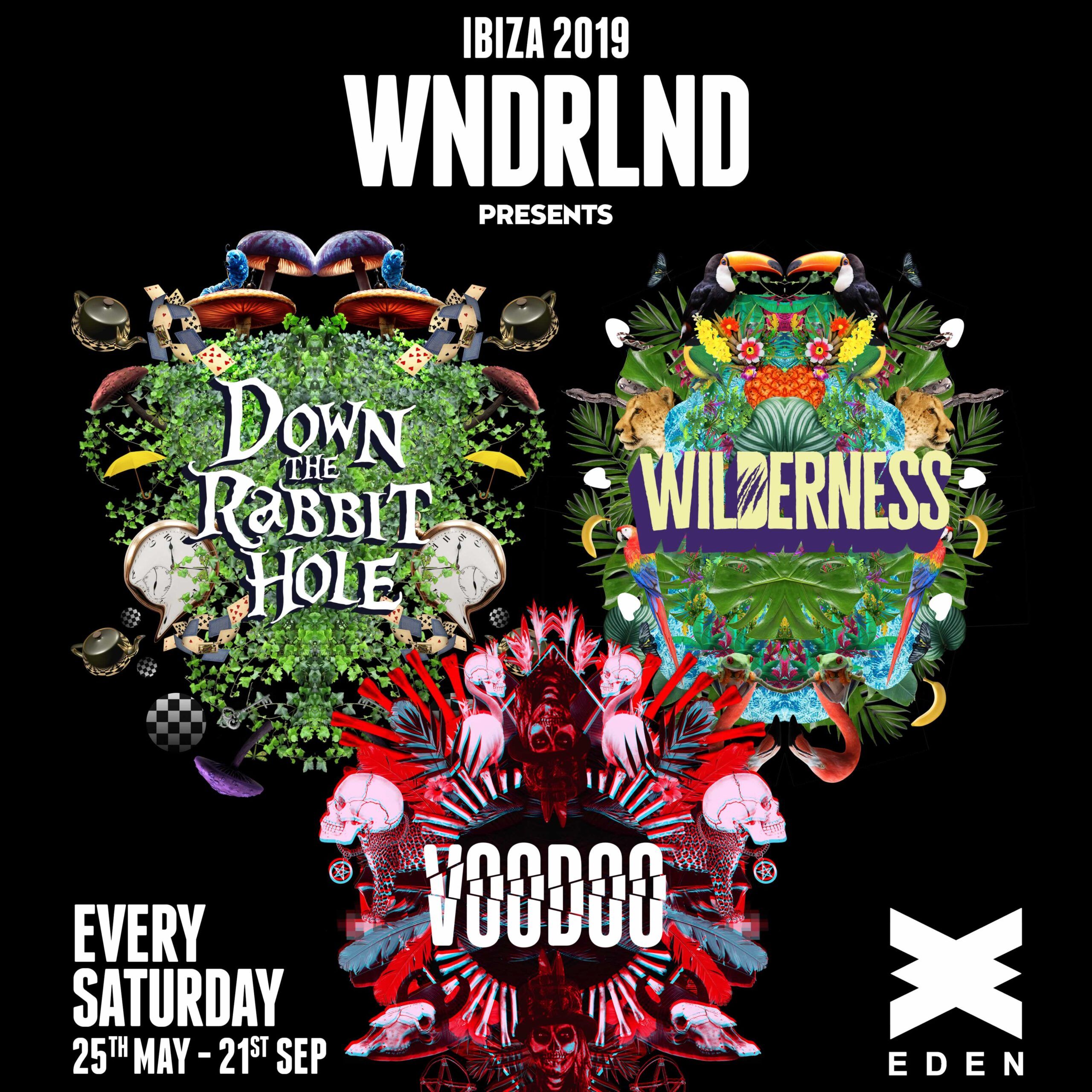 Pukka Up Re-Launches Saturday Nights at Eden Ibiza with 'WNDRLND'
Plus Announces Partnerships with Hedkandi, Judgement, Garlands and Retro.
The newly re-branded 'WNDRLND' will feature, on rotation, themes from the enchanted to the curious, including 'Voodoo', 'Wilderness' and 'Down The Rabbit Hole'. For clubbers looking for an alternative and memorable night out in Ibiza this summer, this one's not to be missed.
WNDRLND is the newly incarnated Saturday night at Eden Ibiza, hosted by the inimitable party brand, Pukka Up. Formerly known as 'Tropical Wonderland', WNDRLND will take place weekly from 25th May – 21st September 2019 with promises of bigger production, crazier entertainment and an assortment of whimsical themes that are set to transport clubbers into new dimensions. Also with a series of co-host brands lined up for the 2019 season, including Hedkandi, Judgement, Garlands and Retro, plus a roster full of Ibiza's hottest talents and chart-topping DJs spanning all things house, WNDRLND is guaranteed to capture the imagination of each partygoer that walks through its doors. Tickets are now on sale at €20 from www.pukkaup.com.
The uplifting house party, Tropical Wonderland, first landed on the white isle in 2017 and immediately created a lively, production-packed space at Eden, complete with tropical themed décor, herds of illuminated animals and mystical tribal dancers. Its popularity was such that it went on to tour over 20 dates around the UK. With an ever-evolving desire to produce quality entertainment, the change to 'WNDRLND' allows Pukka Up to offer more themes, more decor and even more entertainment, providing a different, memorable experience each week.
Three new themes will feature at WNDRLND in San Antonio this year: 'Voodoo' where, through a palate of tribal décor, sugar skull performances, tribal performers and cursed skulls, clubbers will feel like they are in a voodoo ritual ground!
'Wilderness' is theme 2 and picks up where Tropical Wonderland left off, featuring the same great vibrant décor, creeping vines, flamingos, huge Amazonian flowers, tropical dancers, and those psychedelic herds of illuminated animals!
'Down The Rabbit Hole' is the final theme where flavours of the absurd will be prevalent in Alice In Wonderland styled décor and performers, hanging clocks, playing cards, and the club decked out as an enchanted forest.
Also for the 2019 season, WNDRLND will welcome across Eden's threshold some of the biggest brands in dance music. On 6th July Hedkandi lands as it celebrates an impressive 20 year anniversary; Judgement from the mighty Judge Jules arrives on 1st June and 10th August; Liverpool's naughtiest night out, Garlands, on 3rd August; and finally across 3 dates on 8th June, 27th July and 31st August – Retro, the house classics brand that has just sold out Manchester's Albert Hall as part of its epic 30th year celebrations.
Musically, Pukka Up carves out lineups of four-to-the-floor DJs spinning the best in current and uplifting house music. This year will be no different with lineups for all parties to be announced in the coming weeks. Keep up to date with all the latest news and announcements via the Facebook page. www.facebook.com/WNDRLNDEVENTS
EVENT INFO
WNDRLND
Location – Eden Ibiza, Calle Salvador Espriu, s/n, 07820 Sant Antoni de Portmany, Illes Balears, Spain
Every Saturday from 25th May – 21st September 2019
Midnight – 6am
Earlybird Tickets – €20 from www.pukkaup.com
WNDRLND Co-Host Events
– WNDRLND Presents Hedkandi – 6th July
– WNDRLND Presents Judgement – 1st June, 10th August
– WNDRLND Presents Garlands – 3rd August
– WNDRLND Presents Retro 8th June, 27th July, 31st August
WNDRLND Theme dates
25.05.19 – WNDRLND presents Wilderness – opening party
15.06.19 – WNDRLND presents Wilderness
22.06.19 – WNDRLND presents VooDoo
29.06.19 – WNDRLND presents Down The Rabbit Hole
13.07.19 – WNDRLND presents Wilderness
20.07.19 – WNDRLND presents Down The Rabbit Hole
10.08.19 – WNDRLND presents Wilderness
17.08.19 – WNDRLND presents VooDoo
07.09.19 – WNDRLND presents VooDoo
14.09.19 – WNDRLND presents Wilderness
21.09.19 – WNDRLND presents Down The Rabbit Hole – Closing Party
LINKS
www.pukkaup.com
www.facebook.com/WNDRLNDEVENTS
www.facebook.com/pukkaupfanpage
www.twitter.com/pukka_up
www.instagram.com/wndrlnd_events