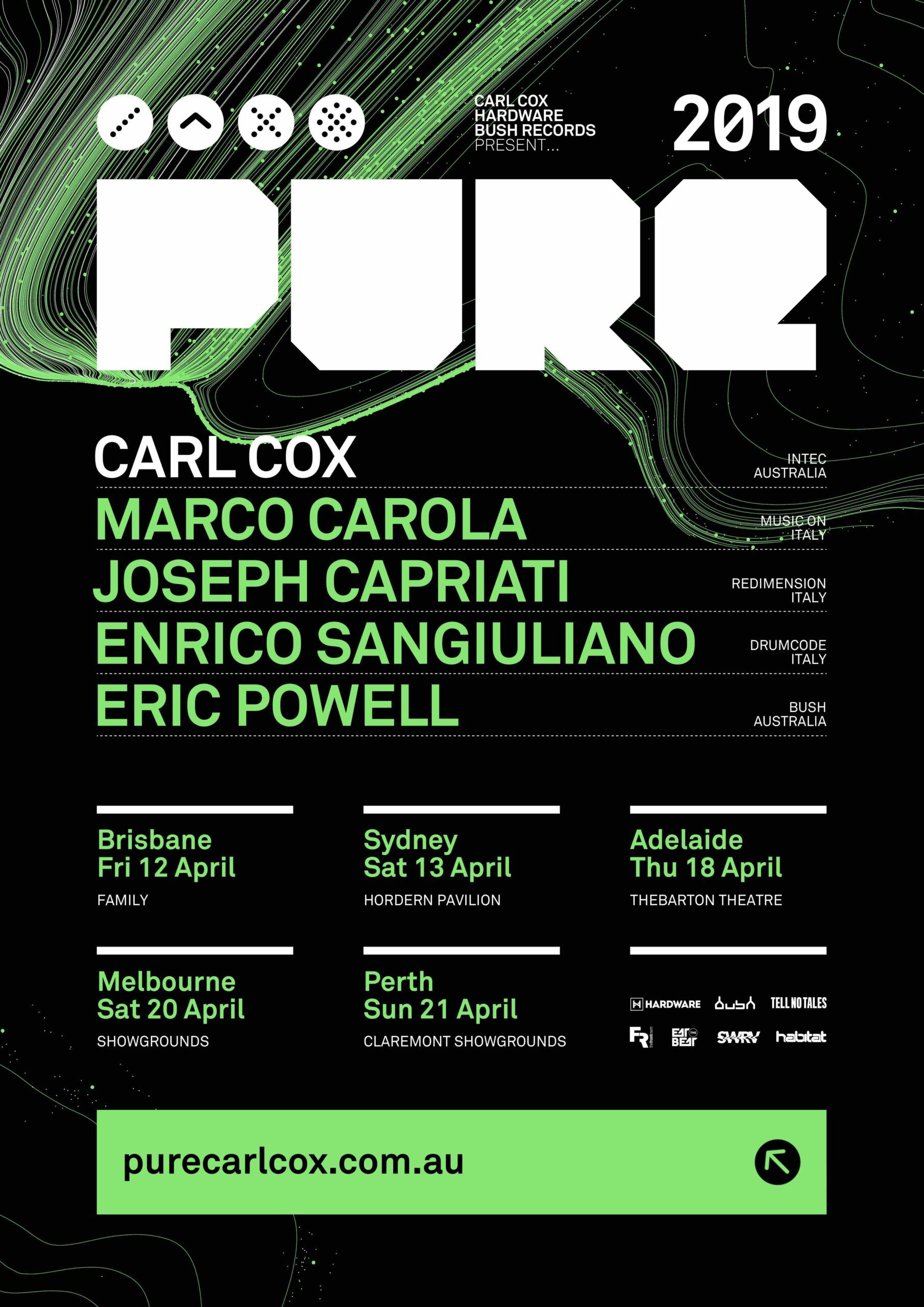 PURE Festival Austraila announced…
One of Australia's most loved techno events: PURE, returns for its fourth year in 2019, to announce its biggest line-up to date! PURE, presented and curated by Carl Cox, Eric Powell of Bush Records and Richie McNeill of Hardware, will see Carl Cox (Intec, Australia), Marco Carola (Music On, Italy), Joseph Capriati (Redimension, Italy), Enrico Sangiuliano (Drumcode, Italy) and Eric Powell (Bush Records, Australia) take PURE to new heights in 2019.
After its first year in Ibiza winning 'Best Event' of the summer in September 2017, this year the Australian leg expands to include Adelaide fans for the first time alongside regulars: Sydney, Melbourne, Perth and Brisbane. PURE 2019 will tour Australia over the Easter weekends in April 2019 and Adelaide will also be getting in on the action of Australia's largest techno event! Adelaide ravers get ready!
Celebrating techno and house music, PURE has quickly established itself as a 'must attend' event for dance music fans, thanks to its reputation as an event where the audience can make a special connection with the DJs.
In April of 2016, Carl Cox launched the first instalment of his PURE event in Australia. Taking place in Melbourne and Sydney, the event showcased players from the global Techno and House movements.
Marco Carola ​​from Italy has enjoyed being a global techno ambassador, instrumental in the development of the electronic scene in the early 90's. Over twenty years later and Marco is still one of the most respected artists amongst the techno faithful, widely regarded as one of the key factors in driving the genre towards worldwide recognition within electronic music. Joseph Capriati ​​from Italy needs no introduction. Now over a decade into his career as a globally touring DJ, there's hardly an accolade he hasn't achieved. He is deservedly one of techno's most in-demand headliners and continues to better himself as an artist. Capriati's brand of slick and emotive techno, delivered with precision, flair and infectious energy, has become a staple highlight of the global club and festival circuit. ​Enrico Sangiuliano ​​is a name you will have noted if you have been anywhere in the electronic music scene over the last few years. International recognition came in 2015 with his remix of DJ Boris's 'Can You Hear Me' on Alleanza, claiming the title as Beatport's 'highest selling techno track' and being known for his driving techno, reminiscent of his peers Joseph Capriati and Marco Carola.
Join the crew for a night of Pure techno, delivered with incredible sound in an old fashioned no nonsense, no fluff rave atmosphere.
Pure 2019 Lineup Line-up:
Carl Cox (Intec, Australia)
Marco Carola (Music On, Italy)
Joseph Capriati (Redimension, Italy)
Enrico Sangiuliano (Drumcode, Italy)
Eric Powell (Bush Records, Australia)
And more to be announced.
TOUR DATES:
Friday 12 April – Family, Brisbane
Tickets: https://bit.ly/2ScRyxv
Saturday 13 April – Hordern Pavilion, Sydney
Tickets: https://bit.ly/2QYhwY2
Thursday 18 April – Thebarton Theatre, Adelaide
Tickets: https://bit.ly/2rIxrvb
Saturday 20 April – Showgrounds, Melbourne
Tickets: https://bit.ly/2A5RhoT
Sunday 21 April – Claremont Showgrounds, Perth
Tickets: https://bit.ly/2CiohLY
For more info on Hardware, go to:
www.purecarlcox.com.au
https://www.facebook.com/hardwarepresents
https://twitter.com/hardwarepres
https://www.instagram.com/hardwarepresents