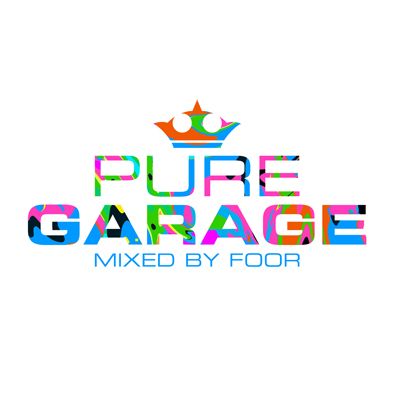 Various Artists - Pure Garage – Mixed By Foor
Garage revival continues as Pure Garage announces upfront album and club tour.
UK garage pioneers Pure present Pure Garage, an album mixed by FooR featuring 60 of the biggest and freshest upfront garage tracks including 20 exclusives!
Pure Garage was the original, and best-selling Garage compilation series of all-time. Since its first album in 2000, mixed by DJ EZ, it has sold over 2 million units establishing itself as the No.1 urban dance music compilation series. Now Pure has returned to its spiritual homeland with a 3xCD album filled with current tracks showcasing the biggest tracks from the new skool of garage.
Pure Garage includes 20 exclusive tracks, remixes and VIP versions made especially for the album. Ten of these have come from FooR themselves led by an exclusive of their huge new summer garage single ŒDown¹ featuring Karen Harding who is one of the biggest and best vocalists in UK right now.
Key artists and tracks also include: Blonde & Craig David – ŒNothing Like¹ (unreleased Matt Jam Lamont Remix), Amy Winehouse (MJ Cole Remix), Rudimental, Low Steppa, Ryan Blyth – ŒShow Me¹ (exclusive FooR Remix), Disclosure, Skream, Ramsey & Fen – ŒLovebug¹ (exclusive FooR Remix) plus Wideboys & Becky Hill. New talent is represented by TQD, Majestic, Royal-T, Wittyboy and of course FooR themselves.
FooR are a four-piece collective of producers, musicians & DJs who are at the forefront of the new UK Garage revival. Their releases have been supported onRadio 1, 1Xtra and Kiss FM. The collective have also remixed for the likes of Wretch 32, Alesha Dixon, Tinchy Stryder, Ghetts and IV Roxx. In 2017 FooR can be seen performing in Big Top at Isle Of Wight festival, the main stage at Mutiny festival before 50 Cent and the main stage of Downtown festival before Rudimental proving that garage is bigger and more relevant than ever.
Pure Garage is the essential, NEW Garage 3CD + 60 track collection for 2017. The album release will be followed by a UK wide Pure Garage album club tour.
Pure Garage is a triple cd & 60 track album which will is available now as a CD album, digital download and via streaming sites.
Purely essential!
Tracklisting
CD01
01 FooR ft. Karen Harding – Down
02 Blonde & Craig David – Nothing Like This (Matt Jam Lamont & Scott Diaz 2-Step Mix)
03 DJ Q ft. PowerDress – Naked Truth (2 Step Edit)
04 Jonas Blue ft. JP Cooper – Perfect Strangers (Bump & Flex Remix)
05 AlunaGeorge ft. Leikeli47 & Dreezy – Mean What I Mean (Todd Edwards Remix)
06 Disclosure – BOSS
07 Jax Jones ft. Mike Dunn and MNEK – House Work
08 Low Steppa ft. Kelli-Leigh – Runnin¹
09 Disciples – Daylight (Radio Edit)
10 Black Saint – Could You Love Me?
11 Taya – Deeper (Chris Lorenzo Remix)
12 Ryan Blyth X After 6 ft. Malisha Bleau – Show Me (FooR Remix)
13 LO'99 & Marshall F – Fallen (Wittyboy Remix)
14 Garreth Maher – Ride On Time (James Hype Remix)
15 Rudimental ft. John Newman – Feel The Love (Gorgon City Remix)
16 Skream – You Know, Right?
17 Shift K3Y ft. BB Diamond – Gone Missing
18 Sam F ft. RAS – Freak Out (Thorn Remix)
19 Conducta ft. Lifford – Still You
20 Ramsey & Fen – Love Bug (FooR 2017 Remix)
CD02
01 FooR – FooR Intro (ft. MC DT, MC Neat, MC Alistair, MC Jukie, Tyrone)
02 Majestic – Raised In The 90s
03 Wideboys x DJ Luck & MC Neat ft. Errol Reid – Everybody Sing
04 Preditah ft. Yasmin – Supernaturally
05 Sammy Porter ft. Grace Fleary – True Colours (Soulecta Remix)
06 Degrees Of Motion – Shine On (FooR Remix)
07 Little Nikki – Fix It (Mike Delinquent Remix)
08 Kristine Blond – Love Shy (James Hype Remix)
09 FooR vs James Hype ft. Harry Fisher – Wait For Me (FooR VIP)
10 FooR X Sami Switch – Trouble
11 Dots Per Inch ft. Bia – Ghost 2017
12 Amy Winehouse – F**k Me Pumps (MJ Cole Remix)
13 Bad Habit ft. Leighanna – Fools Love
14 Grades – Crocodile Tears
15 Wilfred Giroux ft. Zilo – Let U Know
16 Zak Abel – Everybody Needs Love (MJ Cole Remix)
17 FooR ft. Effie – Everything You Need (VIP)
18 Drumsound & Bassline Smith ft. Conor Maynard – Catch Me Here (Thorn Remix)
19 Ridney ft. Lovely Laura – Save Your Soul (Thorn Remix)
20 Bassic ft. Damien Murdoch & 4bz – My Youth
CD03
01 Wittyboy – Take Control
02 FooR – Vibes Machine
03 Moony – Without U
04 K1R3Y – 9T9
05 TQD – A Letter To EZ
06 FooR – Luv U Rite
07 TYLA ft. Kelli-Leigh – Deeper (DJ Q Remix)
08 Riddim Commission ft. D Double E – Dem Tings Dere
09 Wideboys ft. Dennis G – Sambuca (FooR Remix)
10 Champion – Gunshot
11 Bassboy – Badboy
12 Mind Of A Dragon – Crush (Cellardore Remix)
13 Tuff Culture – Artillery
14 Mikey B ft. Teresa – Girlfriend
15 Shaun Dean – They Know (VIP)
16 Jay Faded – Dirt
17 Smokey Bubblin¹ B – License
18 Dusky ft. Wiley – Sort It Out Sharon (Dread D Remix)
19 Mike Delinquent Project ft. Flirta D and Scrufizzer – I Got The Flow
20 Jaguar Skills ft. Milli Major – Reload That
A NEW STATE MUSIC RELEASE – OUT NOW
ON 3 CD / DIGITAL / STREAMING
www.newstatemusic.com
www.facebook.com/newstatemusic
www.twitter.com/newstatemusic
www.facebook.com/puremusicofficial
www.twitter.com/puremusic
www.wearefoor.com
www.facebook.com/wearefoor
www.twitter.com/wearefoor
www.youtube.com/wearefoor
www.soundcloud.com/wearefoor