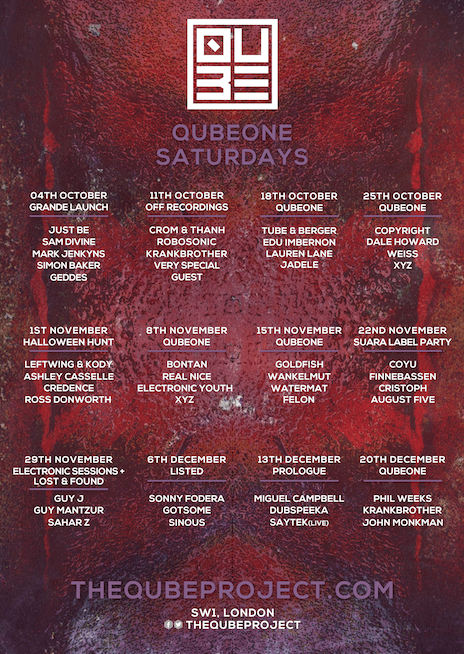 QubeOne continues with Wankelmut, Copyright, Coyu & More
The Qube Project: QubeOne continues with Wankelmut, Copyright, Coyu, Finnebassen, Guy J, Phil Weeks, Krankbrother, Bontan, Leftwing & Kody, Miguel Campbell, and more set to join

Crafting an entirely new dimension in club culture, this October saw brand-new nightspot The Qube Project open its doors for the first time, arriving with their QubeOne party agenda. After an introductory run of incredible sold-out shows, The Qube Project has firmly stamped its mark on the London party landscape, quickly becoming a contender for central London's premier electronic music venue.

Offering a 360 degree experience with an eclectic, adventurous booking policy, The Qube Project is a truly stunning venue boasting state-of-the-art production through three arenas. A trio of rooms offer up three unique musical experiences each Saturday night, journeying through soulful house, melodic grooves, bass-heavy garage and dancefloor-friendly techno in the main Q1 Room. The Qube Project is a sleek nocturnal space focussed on joining the dots between the past, present and future of electronica, welcoming internationally acclaimed, revered selectors and artists from around the globe to create the soundtrack to the QubeOne series.

Kickstarting November's proceedings we have Leftwing & Kody; the production outfit who fall across the genres of garage, house, and tech effortlessly. Bontan, Kry Wolf and London homeboys Real Nice join the bill, each act recognised as big players in the underground with support from industry elite. Globally celebrated duo Goldfish also headline The Qube Project; famed for their energetic live shows that fuse live instrumentals, vocals, samplers and synths. You'll be able to catch Wankelmut, who rocketed into the spotlight with "One Day" making him a household name overnight, plus Suara artists Coyu, Finnebassen and rising star Christoph also adding to the many treats left as part of QubeOne.

Further to this, hot-property record labels including Suara and Lost & Found making welcome additions, as well as an extended family of revered artists who'll take their turn to soundtrack one of The Qube Project's trinity of rooms. Sweet disco sounds and heart-racing garage in the second and third rooms allow for variety in the night, with London promoters Funk & Soul and more on DJ duties, providing a veritable musical feast.

Already having hosted sold-out parties with euphoric producer Cyril Hahn, Klingande plus The Grande Launch event with UK house institutions Just Be, Sam Divine, Geddes, Simon Baker, plus Tube & Berger, Edu Imbernon, Mark Jenkyns and more already jumping on board, The Qube Project has started as it means to go on, providing a captivating, immersive atmosphere where precision sound, innovative musical selections and an exceptional focus on visual art is presented in a discerning, yet exclusive environment.

With an entirely bespoke look throughout, outstanding London creatives, graffiti artists and designers have crafted this unique venue, where you'll find eclectic installations spanning across the trinity of rooms, DJ booth and dance floor. Creating the most immersive and forward-thinking of clubbing environments, The Qube Project combines state-of-the-art production, 3D mapping and jaw-dropping visual displays to. A specially designed Martin Audio sound system brings The Qube Project to life as a hedonistic escape hidden in the middle of London. Artistic flair and an innovative take on decor will be present in every corner of The Qube Project.
The Qube Project – Join the Pack

The Qube Project
191 Victoria Street, London SW1E 5NE

thequbeproject.com
facebook.com/thequbeproject /twitter.com/TheQubeProject
soundcloud.com/qube-project /residentadvisor.net/thequbeproject

October 25 / QubeOne
Copyright / Dale Howard / Weiss / XYZ

November 1 / QubeOne Halloween Hunt
Leftwing & Kody / Ashley Casselle / Credence / Ross Donworth / Th!stopic

November 8 / QubeOne
Bontan / Kry Wolf / Real Nice / Electronic Youth / XYZ

November 15 / QubeOne
Goldfish / Wankelmut / Watermat / Felon

November 22 / QubeOne presents Suara Label Party
Coyu / Finnebassen / Cristoph / August Five

November 29 / QubeOne presents ElectronicSessions + Lost & Found

Guy J / Guy Mantzur / Sahar Z / Sam Hedworth & Darren Lee Fenton / Ollie Holmes / Chris Lindsay

December 6 / QubeOne presents Listed
Special Guest TBA / Marlon Hoffstadt / Gotsome / Sinous / Datsdem / Christopher / Listed Residents

December 13 / QubeOne presents Prologue
Miguel Campbell / Dubspeeka / Saytek (live) / Louth & Hughes

December 20 / QubeOne
Phil Weeks / Krankbrother / John Monkman / Felon / XYZ