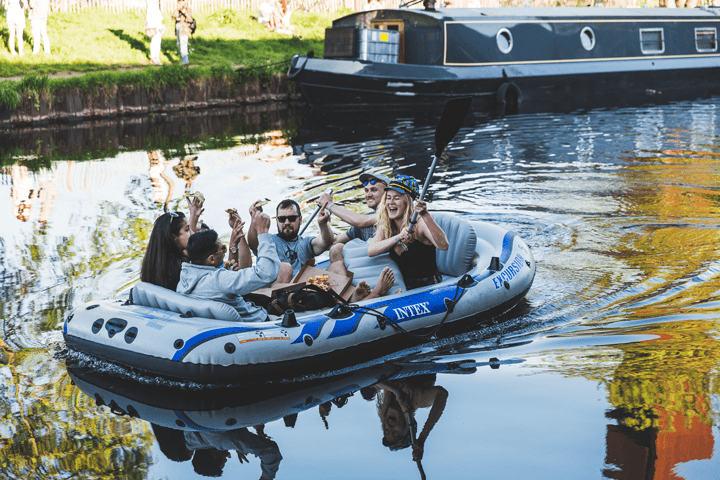 Queens Yard Summer Party expands to two day festival across 20 venues at Hackney Wick in 2019
Queens Yard Summer Party expands to two day festival across 20 venues at Hackney Wick with DJs Felix Dickinson, Bill Brewster, Ralph Lawson and many more.
Queens Yard Summer Party is expanding to a two day festival in 2019 and promises to be a perfect way to explore a vast array of music, arts, culture and gastro food and drink without having to tussle with tents, manage mud or wrestle with the weather.
The multi-venue indoor and outdoor event takes place around Hackney Wick's most interesting spaces on May 4th and 5th 2019 and is a celebration of local culture, ethical businesses and creative communities and the vibrant energy and ideas they generate. In all, more than 25 stages, 20 venues, 30 club brands, three breweries, two boats as well as a host of vendors, eateries, traders, stalls and exhibitors and over 100 DJs and live acts make this Wick-wide coming together an essential way to celebrate everything that makes London the world's most exciting city.
Musically, a wide range of cultured scenes and sounds will be explored across both days, with cutting edge DJs from the worlds of house, techno, disco, drum & bass, UKG, acid house, dubstep and everything in between. These include the likes of breakout sensation DJ Boring, Pickle Factory resident Jane Fitz, Mahogany Music artist Dan Shake, disco boffin Bill Brewster, hi fidelity techno and bass specialists Peverelist, Pangaea and Pinch, the party-starting selector Saoirse, Sub Club stars Harri & Domenic, acid master Felix Dickinson, 2020 Vision boss Ralph Lawson, Love International founder Dave Harvey, bass heavy house star Hannah Holland and many more all playing.
Queens Yard Summer Party is about getting lost, about following your ears, eyes and stomach wherever they want to take you. This bristling cultural festival offers a unique way of exploring and enjoying a wide array of musical sounds and foodie scenes, wellbeing activities and alternative therapies across Hackney Wick. One ticket grants you access to all the different venues, talks and events. You can enjoy your favourite acts as well as discover new loves you never knew existed, all while enjoying some superb food and drink from the most passionate vendors in their fields as well as learning about subcultures you've only ever read about. Because the UK is such a vital and innovative musical wonderland, this festival shines a light on that; on the labels, parties and artists that keep the nation's soundscape forever on the move and ahead of the rest of the world. All this plays out in a range of exciting and unusual spaces such as warehouses, taprooms, a terrace, brewery facility, boat, yards, canal side-cafes, theatre, botanical gardens, lofts, basements and maybe even a fridge.
Some of the key venues are well known for the opportunities they offer to hear world class sounds. They include the creative hub that is Number 90, one of the capital's best riverside and canal bars, Mick's Garage, the hot East London venue with an open-plan space for 500 people and a 110 capacity Mezzanine level, Giant Steps, a travelling sound system brought to you by Brilliant Corners, plus Bloc's Autumn Street Studios, independent bar, kitchen and creative space Grow and Stour Space, a non-profit, socially minded organisation which includes studios, galleries and a cafe. Participating brands include Cosmic Slop, a Leeds party known for its superb crowd and eclectic music policy taking in jazz, world, house and afro, cultured electronic festivals Gottwood and Freerotation, Glasgow's legendary Sub Club, cult London promoters Percolate and Make Me plus forward thinking techno and broken beat label Livity Sound.
Away from the music, this eclectic yet boutique festival offers plenty more activities, including boulder wall climbing experiences at Hackney Wick Boulder Project, lessons in transformational breathing with expert Stuart Sandeman, meditative gong rituals with Himalayan singing bowls and throat singing, yoga with leading yogi Delphine, a tea ceremony with Tom Kenning and a renegade discussion with Dr Alex Pardois about magic mushroom microdosing. The entire festival will come alive with a range of contemporary artists who will set up installations and exhibits to really get you thinking.
To keep you well fuelled across the weekend an interesting selection of food is served up from kitchens and pop up food traders at various locations across 'The Wick'. Esteemed locals offer seasonal menus and flavours from all round the world including dishes like Jackfruit tacos with charred corn salsa at** Barge East**, hand-rolled stone-baked pizzas at CRATE, Grizzly Bear Burgers with Bacon Jam from Burger Bear and Shredded Confit Duck Fries at Number 90 Bar & Kitchen. There are more food traders to be announced.
Of course, you'll want to wash that down with something equally delicious, and a range of leading breweries will be on hand to help. The Beer Merchants Tap offers 20 keg taps and two cask pumps as well as over 500 bottled beers, Howling Hops Brewery and Tank Barshowcase modern, uncompromised, flavoursome, generously hopped beers and you can also look forward to plenty of natural wine and many other delights.
The whole festival will support MAP Charity for disadvantaged children out of mainstream education and mental health charity MIND.
This two day extravaganza is a cultural affair that shines a light on one of the most famously fertile boroughs of London.
Day tickets are priced at £15.50 and weekend tickets are £25.50 and are available at www.residentadvisor.net