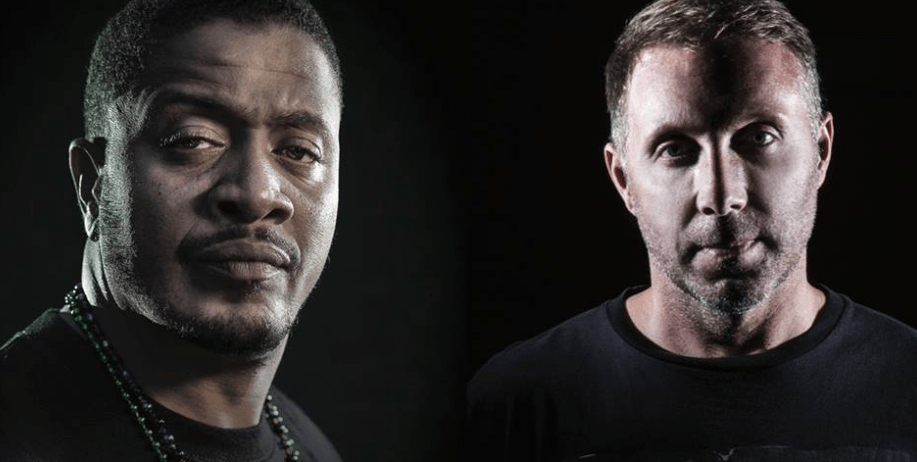 Quick questions with.. Chali 2Na and Krafty Kuts….
Soaring high from the sonic boom their hit single 'Hands High' created, this dynamic duo is landing back to Earth with a bang to take to the road for what is set to be an historic and unforgettable tour. Hip hop legend and Jurassic 5 frontman Chali 2na and award winning multi genre turntablist Krafty Kuts have joined forces in the studio to produce lethal weapons that have been destroying dancefloors across the world ever since.
In 2017 they took to the sky and toured the UK, US, Canada, Australia, New Zealand and more, showcasing their unique partnership that left audiences with no doubts of their rhythm and rhyme shooting superpowers.
As summer beckons, they will ramp up the heat ready for the 2018 launch in London. Their gargantuan tour includes Lemonfest in Devon where they appear alongside The Sugarhill Gang and ex Grandmaster Flash and Furious Five members Melle Mel and Scorpio, plus dates in Cardiff, Newcastle, Sheffield, Leeds, Brighton, Glasgow, Manchester, Guilford, Paris, Toulouse, Hamburg, Amsterdam, Zurich and more.
From their hotly anticipated album, the single 'Hands High' is just a taster of what's to come and they are destined to change the face of hip hop as we know it – keep those Hands High and be ready!
We chatted to them about making beats, their unique partnership and feeling the love, today…
Chali, what led you to go on tour with Krafty Kuts at this point in your life and what do you have planned for festivals on the part of your UK tour?
CHALI – At this point in my career I just wanna truly have fun while creating. That being said, I had a ball creating this album. Not only did we make some cool music but I got to work with a few of my favorite artists. Me and Krafty plan to make people do just that…have some fun!!
What are the last tracks you listened to that made you truly feel the love and why?
CHALI – The new EP by Black Thought and 9th Wonder is the best thing out now in my opinion!! Thought is an AMAZING lyricist, and 9th ain't no spring chicken ?
KRAFTY – Just listened to the new Mouse outfit LP Jagged Tooth Crook a UK Hip Hop band from Manchester and really digging it. Oozing a jazzy funky vibe with slick production, a great representation of where Hip Hop I feel should be going. Taking influences from the old and new which is a direction I feel myself going down.
You seem to prefer working with lots of old skool samples and your playlists give us a brilliant wave of nostalgia. Has anything changed in the way you used to work Funk, House, Reggae or Soul into your music – how do you do it now?
KRAFTY – I had a record shop back in the day where I sold all genres of music ranging from new and second hand. I became very knowledgable on various styles of music from Rock, Hip Hop, Jazz, Funk, Disco, Rave, House, Breakbeat, Jungle and Drum n Bass, so I feel like my electronic production takes in flavours from all of these, more so on the Electro and Funk. The Hip Hop beats we make leans towards my Funk background. I spent years digging and looking for that perfect beat. Every day I am always looking for new stuff to sample though and love finding crazy sounds from foreign composers. It is still so much fun discovering new samples and it's something I will always do in my music. ….. So nothing has changed!
What are your favourite House tracks/House DJs/preferred remix artists and why?
KRAFTY – I have never been a big House music head, I know a bit about the scene obviously but I kinda used to love all the old disco and French House DJs from a few years back like Roger Sanchez, Todd Terry, Bob Sinclair, Eric Morillo, Fred Falke, Alan Braxe, Justice, Medhi, Sebastian, DJ Sneak, Dimitri From Paris, that was a vibe I did enjoy. While I was on tour across Australia there was an amazing House DJ called Illya – OMG that guy was incredible. I loved watching him build the crowds into a frenzy.
One hundred years from now, what will they be saying about Hip Hop right now in time? Did people do enough politically through music to change the world we were living in?
CHALI – Not sure if civilization will even exist the way we know it 100 years from now to be honest. I've always thought change starts with self. But there hasn't been a mass amount of music from this time period that inspires positive change in my opinion but hey… I don't have all the answers.
Krafty is often referred to as a genre-hopping turntablist. Is this accurate? How do you feel about recent influx of House producers making Breakbeat and Hip Hop tunes? Does it work?
KRAFTY – I love to see other producers from other genres make Breakbeat and Hip Hop tracks as they come with a different style and flavour and sometimes the sounds are astonishing and can lead on to something special. It make things interesting and I love to see people like Mark Ronson, Adam F, Mefjus, Oliver all add a little Funk and different tempos in their music.
Chali, Jurassic 5 and Ozomatli too, inevitably changed the course of your life forever. As a young man what did you aspire to and how did your life match up to your expectations? What would you say to your young self on the cusp of fame?
CHALI – I aspired to be a painter of some sort. A commercial orgraffiti artist? Comic book illustrations… something. I never thought what I did on the side as a hobby would be what made a name for me. But I embraced it and here I am… lol. As far as what I would tell my younger self…. I wouldn't. Only because I don't think I'd change a thing if I could.
You've said before for people to check out for Kendrick Lemar. What does his Pulitzer Prize or any prize mean for Hip Hop?
CHALI – I was truly amazed by him winning the Pulitzer!! I don' t think anyone saw that coming or knew it was even possible to achieve. I know I didn't. But it's another major milestone for Hip Hop!!!
Chali, your art (and your IG) includes genuine works of beauty and you have spoken quite openly about your spiritual side. How and why do you create art and music? Is there a higher purpose to it all?
CHALI – (No Answer)
Chali, are you there? Chali…?