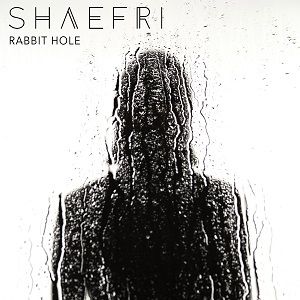 Shaefri - Rabbit Hole
London-based electronic-pop artist Shaefri is set to release the second single 'Rabbit Hole' from her forthcoming EP 'Pixelate'. The single will be supported by an accompanying music video shot by Dylan Thomas (famed portrait photographer and manager of Lord Snowdon).

Born and raised in London with a mixed Irish-Egyptian heritage, Shaefri spent years honing her talents and developing her unique brand of haunting vocals and minimalistic beats amidst the London scene. Having performing at venues such as Notting Hill Arts Club and The Borderline alongside famous names including Babyshambles and Craigie Dodds (producer for Gorillaz, Amy Winehouse and Eliza Doolittle), the electronic-pop singer knows what it takes to pull her listeners in with mesmerising vocal hooks and warm, pulsing pads.

Following on from her previous single 'Pixelate' which explored a dysfunctional relationship, 'Rabbit Hole' deals with the agony of yearning for love. Shaefri paints a desperate character though her pained, heartfelt lyrics imploring the object of her affection to love her. Her lyrics strike a powerful chord with those who have experienced the pain of unrequited love: "I'll follow you into the rabbit hole; inside here, it's dark and cold". Throughout the track one can follow the singer's journey of emotions, from vulnerability in the first verse through to sheer desperation and hurt of the final chorus, as the track crescendos into a warm rush of harmonic pads and the repeating lamentation "what can I do, to make you love me?"

Supporting the track is some superbly crafted visuals, opening with an array of close up, intimate shots focusing on the singer's eyes and lips – emphasising her vulnerability and even making her seem slightly enigmatic as she avoids direct eye contact with the viewer. We then see more of her figure with some mid shots, as she demonstrates a willingness to open up to someone, with mirrors surrounding the singer as she begins to move around. We also get a better view of the beautiful dress courtesy of couturier Kruszynska, which appears to slightly constrict her as she describes her lonely prison of unrequited love. Finally, as the song reaches its climax we see the singer through a misted window, with flashing blue lights rendering Shaefri a silhouette. This part of the video represents the uncertain nature of being in love, contrasting the good with the bad, the clear with the shrouded.

Shaefri is set to take the electronic pop scene by storm as she pulls at the heartstrings with her stunning new single 'Rabbit Hole'. With her stripped back electronic sound complemented by a voice which projects raw emotional energy, and armed with another powerful music video, it's going to be an exciting start to 2017 for the Irish-Egyptian singer.