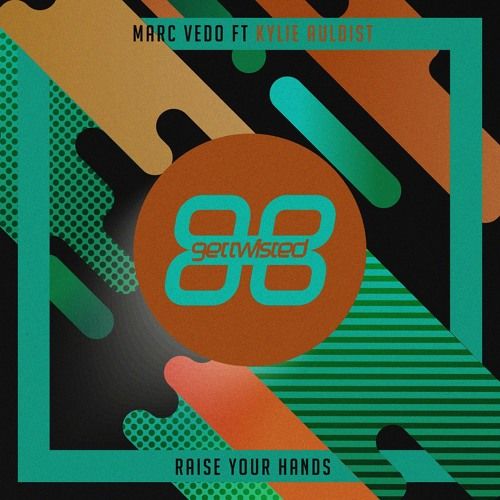 Marc Vedo ft Kylie Auldist - Raise Your Hands
Legendary UK house DJ/Producer and Koolwaters founder Marc Vedo and Australian soul diva Kylie Auldist collaborate again on the brilliantly uplifting 'Raise Your Hands', released on 1 September on Get Twisted Records.
Having impressed so much on the huge 'Ride of Your Life' in early 2017, Marc Vedo and Kylie Auldist look set for another big hit with 'Raise Your Hands', that perfectly showcases Marc Vedo's classic house sound alongside Kylie Auldist's powerful vocal.
As Marc Vedo says about 'Raise Your Hands': "It's an absolute pleasure to be working once again with Kylie on this great track. Her soulful voice really compliments the drums and the energy of the music. Working in collaboration with a great label like Get Twisted, we feel this could do really well. Excited to see where this one goes!"
Marc Vedo set-up his own Koolwaters brand aged just 18, creating one of the most legendary parties in the country and establishing Marc as a force in the industry. Today, Koolwaters has become one of the leading agencies in the world and a highly credible house music label nurturing new talent.
Marc Vedo has enjoyed a stellar couple of years. In 2016, he was one of the Top 100 bestselling house artists in the world on Traxsource, with support from Mark Knight, Pete Tong, Roger Sanchez, Sasha, Joseph Capriati, Steve Lawler, and Joris Voorn amongst others.
In 2016, Marc Vedo held a weekly summer residency at the iconic Bora Bora in Ibiza and celebrated a No.26 Beatport Top 100 single, several Top 5 tracks on Traxsource and his first No.1 in the UK Upfront Club Charts. His single 'I Wanna Know' with Mila Falls was one of the biggest house records to date for him, gaining huge radio support from such names as Blonde, Gorgon City, Danny Howard, MistaJam, and B. Traits.
In early 2017, Marc Vedo first collaborated with the No.1 selling Australian vocalist Kylie Auldist on the huge 'Ride of Your Life'. Kylie Auldist previously collaborated with KUNGS on the single 'This Girl' to produce one of the biggest selling house singles of 2016, which went No.1 in eight countries and Top 40 in fifty-four countries worldwide.
Since its inception 2012, Tough Love's record label, Get Twisted Records, has gone from strength to strength, signing an imprint deal with Columbia Records in 2015 and featuring releases from both established names and rising talent including Roger Sanchez, Todd Terry, Sandy Riviera, Amine Edge & DANCE, Man Without A Clue, Purple Disco Machine, Full Crate, No Artificial Colours, Hannah Wants, LiTek, Leon Lour & Felon, and Get Twisted Records continues to grow in stature, with sell-out London shows across 2016 and 2017 showing the power the label currently commands in the UK.
Social Media links
Marc Vedo:
www.marcvedo.com
www.facebook.com/marcvedofanpage
www.twitter.com/MarcVedo
www.soundcloud.com/marc-vedo
Kylie Auldist:
www.kylieauldist.com
www.facebook.com/kylieauldist
www.twitter.com/kylieauldist
www.instagram.com/kylieauldist
www.soundcloud.com/kylieauldist
Get Twisted Records:
gettwistedrecords.com
soundcloud.com/gettwistedrecords
facebook.com/gettwistedrecords
twitter.com/gettwistedrecs
youtube.com/gettwistedrecords
www.instagram.com/gettwistedrecords