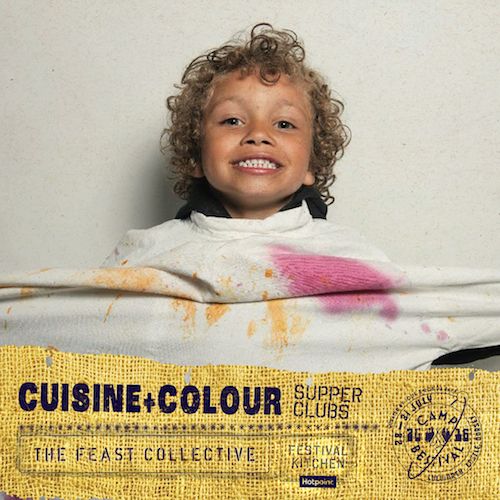 Supper Club at Camp Bestival
Continuing our food adventures in a field, we are delighted to announce a series of breakfast and supper clubs in the Feast Collective and Hotpoint Festival Kitchen. Featuring lip-smacking delights from some of our favourite gastronauts, we guarantee our exclusive dining experiences are going to be very popular indeed, so don't miss out!
Camp Bestival's queen of cuisine Gemma Thorogood says: "We know that food is important to our festie family, but what's better than making it playful as well! That's definitely the theme for this year with the extraordinary Cuisine+Colour making food fun and the table cloth your canvas, serving up a feast for the family directly into your hand. Plus, our Feast Collective favourites Zoe's Ghana Kitchen will be going 'grassfed' serving crispy kale and goat stew to some afrobeat sounds; and the Little Gloster's Ben is running a series of 'How To Make Breakfast' clubs in the Hotpoint Festival Kitchen… you'd better bagsy a seat quick as they might just go like hotcakes…"
On Thursday 28th July at 7pm lucky diners will be ushered through the yet to be opened Kids Garden by security for a very special Zoe's Ghana Kitchen supper club. Held in the Feast Collective Tent on the evening before it officially opens, you'll be able to indulge in long-table feasting Ghanaian style as you sample exotic delights including palm wine alongside okra and a jolly jollof rice. It's Ghana be tasty!
Sure to be super-popular, check out the menu and book your tickets now at the supper club's event page.
We'll have more out of this world feasting as the Hotpoint Festival Kitchen, handily adjacent to the mighty Feast Collective, will play host to the return of Cuisine+Colour, who will hold evening supper clubs on Friday 29th and Saturday 30th July. A bespoke sit-down meal, where colour is delicious and cuisine is to dye for, Cuisine+Colours supper clubs will be playful occasions inspired by fine dining, celebrating and enjoying dinner as a visual spectacle.
Designed by visual artists Motley Collective and Bristol-based artisan chefs, Cuisine+Colour transform the dining tradition into an artistic experience, reworking traditional ideas of fine dining and pairing ingredients differently by serving colourful dishes made from natural ingredients. In honour of spillages, the white tablecloth and connecting napkins will be your canvas for the evening. And following your meal, you'll be able to have a full-bellied 'aftermath' portrait taken as a part of this event!
A sell out experience at last year's Camp Bestival we are expecting places at Cuisine+Colours supper clubs to be snapped up in record time, so head to their events page and grab your tickets while you can!
Early birds can join The Little Gloster's breakfast club and learn the tricks of the trade, while enjoying a specially made breakfast at their interactive breakfast club each morning in the Hotpoint Festival Kitchen, all cooked & demonstrated by chef Ben Cooke and his team of wizard chefs. Their fun filled breakfast sessions, including how to make your own sausages, how to cure your own bacon and how to make Eggs Arnold Bennett, will entertain parents and children alike and give you and your family, the inside breakfast scoop and all the tips you may need to re-create the delicious breakfast dishes at home.
As with all our gastro-clubs, spaces are limited for The Little Gloster's breakfast club, so if enjoying the most important meal of the day in decadent style sounds tantalisingly tempting, head to their booking page for Friday, Saturday and Sunday and get your tickets now.
Keep your eyes peeled for more Hotpoint Festival Kitchen news coming soon!
And don't forget tickets are flying for our Outer Space adventures so make sure you grab yours while you can and keep on checking our website, Facebook and Twitter for all the latest sub space communications.