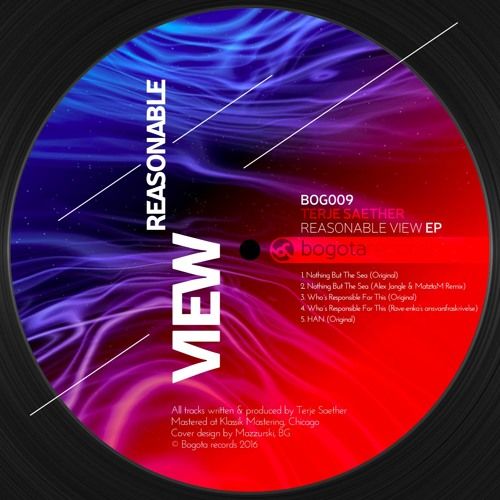 Terje Saether - Reasonable View
Bogota Records returns with a high quality release spotlighting Terje Saether, a producer from the dark and cold north – the land of the polar bear and aquavit – that is known as Norway. With previous releases for the likes of Hope Records, Darkroom Dubs, and Connaisseur Recordings, Terje pieces together deep and atmospheric house music with the cerebral touch of techno. Terje presents three solid cuts on his Reasonable View EP, providing an enjoyable overview of his after hours inclination.
"Nothing But The Sea" opens the release, a beefy four-on-the-floor kick and snatches of syncopated synth and vocal hits pointing the way. A filtered, wistful string loop serves to send the listener into the dream-zone as a consistent bass throbs out the track's heartbeat. "Who's Responsible For This?" adds more techno-flavor to this affair, with bouncing percussion and a hypnotic oscillating pad anchoring floating melodic lines and old school bass zaps. Terje takes the nightclub back in time with his third original, "HAN". A staccato chord pattern, vocal snippets, synth strings, and an ever-growling bass line soundtrack a turbulence-free direct flight from Oslo to Chicago.
On the remix tip, Bogota has enlisted some other worthy Norwegians to the task. Alex Jangle and MatztaM, two prestigious Oslo party-throwers, transform "Nothing But The Sea" into a classy 2-step inspired romp that should inspire a variety of groovy movements on the dance floor. Next up, Rave-enka (Paper Recordings) toughens "Who's Responsible For This?" with a meaty bass line, clanging percussive melodies, and snappy drums, building into a uplifting musical epiphany over the remix's ten minutes. Bodacious!
Label and Artist Links:
www.bogotarecords.com
www.soundcloud.com/terje-saethe