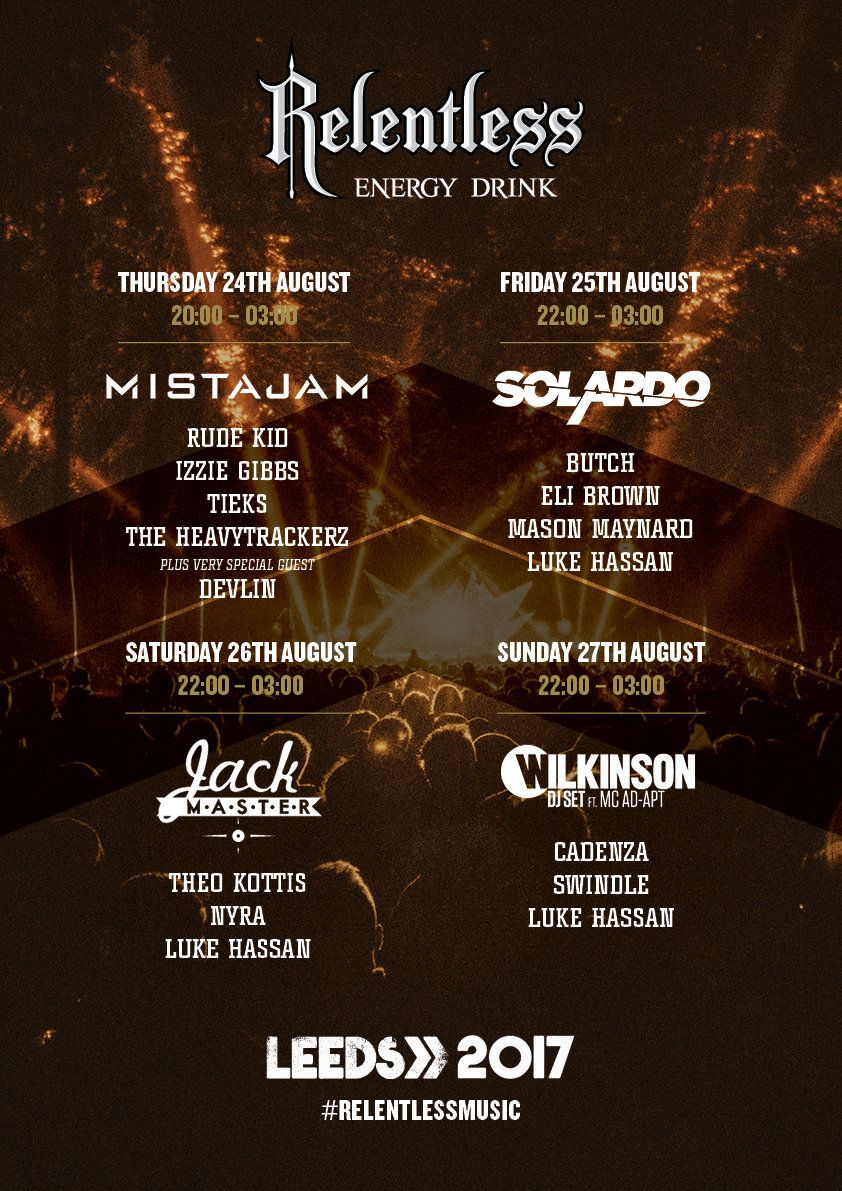 Relentless Energy @ Reading and Leeds Festival announce Wilkinson, Mistajam, Solardo, Jackmaster + more
Relentless Energy to host dance music stage at the Bramham Park festival between 24th and 27th August and their Hideout at Reading's Richfield Avenue location
Leeds Festival Line-up highlights A-Z:
BUTCH // CADENZA // DEVLIN // ELI BROWN // IZZIE GIBBS // JACKMASTER // LUKE HASSAN // MASON MAYNARD // MISTAJAM NYRA // RUDE KID // SOLARDO // SWINDLE // THE HEAVYTRACKERZ // THEO KOTTIS // TIEKS // WILKINSON
Leeds Festival: Thursday 24th – Sunday 27th August
Reading Festival: Friday 25th – Sunday 27th August
www.leedsfestival.com
www.readingfestival.com
https://www.relentlessenergy.com/
Ahead of its 2017 edition kicking off on Thursday 24th August – rock, indie and electronic event Leeds Festival has announced an eclectic line-up for the Relentless stage. Adding a stellar selection of names, the likes of Wilkinson, Jackmaster, and Solardo join a fellowship of leading lights from the underground scene.
With BBC R1 host MistaJam kicking things off on Thursday night, the Relentless stage looks like the place to be for fans of both grime and dance music in attendance at the festival, with Rude Kid, Izzie Gibbs, Tieks and The Heavytrackerz joining the popular tastemaker as part of Thursday's proceedings plus special guest, Devlin.
Friday will witness performances from Butch, Eli Brown, and Mason Maynard, whilst Luke Hassan begins his first of three consecutive nightly sets on the stage. Headlining Friday will be prolific Manchester production duo, Mark Richards and James Elliot, better known as Solardo.
The weekend will see Theo Kottis, Nyra, Cadenza and Swindle join headliners Jackmaster (Saturday) and British drum and bass act, Wilkinson(Sunday) for what promises to be an explosive climax to one of this year's most highly anticipated events.
Relentless will also host their Hideout activation on site at Reading Festival with DJ programming across the weekend.
THE RELENTLESS ENERGY STAGE @ LEEDS FESTIVAL
Thursday 24th – Sunday 27th August
Bramham Park
Leeds
www.leedsfestival.com
THURSDAY 24th AUGUST
MISTAJAM
RUDE KID
IZZIE GIBBS
TIEKS
THE HEAVYTRACKERZ
DEVLIN
FRIDAY 25th AUGUST
SOLARDO
BUTCH
ELI BROWN
MASON MAYNARD
LUKE HASSAN
SATURDAY 26th AUGUST
JACKMASTER
THEO KOTTIS
NYRA
LUKA HASSAN
SUNDAY 27th AUGUST
WILKINSON
CADENZA
SWINDLE
LUKE HASSAN
THE RELENTLESS ENERGY HIDEOUT @ READING FESTIVAL
Friday 25th – Sunday 27th August
Richfield Avenue
Reading
www.readingfestival.com