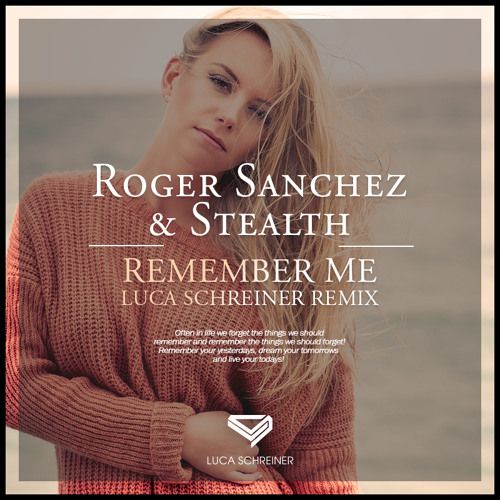 Roger Sanchez feat. Stealth - Remember Me (Luca Schreiner Remix)
"I've focused on S-man for the last couple of years, but found myself also coming up with melodic ideas and chords that didn't fit with the S-man vibe but that felt very natural to me. This led me to produce 'Remember Me' inspired by the vocals of Stealth, and I realized this was where my Roger Sanchez sound had evolved to. Soulful, jacking, with Latin and tribal influences but updated with a new energy and vibe." ROGER SANCHEZ
Following a self-imposed hiatus away from the recording studio, Roger Sanchez reappeared under his own name with 'Remember Me' (feat. Stealth) in summer 2015. It was an almighty return to the dancefloor by one of the legendary dance music producers of the past 20 years, and swiftly became an Essential New Tune on Radio 1 courtesy of Pete Tong, with support from MTV, Mixmag, Dancing Astronaut, and beyond.
Now with an outstanding remix from Luca Schreiner, 2016 has seen 'Remember Me' gain a whole new lease of life, hitting the Top 3 on Hype Machine, and racking up 100,000's of SoundCloud plays. Out now, all the signs are that this is the mix to take 'Remember Me' (feat Stealth) to a whole new level.
The past few years have seen Roger continue to play the world's biggest clubs – from Ministry Of Sound to Avalon Los Angeles to Space Ibiza and beyond, but his only production work has been under his resurrected S-Man guise, with releases such as 'Dangerous Thoughts', 'Runnin EP', and 'Too Close' (on his own Undr The Radr imprint) being hammered by the likes of Disclosure, Tensnake, Skream, Huxley, Dubfire, Groove Armada, Pete Tong, and many more. While next up from S-Man is 'Drop The Needle' a collaboration with Kevin Knapp and Man Without a Clue. He's also collaborated with Tough Love ('In The Name Of Love') and Huxley ('The Calling'), and released on Riva Starr's Snatch label ('Amour').
'Remember Me' is a triumphant return to the main stage sound Sanchez made his own, balancing a house sensibility with the kind of crossover appeal that's seen him pick up global No.1 chart success, and had his production skills sought by artists ranging from Madonna to George Clinton. Vocals on 'Remember Me' come from Stealth (no relation to the label).