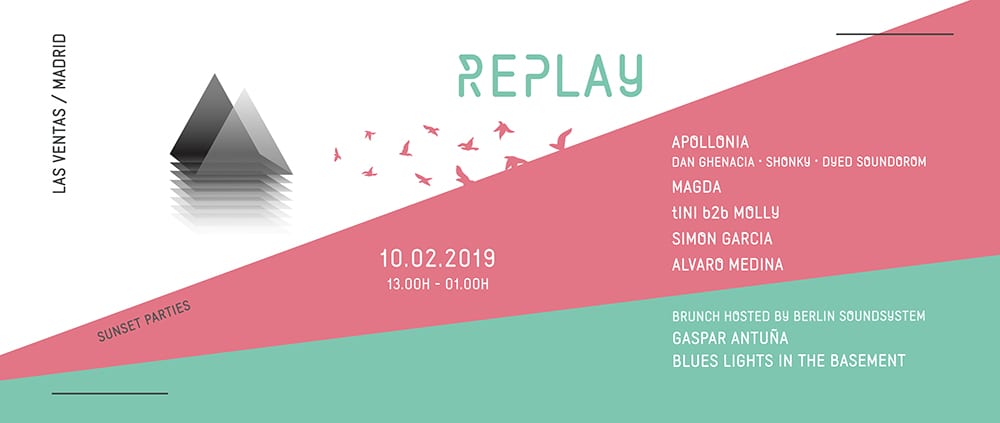 Replay Sunset Parties comes back to the bull ring in style
The reference brand from Madrid of daily electronic events comes back announcing its move to a spectacular facility: the square of Las Ventas.
Its first monthly date of a new period with Apollonia, Magda and back to back tINI and Molly as the main attractive will take place on Sunday 10th of February.
Replay promised to give us back the Sundays filled with true dance. The brand comes back to the bull ring supporting its determined commitment to position itself at the front of the most current electronic movement in the capital. Fully aware it's a risky bet, Replay takes a step forward towards improvement of the public's experience that developed a series of new needs over time, that again its promoters are willing to satisfy. Dressed in this agitator concept and its stoic determination, Replay opens the way to a new season by transferring to an amazing new location: The Plaza de Las Ventas.
In the words of its creator, Jorge Álvarez: "In the name of the Replay, we want to give thanks to Voltereta company for providing the city of Madrid with the possibility of enjoying different cultural proposals in such an emblematic space as Las Ventas. Fully transparent tent/greenhouse has been installed inside the arena, with optimal weather conditions and a first-line audiovisual system, which will allow the celebration of a multitude events of various kinds – a unique opportunity to host and increase the cultural projects in the capital.
Once we have studied the site, we at Replay, believe it is a perfect place to develop our concept, recreate our iconic summer terrace and, along with it, those good moments that marked us one day, those unforgettable celebrations".
First date of this new season will take place on Sunday 10th of February in the traditional schedule from 13:00h to 01:00h and will also have a line-up compound by Apollonia (Dyed Soundorom, Dan Ghenacia and Shonky), Magda, tINI b2b Molly, its residents Simon Garciaand Alvaro Medina and, of course, usual gastronomic Brunch, this time headlined by Berlin SoundSystem: Gaspar Antuña and Blues Lights in the Basement.
Early bird tickets are now on sale at the Bcluber with a special promotion: 12€ with two drinksuntil 14:00h, then one drink until 17:00h, exclusively until the 27th of January. Advance tables: 200€/ 5 persons, 1 bottle, 12 fizzy drinks and 5 bracelets.