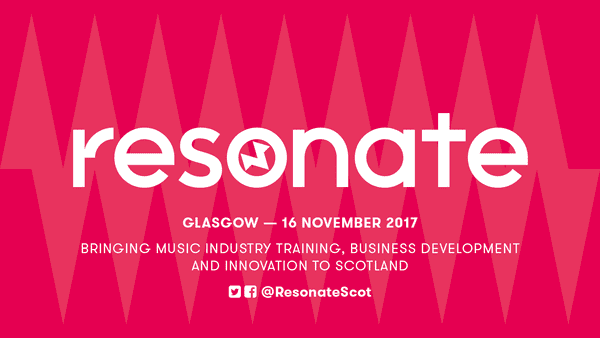 Resonate Announce Exciting Bursary Collaboration
RESONATE Glasgow – Scotland's newest music industry event – is thrilled to reveal an exciting collaboration with Help Musicians UK. The partnership will see HMUK offer 50 subsidised delegate passes to the event in partnership with 23rd Precinct.
HMUK is the official charity partner of the event – which will take place in the brilliant BAaD venue in Glasgow's east end on 16th November 2017.
RESONATE 2017 will focus on industry training, business development, innovation and collaboration and is set to celebrate the vibrant Scottish music industry this November. The event will feature a phenomenal line-up including keynote speech from the BPI's Ged Doherty, DF Concerts CEO Geoff Ellis plus panel discussion around 'women in music' and much more.
The new industry event will feature exciting masterclasses, workshops and live music; all of which aim to inform, educate and provide ample opportunity for Scottish creatives to develop their careers in the ever-changing industry.
Claire Gevaux, HMUK's Director of Scotland said: "We are delighted to be the charity partner for Resonate Glasgow. Supporting the bursary scheme by enabling those who couldn't afford to attend this inaugural event underpins our commitment, as the leading independent music charity, to supporting artists and the industry in Scotland.
"As part of the partnership, we are offering discounted places to emerging artists and music industry professionals, who may not otherwise be able to afford to attend. The general admission fee is £75, however HMUK will contribute two thirds of this cost, for 50 attendees."
This bursary scheme is open to emerging musicians and industry professionals who are currently living in Scotland and have been a resident for 3 years or more.

Tickets for RESONATE 2017 are on sale now. Buy via – https://www.resonatescot.co.uk/buy-tickets/

In order to apply, eligible applicants should complete this short online application form and Equal Opportunities Monitoring Form before 5pm on Friday 27 October 2017.

To apply and to find out more visit – https://www.cognitoforms.com/HelpMusiciansUK/XResonateHMUKBursary