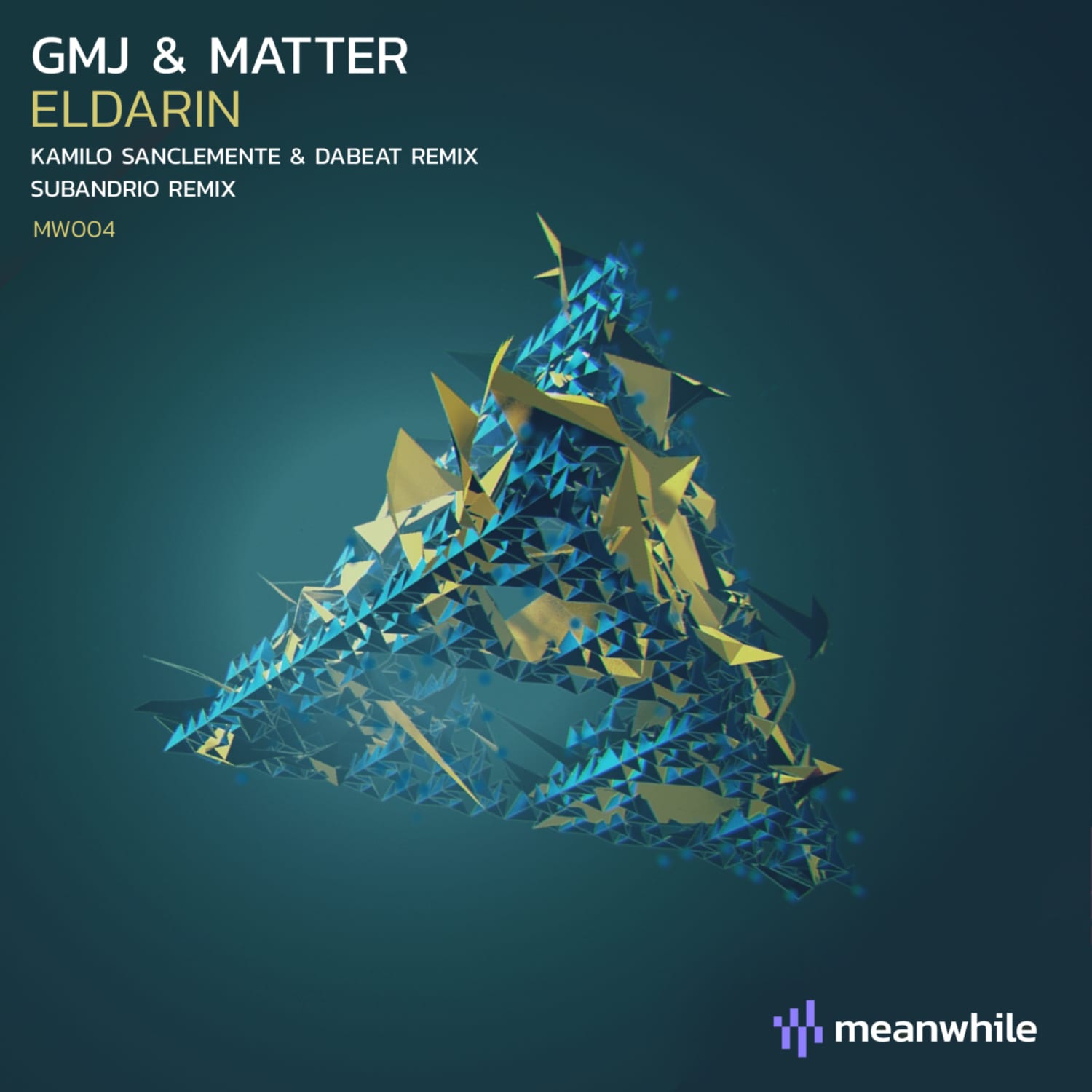 Returning to production duties on their evolving Meanwhile imprint, GMJ & Matter present 'Eldarin'
Returning to production duties for the 4th release on their evolving Meanwhile imprint, GMJ & Matter present 'Eldarin'. Columbian duo Kamilo Sanclemente & Dabeat step up magnificently on remix duty, as does Sri Lankan DJ/Producer Subandrio.
GMJ & Matter continue to make waves in Port Phillip Bay, Australia, with their distinctive and renowned musical style. Having already joined their creative minds on over 50 production credits for the likes of Anjunadeep, Balance Music and Proton Music, GMJ & Matter's combined talent is a formidable force. Now, they reprise the success of their 'Lost on Origin' (MW001) and 'Gauntlet' (MW002) EPs for their new Meanwhile label, coming together in the studio for a third time.
'Eldarin' is a typically dynamic affair with all the hallmarks that have made the pair such revered names in the underground dance scene. A glorious bouncing bassline groove and ticking hi-hat percussion lays the foundation for densely textured pads to weave their way across the near 9-minute offering. Redolent in trademark delays and reverb tails, subtle motifs meander across proceedings before an extended piano sequence cascades across the breakdown. Building to a crescendo at the mid-point, a driving third movement introduces glorious white-noise washes and driving beat, combining with melodic elements to evocative and mesmerizing effect.
Kamilo Sanclemente and Dabeat are an exceptional high-calibre musical pairing. From Cali, southwest of Bogota, they are a mainstay of the Colombian and South American underground dance movement. With successful careers under their respective solo guises and have amassed over a half-century of combined productions, allying their music to some of the industry's finest blue-chip imprints that include Mango Alley, UV and Nick Warren's The Soundgarden.
Their Meanwhile debut finds the pair on scintillating form as a chugging, head-shaking rhythm creates a vibrant backdrop for fizzing white-noise washes and sweeping pads to roll across the Dabeat, Kamilo Remix. Gentle melodic flourishes caress the mid-range with style and panache as they rise in prominence through an open filter that ushers in a sublime new melodic groove in the third movement alongside a high-energy counterpoint motif and striking cadence. The result is a highly original reworking with its roots firmly in GMJ & Matter's original.
As a multiple award-winning DJ, Subandrio Sinhawansa has become a force to be reckoned with via the undulating musical tapestries that represent his work behind the decks. A seasoned traveller with performances across Middle East and his Sri Lankan home, his accompanying high-profile production career has seen Subandrio clock up over a double-century of production credits, including excellent outings on Darin Epsilon's Perspectives Digital, Cid Inc.'s Replug and Hernan Cattaneo's Sudbeat Music.
Making his Meanwhile debut, his Subandrio Remix of 'Eldarin', is a highly intelligent rework that retains the rhythmic and bassline integrity of the original, while introducing a swathe of new melodic material that bristles with arpeggiated sequences shimmering in delays and subtle new phrasing. The result is supremely commanding, launching powerfully into the post-breakdown finale with heavy beat and strong dancefloor character.
Beatport Buy Now: https://www.beatport.com/release/eldarin/3072129