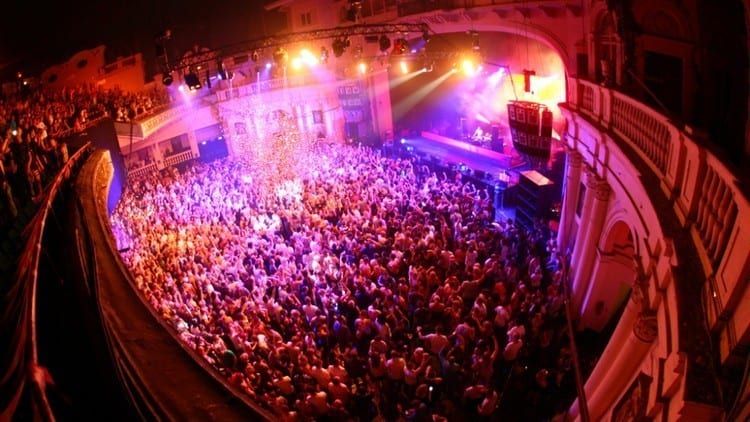 Rising Star Nominees Announced for London Music Awards
The nominations for the five Rising Star categories at this year's London Music Awards have been announced today. Covering classical music, jazz, rock & pop, dance & electronica and composer/singer songwriter, each group shines a light on the most promising musicians the capital has to offer.
Organisations including UK Music, BPI, PPL, PRS, BASCA, MPA, Music Managers Forum, Royal College, Royal Academy, Trinity Laban, Guildhall, BBC Introducing, and record labels, were asked to submit their nominations. The criteria for entry to the Rising Star category state that nominees must be London born or London-living, and that they have performed or had their work performed live. There are no age restrictions for the category, and there is no need to be signed to a label. Each category was then judged by the London Music Awards' judging panel, which includes the Southbank's Jane Beese, Composer Errollyn Wallen MBE and festival owner Rob da Bank, among others (see below for a full list of judges). The awards, which take place at Camden's Roundhouse on Thursday 11th June, have been established to recognise the capital's wealth of talent, and the achievements of London's aspiring young musicians, its rising stars and legendary performers.
Commenting on the Rising Star nominations, Mayor's Music Fund Chief Executive Ginny Greenwood said: "The standard of nominations we received this year made the judges' job of selecting a winner in each category very tough. There is so much up-and-coming talent out there and we are delighted that the London Music Awards provides a platform to showcase some of the very best musicians living and working in our great city".
Previous Rising Star winner Femme commented: "It was a welcome surprise and honour to win the Rising Star award last year. It's a great boost of confidence to know that my work is being recognised within the industry, and I had a wonderful evening at the ceremony in a room full of such inspiring London talent".
Fellow winner, Kimberly Anne said: "The London Music Awards was a real moment for me personally. It was special to see the musical community come together and show support and appreciation to both established and emerging artists".
The Classical Rising Star category includes nominations for soprano Alison Rose, pianist Belle Chen, composer Bofan Ma, mezzo soprano Cathy Young, young pianist Curtis Elton, composer Jon Opstad, pianist Mikhail Shilyaev, composer Richard Causton, soprano Ruby Hughes, violinist Tamsin Waley-Cohen and composer Thomas Hewitt-Jones.
The Jazz category sees a wealth of talent vying for the Rising Star accolade including, Jacob Collier, Leo Richardson, Heidi Pinkerfield, Alex Coppard, Josh Stadlen, Charlie Laffer AKA Olivia's Owls, Phil Meadows, Riley Stone-Lonergan, Sam Watts, Samuel Eagles Quartet, Theo Jackson, Tom Green and Vula Viel.
The Rock/Pop category collects the most exciting acts from across 32 London Boroughs including Barbora, Bear's Den, Danny Richardson, Elle Exxe, Ellie Rose, Espa, Greg Oliver, Jackaman AKA Lynne Jackaman, Jagaara, KStewart, Martin Luke Brown, Shannon Saunders, The Fourfits AKA Charlotte Moss, Harriet Moss, Rebecca Moss & Alice Moss and Yasmin Kadi.
The Dance and Electronica category features some of the capital's most forward thinking musicians, including dancefloor focused Alan Mathers, R&B/pop singer songwriter Cilla Raie, the West African meets London sounds of Ibibio Sound Machine, alt. R&B artist James Fender AKA Brolin and Paul Ooi Eng Joo & Others.
The Composer/Songwriter category features London's most lauded up-and-coming writing talent including Albert Man & his Band, Alev Lenz, Bofan Ma, Charlotte & Calte Jones, Cilla Raie, Desert Mountain Tribe, emaé, Flo Morrissey, Jazz Mino, Josef Salvat, Laura Doggett, Laura Jurd, Poppy Ackroyd, Rob Finlay, Theo Jackson, Tir Eolas and Tom Figgins.
Awards will also be presented for Mayor's Music Fund Outstanding Scholars, Mayor's Music Fund Outstanding Musical Partnership, Music Excellence in Schools, Music Philanthropist, Londoners' Favourite Music Venue, for which you can vote here, Global Export and London Legend.
The Nominees for Rising Star are:
Classical Rising Star
Alison Rose
Belle Chen
Bofan Ma
Cathy Young
Curtis Elton
Jon Opstad
Mikhail Shilyaev
Richard Causton
Ruby Hughes
Tamsin Waley-Cohen
Thomas Hewitt-Jones
Jazz Rising Star
Jacob Collier
Leo Richardson Olivia's Owls (Heidi Pinkerfield, Alex Coppard, Josh Stadlen, Charlie Laffer)
Phil Meadows
Riley Stone-Lonergan
Sam Watts
Samuel Eagles Quartet
Theo Jackson
Tom Green
Vula Viel
Rock/Pop Rising Star
Barbora
Bear's Den
Danny Richardson
Elle Exxe
Ellie Rose
Espa
Greg Oliver
Jackman AKA Lynne Jackaman
Jagaara
KStewart
Martin Luke Brown
Shannon Saunders
The Fourfits – Charlotte Moss, Harriet Moss, Rebecca Moss and Alice Moss
Yasmin Kadi
Dance/electronica Rising Star
Alan Mathers
Cilla Raie
Ibibio Sound Machine
James Fender/Brolin
Paul Ooi Eng Joo & Others
Composer/songwriter Rising Star
Albert Man & his Band
Alev Lenz
Bofan Ma
Charlotte & Calte Jones
Cilla Raie
Desert Mountain Tribe
emaé
Flo Morrissey
Jazz Mino
Josef Salvat
Laura Doggett
Laura Jurd
Poppy Ackroyd
Rob Finlay
Theo Jackson
Tir Eolas
Tom Figgins