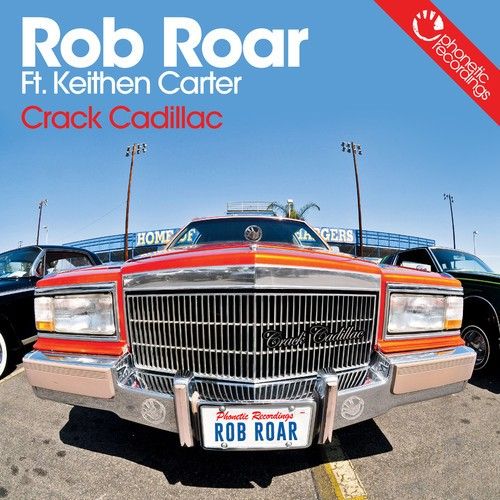 Rob Roar – Crack Cadillac EP
Phonetic are proud to present the Crack Cadillac EP from Phonetic's head honcho Rob Roar. Kicking off with Crack Cadillac, a quality funked out groove featuring the grammy award winning Keithen Carter (Max Linen/Madonna) who delivers a sultry tripped out vocal. Keithen is currently co-writing with Full Intention, Sonny Fodera & Doorly. Next up is Altered State, a driving, rhythmic groove that us causing dancfloor devastation. Setting this EP up nicely for Miami & Ibiza this year.2014 was another great year for the Phonetic Recordings Head Honcho.
November 2014: Rob Roar's new Ibiza album is released to celebrate another great season. Featured on the front page of iTunes and hailed "The BEST Ibiza Album of 2014". A serious accolade when you think of the number of Ibiza Albums to hit the Island every year.December 2014: Rob Roar's production featuring Stella Attar 'Rockerfella' hit the No.1 spot in the NYC Music Pool Chart knocking Duke Dumont off top spot. This is the 3rd time the single has hit No.1 in the USA, previously knocking Calvin Harris off the top.The chart has been running since 1975 and is compiled by US Radio and Tastemaker DJ's.
January 2015: The Rob Roar 'White Isle' Radio Edit of DASCO goes Top 15 in Europe (iTunes Download Chart) with the video receiving 205,300 plays in 2 weeksRob is one of the few DJ's to have played every Ibiza super-club, performing much talked about sets on the terrace, headlining for the legendary We Love Space, Manumission @ Privilege & Amnesia, 5 hour Bora Bora sets, Clockwork Orange @ Es Paradis & Sands with guest mixes on Ibiza Global & Cadena Radio. He has been lucky enough to tour all four corners of the world, his 10 date USA tour saw him play at the Nectar Music Festival/Ibiza Residents/Rehab Pool party @ Hard Rock Hotel & Paul Oakenfold's Las Vegas party, then off to Hollywood, Los Angeles to play Super-club Avalon, Los Lobos & Empire.
Listen & download Rob Roar's LIVE set from We Love Space – Ibiza :
Under his Max Linen guise Rob has written and produced the No.1 record of Ibiza three times (with partner Leiam Sullivan) putting him firmly in the Ibizan Record Books. His 'Neon Lights' production hit the prestigious No.1 DMC Buzz Chart, No.1 Music Week Coolcuts with vocals by Luciana (Bodyrox/Interscope). The Max Linen collaboration with Prok & Fitch recently topped the Beatport Tech House Chart hitting No.2. 'Man With Soul' is out on Toolroom records.
Rob is sponsored by Pioneer DJ, keeping up to date with new products, tips and skills.WATCH THIS SPACE…