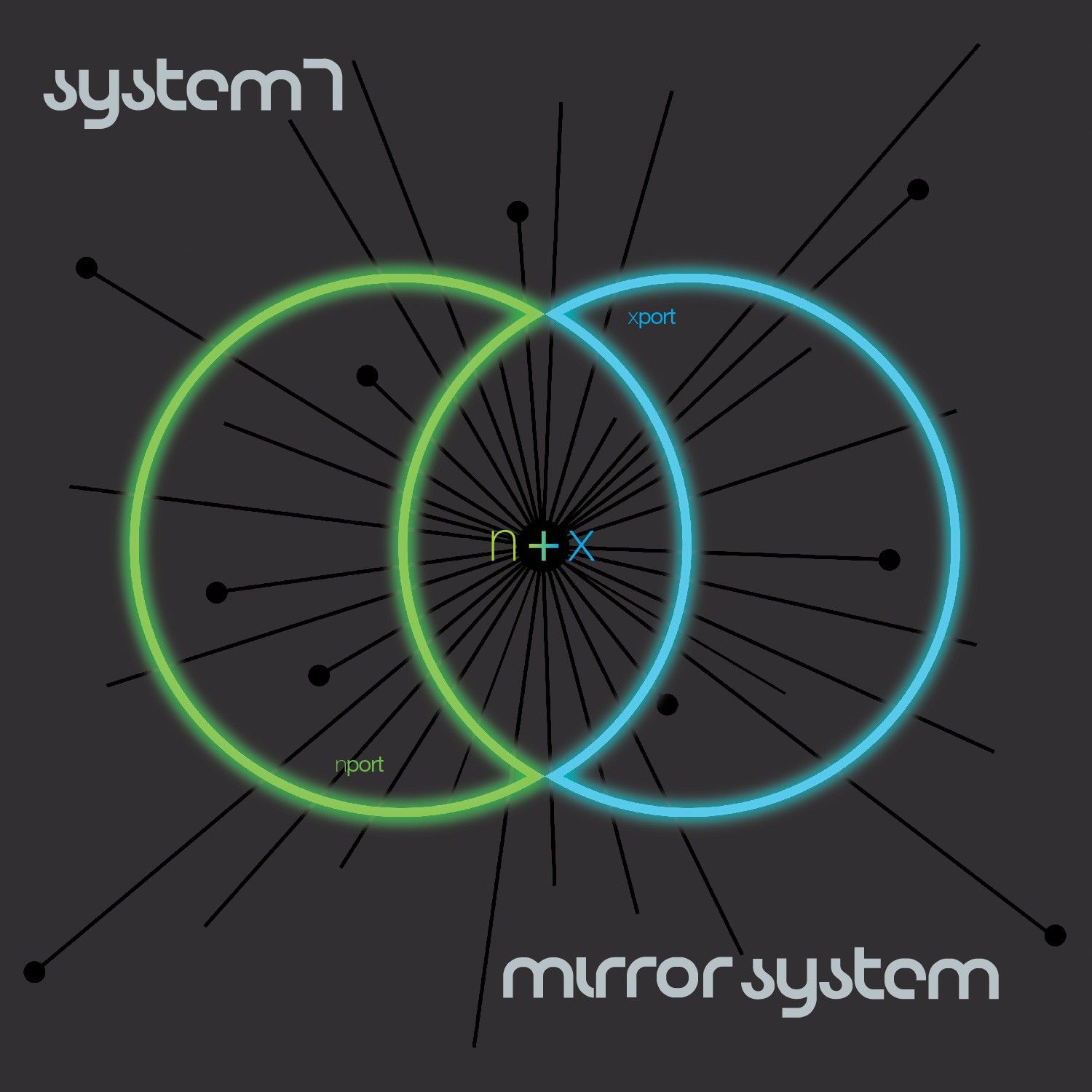 SYSTEM 7 – N+X
Leading leftfield UK electronic duo System 7 return with a new 6 track 'N+X' EP/ Mini LP set, showcasing their System 7 sound alongside the chillout downtempo grooves of their sister Mirror System project. A trailer and pre-taster for their ambitious Autumn release of a simultaneous new System 7 album titled 'X-Port' and a more chilled Mirror System album titled 'N-Port', which celebrates the 21st Anniversary of the release of their seminal System 7 'Fire' and 'Water' dual albums.
System 7's Steve Hillage and Miquette Giraudy 'have come in for their fair share of flak and praise from the critics, but the fact is they have a durability that most dance artists would give their eye teeth for, not to mention a loyal fanbase' (RA) that continues to see them headline festivals and events incuding Glastonbury Japan's Fuji Rock Festival and Sonica. From Steve's early presence in Planet Gong and the revered ambient opus "Rainbow Dome Musick", there is a cutting experimental edge that runs through their work including championing and working early on with Detroit's Techno godfather Derrick May on the 'Mysterious Traveller' and seminal 'Fire' and 'Water's dual albums, which had a marked influence on the electronic artists that followed – check out Sheffield's Warp label for Black Dog, B12, Autechre, and AFX.
Many of dance music's leading visionaries have also collaborated and remixed System 7 including Richie Hawtin, A Guy Called Gerald, Carl Craig, Dubfire , Laurent Garnier and of course their work with The Orb on the classic 40-minute No 1 single 'Blue Room' and 'Little Fluffy Clouds'. And beyond dance, Steve produced the groundbreaking early 80s Simple Minds albums 'Sons & Fascination' and 'Sister Feelings Call ', which featured their classic instrumental Themes For Great Cities, which would later become a defining Balearic anthem championed by the likes of Paul Oakenfold and Danny Rampling.
The N+X' EP/Mini LP launches with 'Chic Psychedelic' X-port Version from System 7 in crisp funky tech style: a percussive and persuasive call to the dancefloor. '5 Beat' keeps the beats charged with its metallic groove and bouncy tech bassline overlaid with segued guitar n' snarly synth lines. In contrast Mirror System's ambient downtempo version of 'Chic Psychedelic' N-port Version offers a warm balearic style jam whose funk can be felt in every ripple. 'Blue Ocean' shimmers with breaking waves, sublime synths and more segued guitar that builds.
Featuring 2 Bonus Tracks including System 7's driving Boom Remix of 'On the Seventh Night', a mystical heavily grooved track laced with chants and Oriental sound stylings, and to close off this individual set, the lush surreal groove of 'Thundernight' from Mirror System.
N+X presents 2 System 7 tracks and 2 Mirror System tracks, that will later appear on the albums in updated form, plus 2 Bonus tracks – one by System 7 and one by Mirror System.
System 7 present a unique combination of tech-house beats and live musicianship, and hugely influential on the development of psychedelic ambient and electronic music. Their sister Mirror System project specialises in the chillout and downtempo aspect of their sound with deep rolling grooves and the subtle blend of rich dreamy electronics and guitar. Since the first Mirror System release in 2005 they have expanded their style to incorporate a soft minimal tech-house element. http://www.facebook.com/System7page
The 'N-Port / X-Port Project' cover artwork features the Vesica Piscis geometrical motif of two interlinked circles, which featured on some of Steve Hillage's psychedelic rock albums from his pre-System 7 days.
'N+X' by System 7 & Mirror System is released on Monday March 16th on A-Wave Records with a Beatport Pre-Release Exclusive from March 2nd http://www.a-wave.com. Catalogue number:- AAWCD017 UPC:- 5060016708265
System 7 & Mirror System Live & DJ Dates
February Saturday 21st – Holmfirth Picturedrome supporting The OrbvMarket Walk, Holmfirth, HD9 7DA
March Friday 13th – Club Circus, Osaka Japan
March Saturday 14th – Ageha Tokyo (Japan) – playing both System 7 and Mirror System Live Shows
May 22nd – 24th – Sunrise Celebration Festival – System 7 Live and Mirror System DJ set
July Sunday 26th – Kozfest Festival, Devon
August Monday 3rd – Sunday 9th – Ozora Festival, Hungary – playing both System 7 and Mirror System Live Sets
August Saturday 15th – Boomtown Festival, Winchester
August Monday 17th – Sonica Festival, Italy