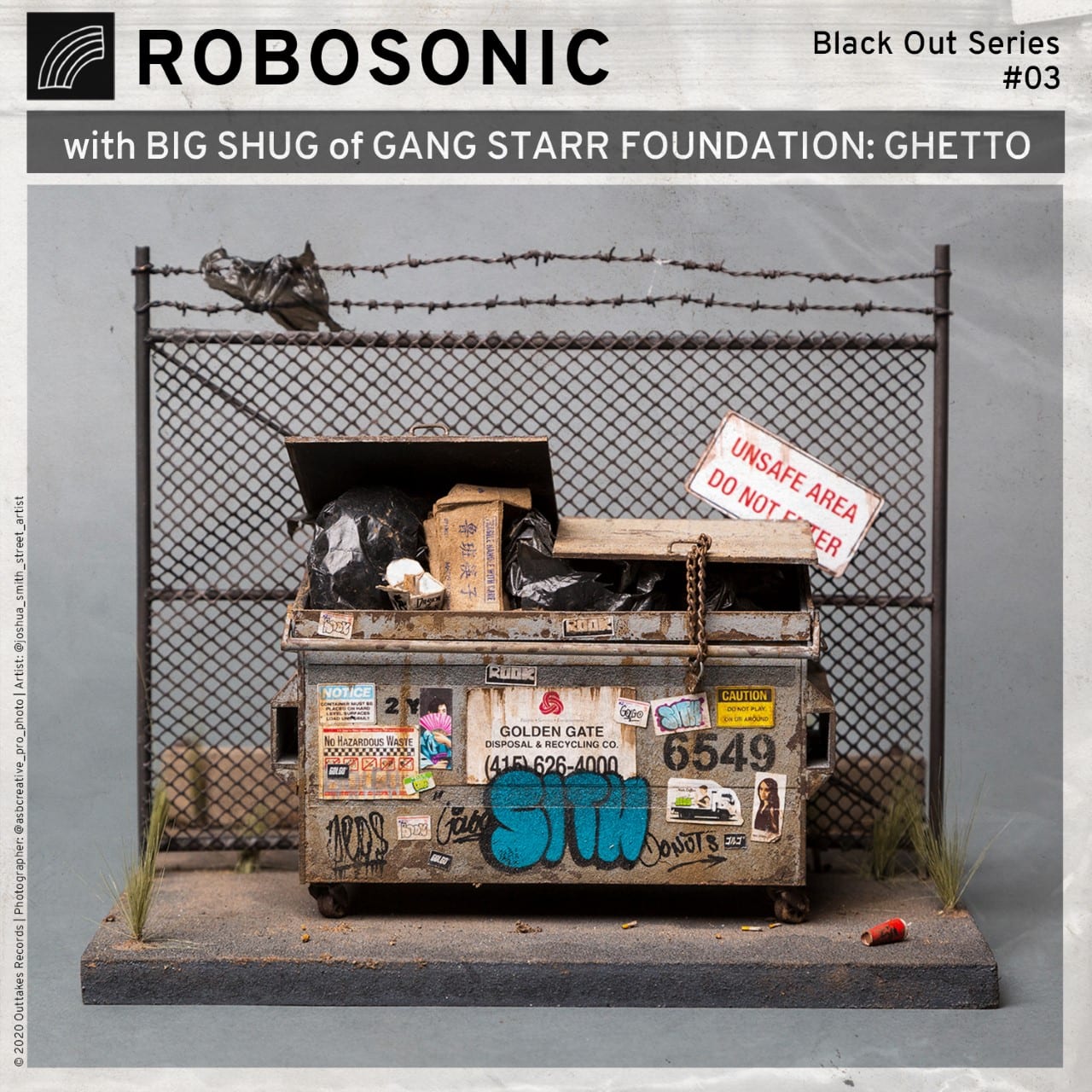 Robosonic teams up with Gang Starr Foundation's Big Shug on 'Ghetto'
Today [27th March 2020], Robosonic and Gang Starr Foundation member Big Shug drop their highly anticipated bouncin' collab, 'Ghetto' – out now on Robosonic's label OUTTAKES. A native Berlin producer, Robosonic joins forces with Boston Rap Mogul, Big Shug, paying homage to hip-hop, house music and the spirit of the Boston and Berlin scenes. 
Speaking on 'Ghetto', Robosonic says:
"I have been listening to rap music from an early age and my music has been heavily influenced by the sound. Creativity and self-expression can be acts of both personal healing and empowerment for your community – something I admire and I think is true of hip hop. On the track, Boston born rap legend Big Shug tells a true story about his first visits to Europe in the early 90's with Gang Starr and shoots a golden-era style rhyme over my electronic wall of sound, a nod to 90's life in Berlin. Look out!"
Nodding to Golden-era hip hop influences from the East Coast and the hedonistic electronic music that filled the streets of Germany's techno capital during the time of the legendary 'Love Parade' street parties, 'Ghetto' entices with Shug's raw verses over an infectious beat that sets a subtle references to Da Hool's 'Meet Her At The Love Parade'. This powerful tech-house, hip-hop hybrid seamlessly merges these two worlds together, visually represented with a series from model kit street artist Joshua Smith.
A highly accomplished producer, Robosonic's first foray into music came from an early obsession with hip-hop, access to his parents record collection and an innate ability to quickly pick up the skills to master musical instruments. Channelling this love into electronic music, self taught production, DJing  and releasing music, has seen Robosonic releasing countless popular releases and becoming a figure-head for the sound coined "Golden Era House". Having worked with house legends including Todd Terry and Kerri Chandler, as well as hip-hop's finest such as EPMD, Masta Ace, Jeru the Damaja and KRS One, and releasing on iconic labels Defected, Armada Subjekt, Get Physical, Simma Black, 2DIY4 to name but a few; Robosonic steps back to his early influences, bringing Boston's Rap Sound into 2020 with Gang Starr's Big Shug on this masterful collab.
 Follow Robosonic: