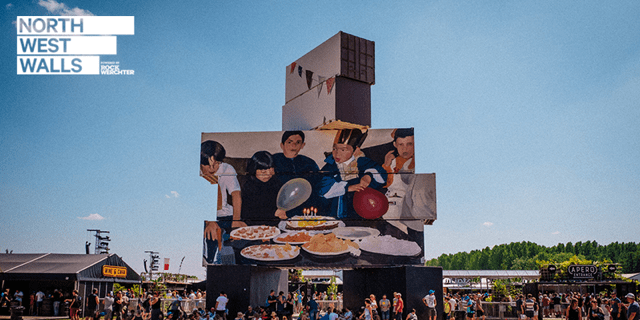 Rock Werchter Reveal The Sixth Edition Of North West Walls
Celebrating over 40 years of defining European culture, Belgium's mecca of music Rock Werchter is once again an unmissable fixture of the summer musical scene, with a lineup full of game-changers and undisputed modern icons, such as P!nk, Muse and Florence + The Machine.
Aside from the untouchable music lineup, Rock Werchter seeks to celebrate the latest in artistic talent. Belgium's greatest summer music festival puts on a show for all involved, mixing art and culture with music. Curated by the famed conceptual artist, Arne Quinze, North West Walls will once again be displaying the work of several multi-national artists throughout the four-day festival, standing as a permanent fixture on the site throughout the year.
Encouraging artists to express their creativity by painting on shipping containers, the installation aims to celebrate the value of street art and to inspire artists from all over the world to be more creative while being environmentally friendly. Renowned street artists Alexandre Orion, Fintan Magee, Defo, Joram Roukes, Pixel Pancho, Gamma Acosta and Phlegm are previous examples of those selected to contribute to the installation. This year's edition of North West Walls will be curated by Sckaro (France), Zenk One (the Netherlands), Milu Correch (Argentina), Julia Volchkova (Russia), Francisco Bosoletti (Argentina), Charlotte De Cock (Belgium) and Miss Me (Canada).
Systematically reinventing and mastering the craft of the European Festival Experience, Rock Werchter has it all for an unforgettable weekend celebrating the best in arts, music and culture, bringing an exciting new chapter to the Werchter fields. The four-day multi-award-winning event takes place from Thursday 27th June to Sunday 30th June 2019 at the Festivalpark in Werchter and covers an eclectic range of genres, from pop and rock's biggest stars, to the best and brightest newcomers.