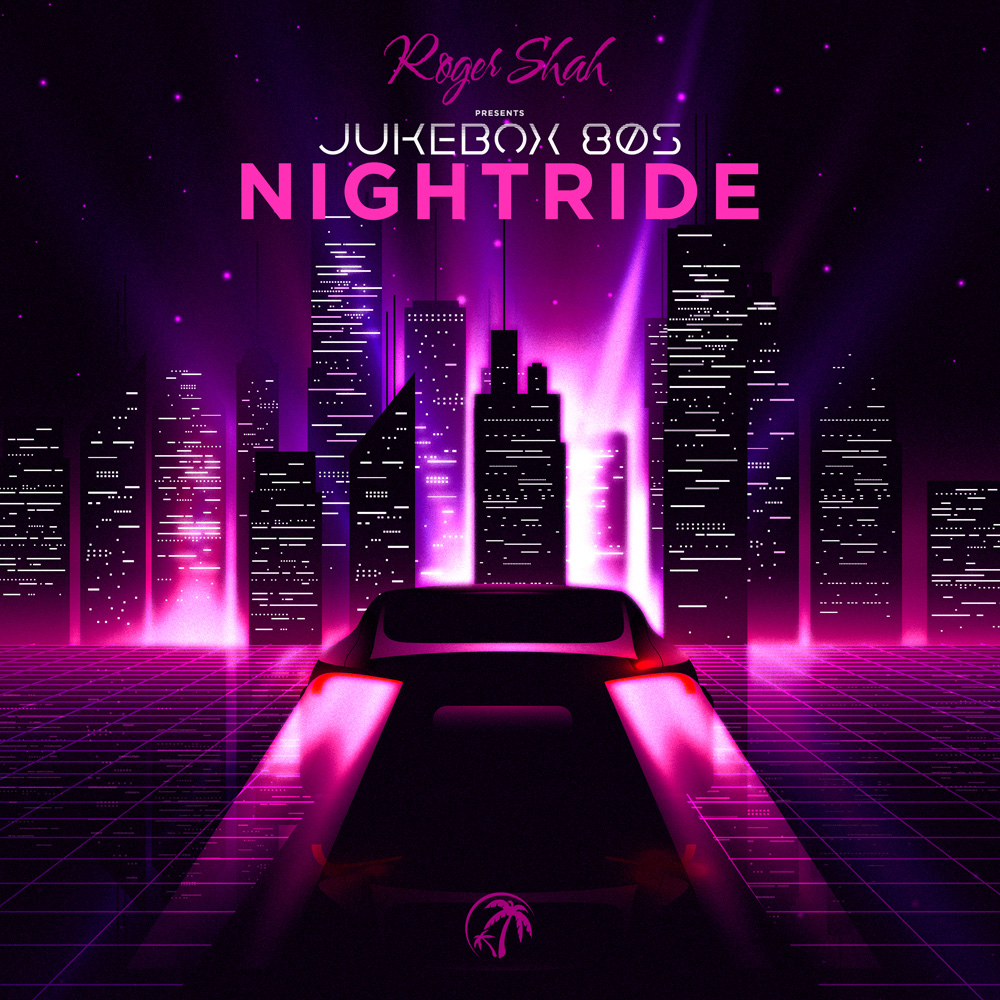 Roger Shah Presents Jukebox 80s – Nightride
The last ten months have seen many artists pivot, experiment, branch out and generally direct their attentions to other musical areas. To group the latest longplayer from Roger Shah in that though would be to overlook a musician who already album-moves out of 'his lane' one year in every two. Whether it's through neo-classical soundtracks for yet-to-be-made films (ala last year's Guardian Of Dreams) or yoga & wellbeing albums, Roger's as regular an irregular as they come.
Ahead of starting his latest departure, Roger was as clear as to what he didn't want, as what he did. For its focal decade 'Nightride' trades in touchstones, inspirations & affections, whilst hurdling the pitfalls of pastiche & excess. Eschewing out-and-out synth-synthetics, across it fourteen tracks, resonance, chime and echo become its foundation blocks.
In keeping with that most emotional of decades, the album tonally needle-swings between moodsome shade, mellow drama and exuberant effervescence. Throughout are knowing & appreciative nods to various 80s sub-genres – synthwave, electro and rare groove amongst them. 'Nightride' provides a mode-ish glide through notes of Vangelis, Faltermeyer, Clarke, Hancock & Hammer (Jan, rather than MC!), all projected through filters now more associated with Disclosure, Daft Punk and M83.
At the album's vanguard, you'll find the sci-fi-scaped 'Vintage Dreams' – an overture with retrofuturistic implants and marked out by its carefully warped, dystopian synths. Shadowing it is 'Nightride's title track – a dramatic 808-snared standout, whose neon elements and vocoded pulse advance the album's afterhours feel. Refusing to manage expectations, Roger drops 'Firebird' next – a slick six minutes of high gloss 80s reflection, laced with subtle but unmistakable echoes of Moroder's 'Scarface' score.
Vocals are more incidental to Jukebox 80s' system, but when they do occur, Roger again ensures they echo rather than decade-pander. On the stunning 'Stronghold', Eve Belle strikes a fine line between the uplifting choruses of Belinda Carlisle and the brooding verse of Susanna Hoffs. 'Bound' features New Zealander Jackie Bristow and brings a rare groove-like bounce to its b-line, alongside a knowingly contemporary feel to its song. With a vibe far more elevating than its title suggests, 'Hello Goodbye' meanwhile has more of a Laura Branigan zip to its vox.
As reflective as any mirrored-windowed skyscraper, the robo-soul of 'Purple Skies In Your Eyes' brings the vocoder back, while its analogue synths allude to The Human League. 'Ripped Knees' heightens 'Nightride's atmosphere again, but lowers the pace, using its more measured tempo to stretch the synth lines and amplify the emotion. In an album flush with bass, 'Don't You Say You Love' pares the lower frequencies back to concentrate on chime, while its Jody Watley-like vocal aims straight for the soul. Through 'A Spaceship Landing On A Magic Island', Roger effortlessly links Jukebox 80s' theme and his more renowned Balearic sound. Part Arthur Baker, Herbie Hancock & Daft Punk, the electro rock of 'I Don't Give A Damn's ties the album off with seven funk fuelled minutes of needle scratching, synth riffing and bass dropping.
A flashback to the decade that – electronically – birthed it all, 'Nightride' is less big hair, towering hi-fis, & car doors with ashtrays and much more neon, Rubiks & TDKs. Stripping away the excess and getting right to the electronic heart of it, it's available to presale/save from today, here (https://magicisland.complete.me/nightride).
Tracklist:
Entering The Jukebox Time Machine (1:57)
02. Vintage Dreams (6:17)
03. Nightride (6:15)
04. Firebird (6:20)
05. Stronghold (6:12)
06. Daytona (4:58)
07. Bound (with Jackie Bristow) (5:19)
08. Purple Skies In Your Eyes (5:39)
09. Hello Goodbye (5:48)
10. Your First Arcade Game (5:54)
11. Ripped Knees (5:17)
12. Don't You Say You Love Me (5:58)
13. A Spaceship Landing On A Magic Island (5:48)
14. I Don't Give A Damn (7:02)rogershah.net
facebook.com/rogershah
twitter.com/roger_shah

blackholerecordings.com
soundcloud.com/blackholerecordings
facebook.com/blackholerecordings
twitter.com/BlackHoleRec