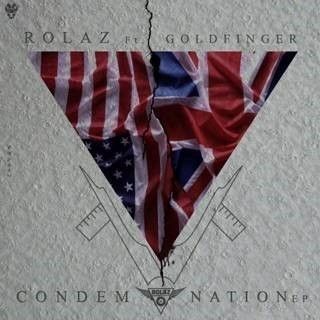 ROLAZ – CON DEM NATION EP
After an explosive start for Manchester based NB Audio we move onto the second release for the label and a continuation of their 'best in bass music' musical ethos. Introducing another worthy talent from the same city, Rolaz debuts on the label with six tracks of breathtaking electronic wizardry ranging from banging breakbeat, leftfield electro, heinous house infused dubstep and pure unadulterated bass music.

'Break The Nation' ft. Goldfinger – featuring guest vocals from the great Goldfinger of Virus Syndicate fame, this lead track is a pseudo political message to raves across the land that packs more punch than the armed forces. A late night stomper for dance floors the world over.

'I'm Gone' ft. Kiara – an experimental trip into tightly strung electro trickery with the biggest mentazm stab you'll have heard since the 1990's! As the crowd roars and the old-skool flows you'll be transported back in time before the staccato rhythms drop back into this ingenious track. Wait for the switch and Kiara's vocals and it's all over!

'Twisted Trainwrecker' – as this one starts you could be forgiven you're just stepped into a computer game with happy house vibes shining through in abundance….hang on though as before long we're flung deep into some raw warb warb dubstep, just how it used to be.

'Demon Fire' – a paranoid journey into an epic wonderland of cinematic dubstep for the jilted generation. Oooofffff!!

'Dubiety' – a glitchy ride of percussive 140bpm's with some of the sickest bass manipulation you'll have heard this year. Very naughty gear indeed!

'Serenity' – finishes us off with an air of calm as the name suggests, with far eastern promises and soothing strings to ease the mind after an EP of full-on bassline flex.