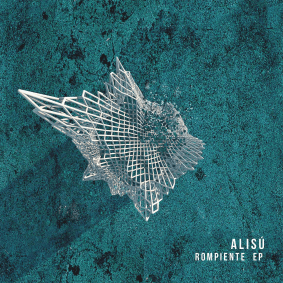 Alisú - Rompiente EP
Chile's Alisú joins Bottom Forty Records to release three hypnotic cuts entitled 'Rompiente' EP including a remix from In Flagranti.
Alisú is a producer and graphic designer from Viña del Mar, Chile who started her musical journey when founding her Manziping project back in 1998. Alisú released her first solo album on the Chilean imprint Imprar in 2007 and has since gone on to release on labels such as Tropic, Yukiyaki, Pueblo Nuevo and her Modismo label. Her productions naturally balance a combination of ambient soundscapes, field recordings and rhythmic grooves which can also be heard in her performances all over South America. Alisú's 'Rompiente' EP sees her join the Bottom Forty Records family following releases from Doc Sleep, Leonard De Leonard, La Fraicheur, Ali X x Ximena, SHIT and Cid & Fancy.
'Cyberspace' gets things rolling with resonating bass rhythms, alleviating melodies and fluttering percussion before 'Rompiente' delivers dubbed-out sound design floating around scattered drums and warming vocals to form meditative atmospheres throughout.
'Wake Up' then fuses crunchy modulations, pulsating low frequencies and weaving synth pads until In Flagranti, the Swiss duo with releases on Codek Records and Phantasy Sound finish with a low slung remix of 'Rompiente' as the rolling bass grooves bounce delicately off hypnotic tones and deep riding percussion.
Alisú 'Rompiente' EP drops on Bottom Forty Records on 1st May 2019.
Tracklist
1. Cyberspace
2. Rompiente
3. Wake Up
4. Rompiente (In Flagranti Remix)