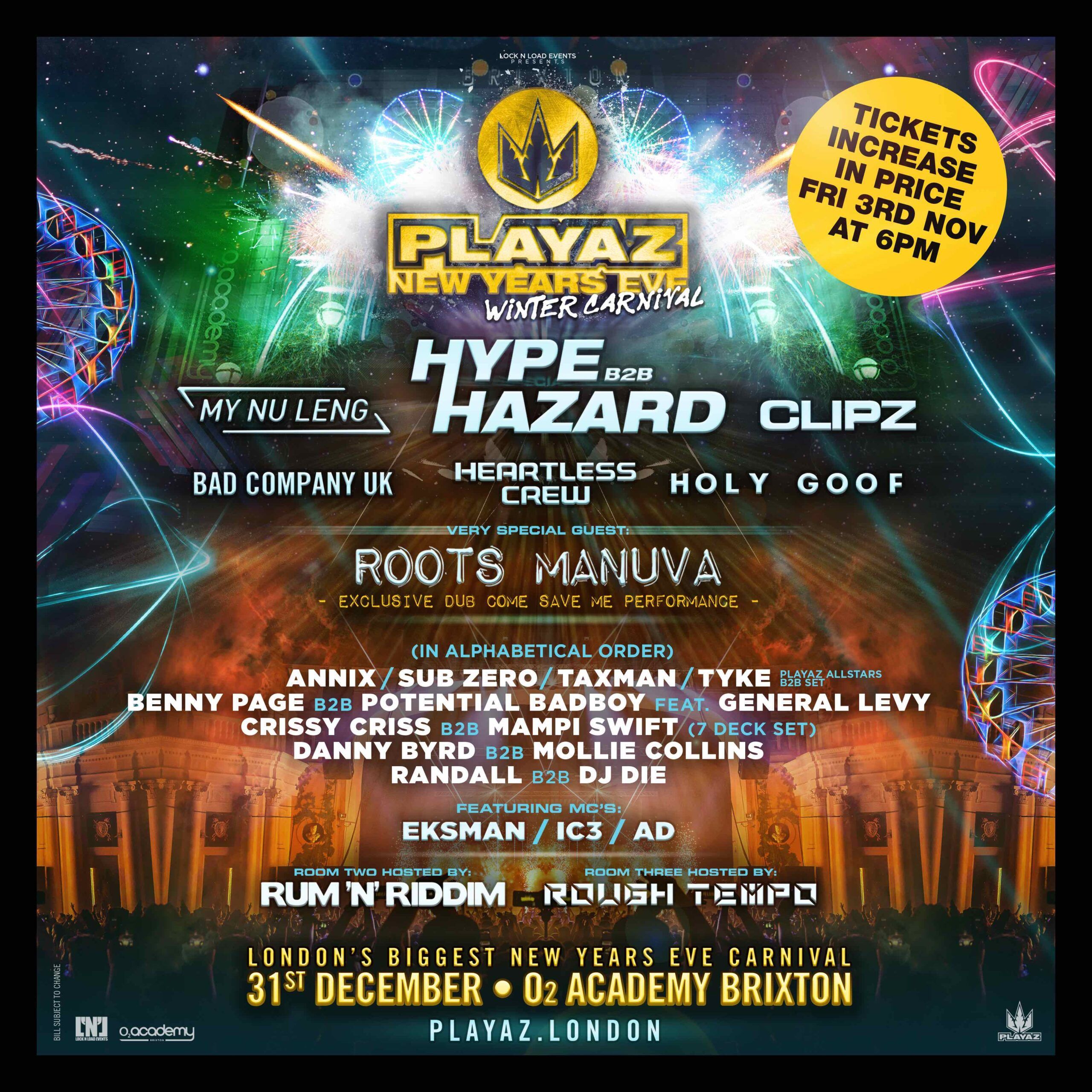 Roots Manuva, Holy Goof, Subzero and more added to Playaz NYE Winter Carnival at 02 Academy Brixton
Playaz has announced that Roots Manuva has been added to the festival-sized line up for Playaz' New Year's Eve 2017 'Winter Carnival'. Roots Manuva will bring an exclusive performance of his 'Dub Come Save Me' album to London's biggest New Year's Eve Show. Playaz has also just added bassjacking, rising star Holy Goof to the main room line up, plus Subzero and MCs Eksman, IC3, and AD will also now be performing.
Playaz returns to the capital after hosting an incredible stage at London's SW4 festival to present Playaz' New Year's Eve 2017 'Winter Carnival' at the iconic 02 Academy Brixton, the drum & bass label's biggest ever event.
Original UK hip hop artist Roots Manuva will perform the special dub remix version of his UK gold-selling album 'Run Come Save Me'. The seminal rapper, who grew up in the shadow of the Brixton venue, will perform his bass-heavy 'Dub Come Save Me' album project, which has only been performed at festivals before. Coventry-based bass DJ/producer Holy Goof has made major inroads into the bass house scene with elements of grime and dubstep woven into the fabric of his streetwise mix. They will join a role call of legendary bass artists including Hype & Hazard performing a special back to back set, My Nu Leng, Bad Company UK, Heartless Crew, Crissy Criss b2b Mampi Swift (7-deck set), Benny Page b2b Potential Bad Boy featuring General Levy, DJ Die b2b Randall, Danny Byrd b2b Mollie Collins (Full Spectrum set), and Taxman b2b Tyke b2b Annix. Very special guest will be Clipz. Rum 'N' Riddim will host Room 2.
In the world of drum & bass there are few labels that match the events record set by Playaz. The imprint has notched up over 150 shows since their first party at legendary London venue The End, before relocating to world-renowned Fabric and running sold out shows at the majestic Electric Brixton. This summer, Playaz' stage at the landmark 2017 edition of SW4 became one of the festival's highlights, leading SW4 promoters Lock N Load to choose Playaz to host London's biggest NYE 2017 event.
TICKET MESSAGE: ALL TICKETS INCREASE IN PRICE FROM 6PM FRIDAY 3RD NOVEMBER
Tickets on sale: www.playaz.london
---
LOCK N LOAD EVENTS PRESENTS…
PLAYAZ
NEW YEAR'S EVE 2017
'WINTER CARNIVAL'
02 ACADEMY BRIXTON
SUNDAY 31ST DECEMBER 2017
LONDON'S BIGGEST NEW YEAR'S EVE SHOW
JUST ANNOUNCED:
VERY SPECIAL GUEST
ROOTS MANUVA – EXCLUSIVE DUB COME SAVE ME PERFORMANCE
PLUS HOLY GOOF, SUB ZERO, MCS EKSMAN, IC3, AD.
LINE UP:
DJ HYPE B2B DJ HAZARD – MY NU LENG – CLIPZ – ROOTS MANUVA
BAD COMPANY UK – HEARTLESS CREW – HOLY GOOF
(A-Z)
ANNIX/TAXMAN/TYKE (PLAYAZ ALLSTARS SET)
BENNY PAGE B2B POTENTIAL BAD BOY FEATURING GENERAL LEVY
CRISSY CRISS B2B MAMPI SWIFT (7-DECK SET)
DANNY BYRD B2B MOLLIE COLLINS (FULL SPECTRUM SET)
RANDALL B2B DIE
ROOM 2 HOSTED BY RUM'N'RIDDIM
ROOM 3 HOSTED BY ROUGH TEMPO
Tickets on sale: www.playaz.london