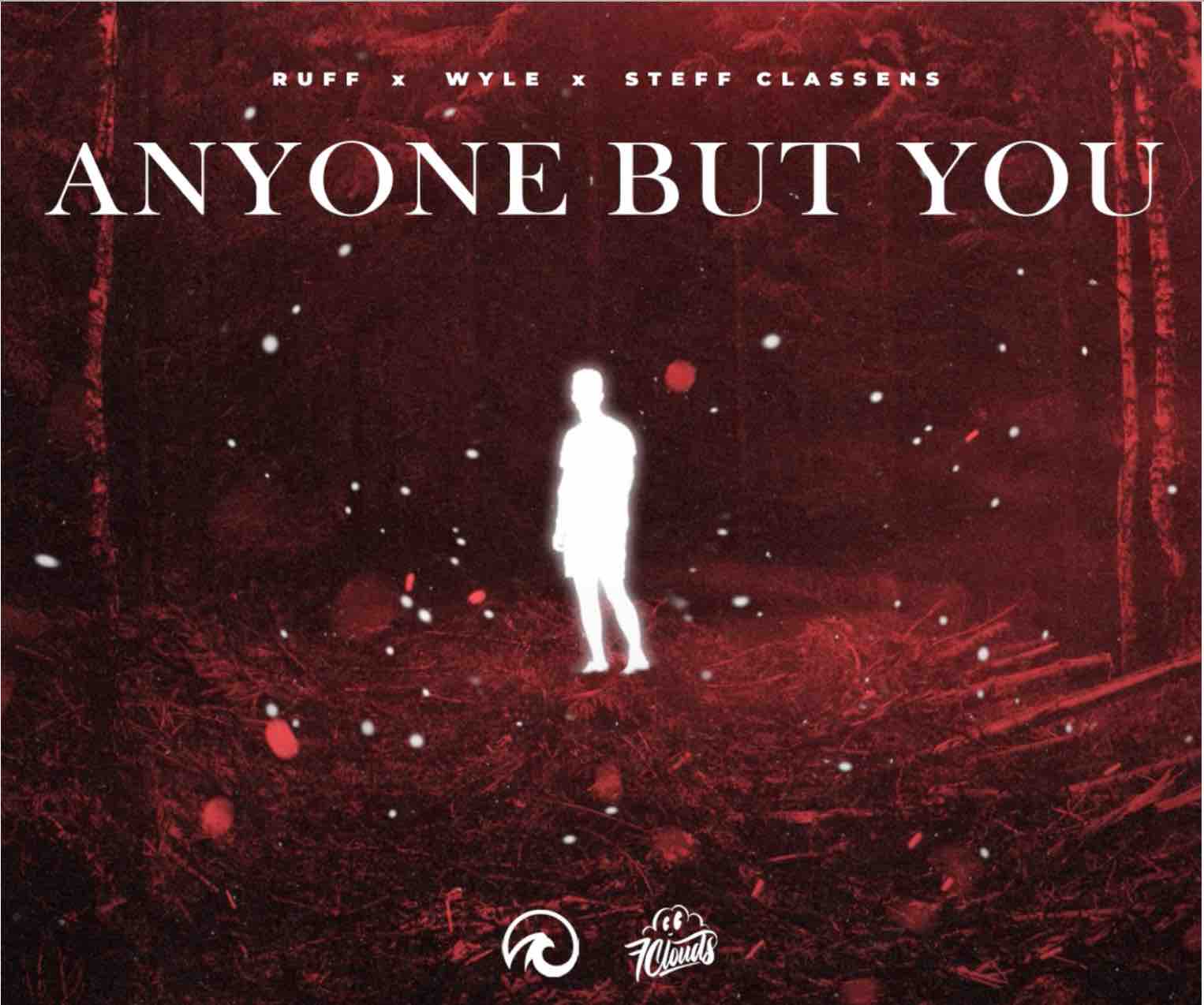 Ruff Delivers Heartbreak Anthem 'Anyone But You' With Stef Classens From The Voice Holland
New Jersey born artist Ruff has been on a prosperous rise to stardom over the past year, channeling his life lessons into relatable pop hits. Returning to the release radar with his second original track of the year, Ruff teams up with friend and 'Reasons' remixer Wyle, delivering an emotive heartbreak anthem in the form of 'Anyone But You' – available to purchase and stream on all platforms via Adept Records / 7Clouds.
The stunning track opens with a serene sound display with the vocals of Stef Classens taking centre stage, penned with a poignant message about the weight of a deep love that seems to be impossible to replace. The cut rests on a stripped down balladic foundation with flawless instrumentation aiding the lyrics' emotive pull. Twinkling synths lead the track to a slow build which explodes into a euphoric drop, depicting the narrative of a rollercoaster relationship. 'Anyone But You' is another captivating masterpiece from the pop prodigy, and showcases his unwavering ear for rapturing melodies and blissfully harmonious compositions.
"My most organic song to date, 'Anyone But You' speaks to those who are having trouble moving on from an ex and thinking that you won't be able to ever have feelings for anyone but that one person. We've all been there and eventually moved forward and I hope this song is the anthem you need to heal!" – Ruff
There is no stopping the tenacious rise of this young talent, as he continues to impress with each addition to his flourishing back catalogue of radio-ready releases. Having only been active on the scene for a year, Ruff's productions boast a level of maturity and finesse far beyond his years, each gaining upwards of 100,000 streams on Spotify alone.
ABOUT RUFF – Ruff kicked off his catalogue in July 2020 with 'Self Sabotage' alongside MIKEY C & Lila McKenna, which proved to be a hugely successful debut, closing in on 400,000 streams on Spotify alone and staunch support from the likes of Will Sparks. The track was quickly followed by 'Without It'; Ruff's first collaborative effort alongside American Idol finalist Robbie Rosen. In addition to 'Reasons', 2021 saw the release of an energetic dance flip of the Justin Bieber classic 'Love Yourself', which gained support from industry titan R3HAB; testament to the rising star's studio prowess. Drawing inspiration from the likes of The Chainsmokers, Lost Kings, Gryffin, NOTD, & Martin Garrix, Ruff possesses an innate talent for radio-ready cuts, with his growing discography having already attracted over 50,000 monthly Spotify listeners and 700,000 combined streams since his 2020 debut. Effortlessly combining the uplifting sensibilities of electronic music with his unique flair of emotive pop, Ruff's ever-evolving orchestral dance-pop crossover sound has already touched fans around the world, setting him in perfect stead to cultivate an adoring global fanbase.
ABOUT STEF CLASSENS – Stef's artistic intention is to hit the hearts and minds of the listening audience with records that have substance on the instrumentation side, as well as focus on the lyrical content. Being a multi-instrumentalist this gives Stef a huge advantage in composition and translating ideas to music. From start until the last tweak, Stef is working together with the engineers and producers to ensure the sound is more than present on all his new singles. Following his win on the Dutch competition and television show 'Best singer/songwriter of NL', Stef has had releases on Play It Again Sam (PIAS), Armada, Bite This, Sony Music Germany, 2Dutch Air among others, and was the runner up for 'The Voice Of Holland' in 2020.
ABOUT WYLE – Wyle is Swedish producer who's garnered some major attention with releases "Rainbow" and "One Day Closer" on Soave Records and "Sleeping" on Proximity. The future is looking bright for the young producer who consistently releases both originals and official remixes that amass hundreds of thousands of streams.