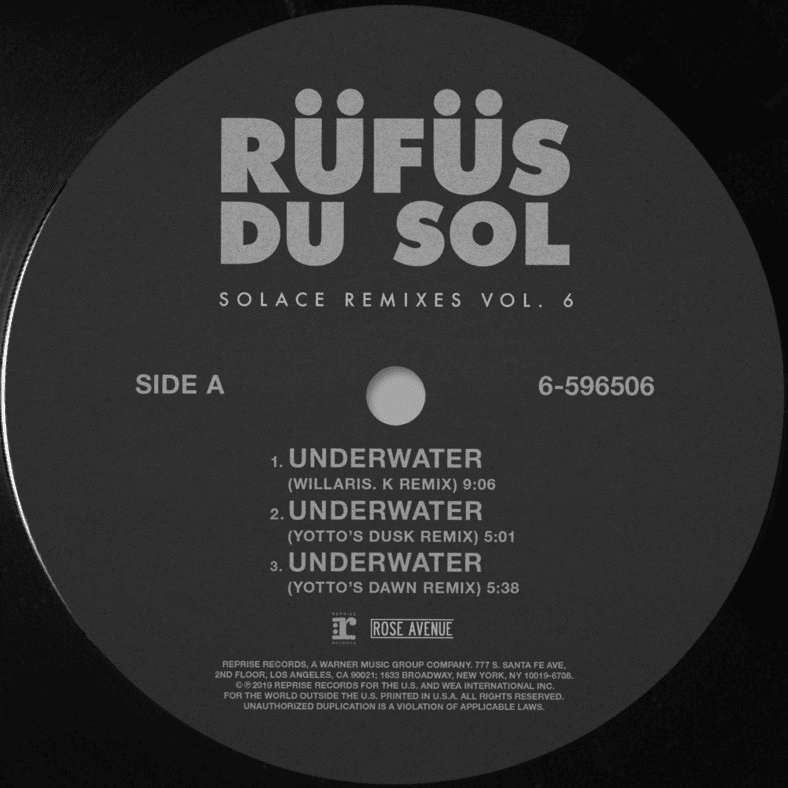 RÜFÜS DU SOL Release 'Solace Remixes Vol. 6' Featuring Yotto & Willaris. K
Introducing their sixth edition of 'SOLACE' remixes, the Australian electronic trio RÜFÜS DU SOL today reveal three remixes of their critically acclaimed track, 'Underwater,' from producers Yotto and Willaris. K.
Fellow Aussie Willaris. K kicks off the package with his rework of 'Underwater,' isolating the crisp melodic vocals ahead of the original's progressive upbeat build. His unmistakable dark tones and moody soundscapes intensify for a near six minutes until mellowing out into an ominous abyss, only to return with a powerful surge of energy in the finish. Willaris is paving the way for a new Australian sound, one that has landed him two sold-out national headline tours around the country, along with a Radio 1 "Essential New Tune" last year.
Finish producer, Yotto, brings two takes to Vol. 6, each emitting a cut of ethereal house melodies paired to the contrasting backdrops of the sun's set and rise. His 'Dusk' remix sets the tone for nightfall as a bold effervescence echoes across an addictive bassline. 'Dawn' strips the track back and magnifies its raw underlying simplicities at the core. His accomplishment of three "Essential New Tunes" in the last year signal his unprecedented rise, followed by the success of his debut album, 'Hyperfall', which received massive praise across the industry.
RÜFÜS DU SOL continue to collaborate and reimagine their sound with cutting-edge curators at the forefront of the most exciting spaces. Vol. 6 follows a selection of global remixers that the band has hand-picked, ranging from Purple Disco Machine to Cassian to Adam Port and more.
RÜFÜS DU SOL are set to play London's Alexandra Palace on the 25th October for their only 2019 UK date and their largest show yet in the country. The forthcoming show follows their two sold out London appearances last year, where they played O2 Kentish Town Forum and Printworks.
RÜFÜS DU SOL 'SOLACE Remixes Vol.6' is OUT NOW via Rose Avenue/Reprise Records