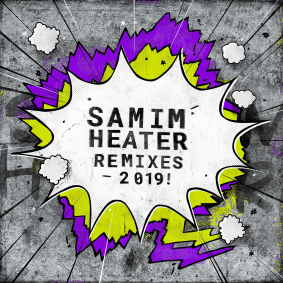 Samim – Heater 2019 Remixes
12 years after Samim scored a worldwide underground smash with his massive 'Heater' tune, Get Physical re-release two fantastic packages of remixes. The first includes a brand new remix from Tube & Berger, and the second has new versions from PAUZA, Flashmob and FNX Omar.
It was impossible to dance in 2007 without someone dropping 'Heater' at some point in the set. It still sounds as quirky, inventive and left of centre now as it did then. Of the brilliant new remixes, first up are German duo Tube & Berger, whose tech tunes often climb high in charts round Europe and come with their own playful sampling and unforgettable hooks. As such they are a perfect outfit to remix this and they do so by drawing out the breakdown and building in more solid, driving drums that get you that bit more amped up. It's a subtle but fantastic rework that leaves the catchiness of the original well intact.
On the second package, the fresh 2019 remaster beefs up the drums, crystallises the Colombian cumbia lead sample and it's not hard to see this being big once again this summer.
Next up, Italian party starter, label head and Defected star Flashmob then adds his superb spin and flips the track into a tension building affair with drunken synth sounds, sheet metal percussion and plenty of drum lead drama that is perfectly for wild dance floors.
PAUZA are thought to be Cuba's first female electronic duo and bring plenty of Afro-Cuban rhythms to their music. They are all set to blow up, especially when the world hears this remix. It is more wild and unrestricted, with lumpy drum loops, wooden hits and all manner of voices and tribal effects making it perfectly prickly.
Lastly, FNX Omar is one of the pillars of the house music movement in Morocco. He brings his distinctly afro flavours to his remix, which is brilliantly drawn out and loose, with inventive rhythms and instrumentation all origin plenty of hype to the original.
This are two well-timed packages that are likely to mean that once again you won't be able to go anywhere without hearing some version of Samim's still massive 'Heater' this summer.
Tracklist:
Samim – Heater (Tube & Berger Remix)
1. Samim – Heater (Tube & Berger Remix)
2. Samim – Heater (Tube & Berger Remix Edit)
Samim – Heater (2019 Remixes)
3. Samim – Heater (2019 Remaster)
4. Samim – Heater (Flashmob Remix)
5. Samim – Heater (PAUZA Remix)
6. Samim – Heater (FNX Omar Remix)