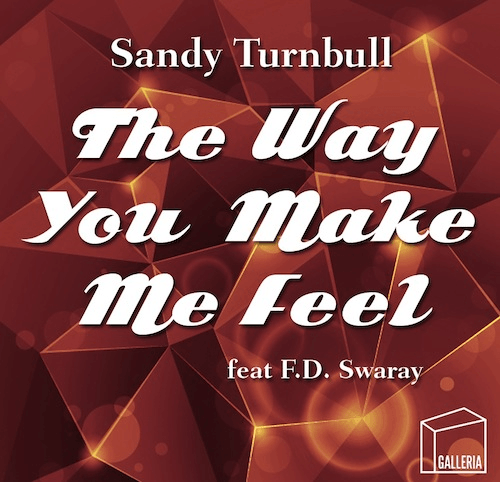 Sandy Turnbull ft. FD Swaray – The Way You Make Me Feel
Sheffield's Lord of the dance, Sandy Turnbull, returns with a heavenly slice of loved-up soulful house, 'The Way You Make Me Feel', on Galleria Records. Deemed to generate giant hugs on dance-floors on a global scale, 'The Way You Make Me Feel' is a beautiful, catchy love song, featuring the sweet vocals of FD Swaray, underpinned by a tapestry of sweeping stings, funky guitar and a lush piano hook.
It really was a small but ridiculously respected night called The Pin Up Club in Sheffield, UK where Sandy Turnbull cemented his reputation as a DJ. Pin Up would book some of the freshest upcoming talent along established guest djs and acts and after his his second appearance, Sandy was installed as weekly resident. Sandy was soon offered a residency at the legendary Gatecrasher events, playing both the monthly in Sheffield and the weekly in Leeds. From this point, festival and club gigs across the UK and Europe then started to fill his diary. In 2010 Sandy released his first production 'Special' on Oscar P's Open Bar Music. But it was in 2011 where he teamed up with DJ legend Danny Krivit on 'The Most Fantastic Thing'. This earmarked the re-launch Soulfuric Deep, shooting to the top of the Traxsource chart and staying there for over 2 weeks. Sandy followed up a with 'Camino' on John Julius Knight's Blacklist label, which in turn topped the house charts. Since then Sandy has gone on to release productions and remixes on Look At You, Open Bar, Azucar and Heavy labels, currently rocking dance floors with his 'Ride On The Rhythm' single for Solid Ground. His music has been supported by such luminaries as Derrick Carter, Danny Rampling, Josh Milan, Grant Nelson, Aaron Ross, MK, Mousse T,l and many more. In late 2012 Sandy launched his own label, Galleria Records, with his own soul-drenched gem 'Dreaming' with Mr Bailey on vocals, followed by the soulful smash cover of Teddy Penderass' 'You Can't Hide From Yourself from the Lewis Project.
TRACK LISTING
1. The Way You Make Me Feel – Original
2. The Way You Make Me Feel – Instrumental
'The Way You Make Me Feel' will be released on Traxsource promo on November 4th Traxsource Promo and full release on November 18th 2013 on Galleria Records (UK).
http://www.galleriarecords.com :: http://www.residentadvisor.net/record-label.aspx?id=8270
http://soundcloud.com/sandy-turnbull/sets/sandy-turnbull-the-way-you/s-w3YA4