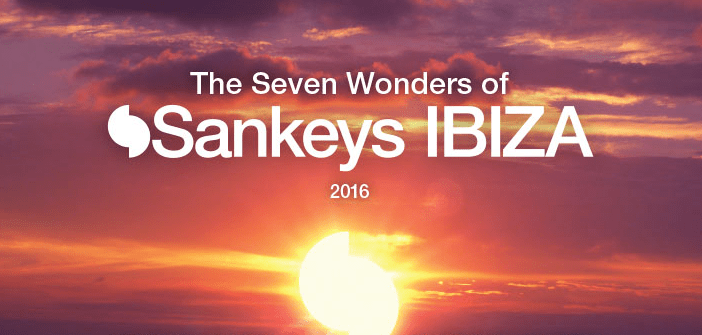 Sankeys Ibiza announces it's Seven Wonders for 2016
The news we have all been waiting for, the Seven Wonders of Sankeys Ibiza are ready to be announced! After another hugely successful 2015 season, David Vincent has gone back to his musical drawing board and promises that this summer, he will have something for everyone's musical tastes, with eight different and diverse promoters taking care of the unbeatable weekly program.
The club could not be in better condition. With the installation of the Pioneer Pro Audio sound system last summer, which has gone down a storm with industry and clubbers alike, Sankeys Ibiza now has two contenders for the main room, The LAB and The Basement, the latter kitted out with a serious VOID system. And let's not forget about the legendary Spektrum, renowned for its ceiling of LED lights and crisp VOID sound. As usual, expect the sound this summer to be the best on the island.
And now onto the exciting bit, the dates and musical program for 2016! This summer, Sankeys Ibiza will be open for an epic six months, kicking things off with a huge opening party on the 1st of May and closing with a massive three day Halloween fiesta on the 31st of October. We are hugely excited to announce that Sankeys Ibiza will be welcoming some old favorites back this summer as well as some forward thinking new additions to add some much needed variety to Ibiza's musical landscape.
Kicking of the week we have Shelter presents The Redlight. Both brands will unite this summer and move to a Monday night residency at the club. The night will run from the 23rd of May until the 26th of September for 19 events. The Redlight was the club's success story from last year. The House and Garage night really captured the hearts of clubbers and was one of the most successful nights on the island with long time legend and Redlight Resident Matt Jam Lamont firmly at the helm alongside artists like EZ, Sonny Fodera, Sam Divine, Todd Terry, Sam Holt, Low Steppa, Philip George and Franky Rizardo. Expect the same high standard of artists this summer. Shelter was born from the minds behind Ibiza Rocks, W.A.R! After a successful debut last summer showcasing artists who explored a deeper, darker side of electronic music they are back with a vengeance in 2016.
Next up we are extremely excited to welcome newcomer Applebum. This bold and brilliant new addition is a celebration of hip hop and R&B culture. On a quest to re-visit, re-live and re-imagine the sounds, fashion and lifestyle of a movement that helped shape a generation. Think only the best beatmakers and record players with lots of flower power, love and good vibrations in the air at each and every party. Applebum will run every Tuesday night from the 28th of June through to the 13th of September for 12 events with artists like Jazzy Jeff, Grandmaster Flash plus many more.
Keeping the excitement at boiling point we are unbelievably proud about the next new addition, please welcome Dance 88/89 to the fold, taking up every Wednesday night at the club from the 25th of May to the 28th of September for 19 events. This brand new night is all about Acid House and Balearic vibes. It's a fresh new concept dreamt up by David Vincent which nod's to Ibiza's Halcyon days. What is most exciting about it? Every week it will play host to Ibiza's most legendary and famous character, DJ Alfredo! Also joining him every week is Matthew Benjamin, aka Bushwacka! alongside artists like Danny Rampling, Nicky Holloway, Adamski, 808 State, Graeme Park, Todd Terry, Mr C, Fabio & Grooverider plus many more. With the whole island and industry leaders talking about it already, this night is not one to be missed!
And on we go, this time to talk about another new night in the form of Unusual Suspects. These guys have been taking up residency in Sankeys Ibiza throughout the winter, delivering some huge names such as Nicole Moudaber and Stacey Pullen and supported heavily by Carl Craig's Detroit love Society. These guys really have delivered some super cool eclectic parties over the last few months. For the first time in over a decade, the Ibiza community have created their own all year round party and following the huge success of the winter gatherings, Unusual Suspects will now move into the summer. Every Thursday from the 12th of May through to the 13th of October for 23 events this party will create and deliver a distinctive sound that drives groovy, bouncy, bass-lines in the form of sexy house and techno.
Next up we are extremely excited to announce that the hottest Sunday party in London, Abode will be taking up residency every Friday night at the club from the 24th of June to the 16th of September for 12 events. Abode has really shaken up the scene with exciting bookings (think everyone from Cassy and Matthew Dear to Krankbrother and Flash Mob) It's focus is letting it's talented residents shine and progress. Each and every event sells out ahead of time and in a great move, Sankeys Ibiza have managed to sign them up for their first ever summer long residency on the island.
Award winning and globally renowned Tribal Sessions return this summer, taking up Saturday nights at the club, running from the 7th of May to the 29th of October for 26 events which is the longest summer residency in Ibiza history. This night needs very little introduction, it has years under its belt of setting the house and techno agenda with it's cult events all over the world. Tribal returns this summer with near festival sized line-ups featuring the best DJs from across the electronic spectrum which include residents like Miguel Campbell, Manu Gonzalez, Jozef K, Adam Chappell alongside very special guests soon to be announced. All there is left to ask is, Are you Tribal?
And lastly we welcome back the legendary Viva Warriors from the 19th of June to the 25th of September for 15 events. Back again due to popular demand, Viva Warriors will take up it's usual spot of Sunday nights at the club. Again this night needs little introduction, featuring the boss man and king of the basement Steve Lawler sitting firmly at the helm, this definitive tech house night brings it's A game label artists to each and every party without fail. Musically it is renowned for being one of the best parties on the island.
David Vincent said "This summer I feel with our Seven Wonders of Sankeys Ibiza is musically the best on the planet as we have so much diversity. It's taken me six years to refine & tinker with our musical content to a situation where I can see our current format remaining for the next few years".
And finally, a mention of David Vincent's recent legendary idea that goes in the form of Sankeys Sábados, a free party with that is committed to giving female DJs a voice and the chance to play at Sankeys Ibiza on Saturdays from the 6th of February to the 23rd of April. Also included is the chance to win a worldwide residency with the Sankeys Group. Here is what David has to say about it:
"My industry have never really helped woman DJs on the same equal level as men (I don't want to go into it right now), but there is definitely a glass ceiling happening, look at the Resident Advisor results for 2015 for proof of this. There were only 4 female DJs in the Resident Advisor top 100 2015, Nina Kraviz, tINI, Margaret Dygas & Nicole Moudaber. Surely there needs to be a more equal balance with males than there currently is. No way should it be 96% men and 4% women"
All tickets on Skiddle for Sankeys Ibiza summer events are on at a super early bird price. The first 100 tickets for any event are only €10! And if you buy a total of 3 tickets for one event it will only cost you €25! (please note this deal does not include any opening and closing parties)