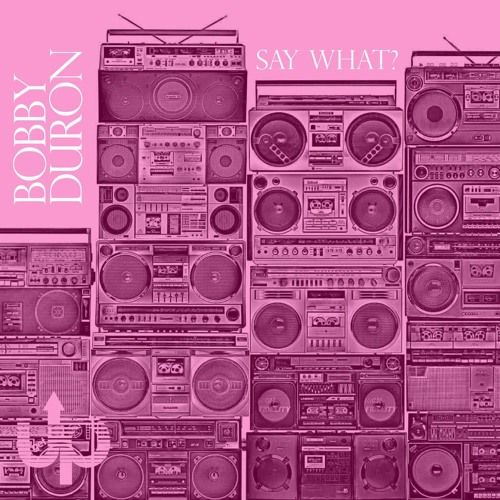 Bobby Duron - Say What?
Next up from Get Up Recordings is the Say What? EP from NYC relative-newcomer Bobby Duron. The package includes two original tracks, "Say What?" and "Untitled", with remixes of the title track by label owner and NYC DJ / producer W. Jeremy and Chi-town's John Mörk.
Bobby Duron is making his mark on the music world by creatively merging chicago house, the NY underground, and jazzy and ambient house, in a sound he's coined 'seductive house." Duron has DJ'ed in New York, Chicago, and L.A. at parties such as Brüt and Furball, and at venues such as Stage 48, Santos Party House, The Cock, The Bullet, the legendary Hiro Ballroom (playing along side resident Honey Dijon), and The Eagle NYC (where he holds a residency). His first production opportunity came in 2011 when asked to submit a remix for Beyoncé and he cranked out two #1 Billboard Dance mixes off of her highly successful album 4. Duron has put his remix skills on productions from other artists along with co-producer Kindbud for artists such as Ultra Naté, Rich White Girls, and The Ones. The two tracks from his first release on Get Up Recordings are pure house groovers. "Say What?", with its pumping bass line and splattered groovy vocal snippets, and "Untitled", with its housey key patterns, really compliment each other on this EP.
First up on remix duties is Get Up Recordings' own W. Jeremy. He has an extensive house music industry history starting in the early '90s through working for such luminaries as Tony Humphries, to holding a 5 year residency at San Francisco's legendary club The End Up, to working with DJ Pierre where along with label partner, Christy Love, releasing their first couple of records on his label, to traveling the world for DJ gigs from Vienna's Lifeball, London's Horse Meat Disco, and NYC's PS1 Warm-up Series. He has remixed on Trax Records, Good For You Records, KID Recordings, and Kinetika Records. His remix here is a bit acid, a bit tribal, and a whole lot of analog house.
The second remix comes from Chicago DJ / producer John Mörk. It was over a decade ago that Mörk teamed up with producer Frankie J to form the seminal house collab The Sound Republic. The duo exploded onto the scene in 2005 following releases on Dae Recordings, Guesthouse Music, and Guess Who?. Their signature driving sound went on to play a crucial role in shaping the future path of Chicago house. In 2013 he and fellow Chicago veterans Trancid, Alinka, Chris Grant, and Karl Almaria launched Nü: The Outer Space Disco Dancing Society of Chicago, a monthly party at the infamous goth club Neo. Mörk has also produced remixes for Midnight Magic, The New Division, Speck Mountain, Change Request, W. Jeremy, Christy Love, and Goldroom, and has released music on Nu Jax Music, Seasons Recordings, Plus Plus, and his own label NBD Music Company. His remix here embodies his signature bumping jazzy, acid groove.
Label and Artist Links:
www.getuprecordings.com/
www.soundcloud.com/b-duron