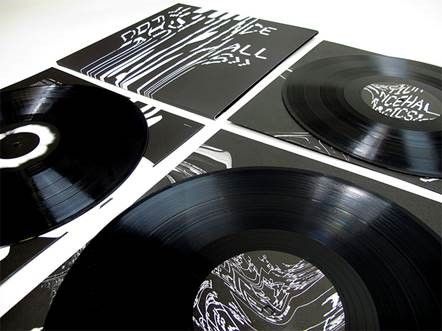 Trevor Jackson Presents - Science Fiction Dancehall Classics
Science Fiction Dancehall Classics is a curated selection of classics, rarities and unreleased tracks from the On-U Sound vaults by DJ & audio visual artist Trevor Jackson (aka Playgroup / Underdog). Trevor is renowned for his Metal Dance compilations of industrial-dance on Strut Records, having worked with the likes of LCD Soundsystem and Four Tet via his Output Recordings Label, and a recently released acclaimed multi edition album of his own music (FORMAT) via The Vinyl Factory.
On the 'deluxe bundle' edition of the SCIENCE FICTION DANCEHALL CLASSICS compilation. You will get:
– The 3LP version // 20 tracks spread across 6 sides of vinyl. 3 x printed inners and a beautiful reverse board matte printed outer sleeve, DL card for everything on vinyl plus 7 additional tracks.
– The 2CD version // all 27 tracks on 2 discs in a gatefold reverse board digipak with 24 page booklet fully annotated with sleevenotes for each track and additional art by Trevor
– A 'mystery' 12″ // this is a one-sided white label featuring 2 DJ edits of tracks NOT on the compilation, in a standard black inner bag with the On-U logo laser-etched on the b-side. More info on the tracks will be shared in mid-September. There will be v.limited quantities of the 12″ available separately, but this is your chance to guarantee you get a copy. It will not be re-pressed.
– black t-shirt // album design on front and On-U logo on the back – choice of size from small to XL – choose when you order
– A2 poster // album design on quality matte white paperstock
– 3 x vinyl stickers // 8cm circles featuring alternate cover designs by Trevor Jackson (example below)
This is only available to pre-order until September 4th and is exclusive to the On-U Shop. All bundles will be sent out to arrive on or around release date of October 2nd. Get at it here: http://bit.ly/1gDwdcL
This is the electro-fried avant-garde side of On-U Sound. Whilst still containing the dub DNA that define Adrian Sherwood's productions, these tracks document a period when this sonic vision was realised through saturated sheets of electronics, reverberating drum machines and extreme chopped-up tape edits.
A longtime fan of the label, Trevor comments: "Not only did On-U sound and Adrian Sherwood's early production work introduce me to dimensions of sound I'd never experienced, inspire me to start making music and start my own record label, his live mixing at a notoriously loud Mark Stewart and the Maffia gig during the mid-80's also gave me lifelong tinnitus. On-U's timeless releases portray a savage disregard for conformity, representative of an era where attitude and ethos spoke volumes. An uncontrived mix of cultures, minds and powerful personalities combined to produce revolutionary sonic adventures that sound as unique and vital today as they did over 30 years ago. Putting this compilation together is nothing short of an honour."
Science Fiction Dancehall Classics is available as a 2CD / 27-track set, and a 3LP edition that has 20 tracks on the vinyl plus the additional 7 tracks from the CD as part of the download card.
This compilation is fully annotated with sleevenotes that tell the story behind each track. It features 3 completely unreleased tracks (including a crucial early cut by Neneh Cherry) and 6 tracks that have never been reissued on CD or digital (including the amazing debut recording by a pre-Massive Attack Shara Nelson).
3LP Tracklist:
A1. Missing Brazilians – Ace Of Wands
A2. Dub Syndicate – Over Board
A3. African Head Charge – Off The Beaten Track
A4. Creation Rebel & New Age Steppers – Chemical Specialist
B1. Suns Of Arqa – Asian Rebel
B2. The Chicken Granny – Quit The Body
B3. African Head Charge – Stebeni's Theme
B4. Neneh Cherry & The Circuit – Dead Come Alive*
C1. Tackhead – Now What?**
C2. Keith LeBlanc – Move
C3. Fats Comet – Dub Storm**
D1. Voice Of Authority – Stopping And Starting
D2. African Head Charge – Latin Temperament
D3. Mark Stewart + The Maffia – The Wrong Name And The Wrong Number (DJ Battle)
E1. Singers & Players – Kunta Kinte Dub*
E2. Bim Sherman – Melody Dub**
E3. Shara Nelson & The Circuit – Aiming At Your Heart Pt.2**
F1. Playgroup – Forty Winks**
F2. New Age Steppers – Radial Drill
F3. Little Annie – 77 Emerging Strips*
Additional tracks on Download card:
01. New Age Steppers – Animal Space
02. Alan Pellay – Parasitic Machine
03. Atmosfear – When Tonight Is Over (Us Thunder Mix)**
04. The Circuit – Loudspeaker (Alternate Version)*
05. Fats Comet – Dee Jay's Program
06. Dub Syndicate – Drilling Equipment
07. Missing Brazilians – Quicksand Beach Party
2CD Tracklist:
CD1
01 Missing Brazilians – Ace Of Wands
02 Dub Syndicate – Over Board
03 African Head Charge – Off The Beaten Track
04 Creation Rebel & New Age Steppers – Chemical Specialist
05 Suns Of Arqa – Asian Rebel
06 New Age Steppers – Animal Space
07 Alan Pellay – Parasitic Machine
08 The Chicken Granny – Quit The Body
09 African Head Charge – Stebeni's Theme
10 Neneh Cherry & The Circuit – Dead Come Alive*
11 Atmosfear – When Tonight Is Over (US Thunder Mix)**
12 The Circuit – Loudspeaker (alternate version)*
13 Fats Comet – Dee Jay's Program
14 Tackhead – Now What?**
15 Keith LeBlanc – Move
CD2
01 Fats Comet – Dub Storm**
02 Voice Of Authority – Stopping And Starting
03 African Head Charge – Latin Temperament
04 Mark Stewart + The Maffia – The Wrong Name And The Wrong Number (DJ Battle)
05 Singers & Players – Kunta Kinte Dub*
06 Bim Sherman – Melody Dub**
07 Shara Nelson & The Circuit – Aiming At Your Heart Pt.2**
08 Playgroup – Forty Winks**
09 Dub Syndicate – Drilling Equipment
10 New Age Steppers – Radial Drill
11 Missing Brazilians – Quicksand Beach Party
12 Little Annie – 77 Emerging Strips*
*Indicates unreleased track
**Indicates track never issued before on CD or Digital