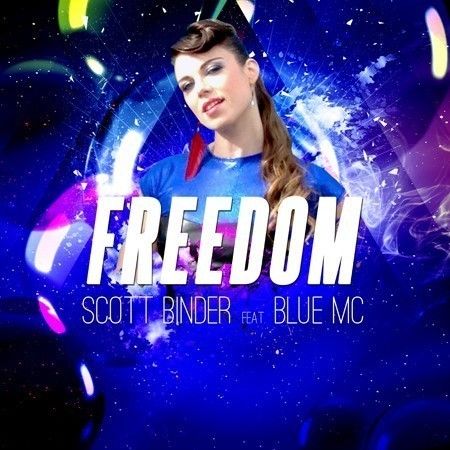 Scott Binder feat. Blue MC – Freedom
Freedom, said Jean Paul Satre, is what you do with what's been done to you. It's a potent word, richly infused with historical and political meaning, making it a weighty choice for the title of a solo track for Scott Binder, of Banger Bros, who recently launched his solo project. Fame, doesn't balk at making such a statement. He's exploding out of the blocks with his solo record, Freedom, out from today on Golden Needle Records.
This tune sees him pairing up with Australian artist Blue MC (Marisa Lock) who is already firmly established within the EDM scene in her home land, Australia. She has collaborated with the likes of Scott, Herbie Crichlow, Julie Frost and mega producer Arnthor Birgisson. This time she provides the vocals and songwriting for the track. Blue MC sounds like Madison Avenue's Cheyne Coates, if Coates could rap like a trooper as well as bringing her sulty, husky vocals to bear on a piece. Together, they've created a delectable summer track that fuses cha-cha beats with a fast and funky bass line and lush disco strings. Blue MC switches between gritty girl rap and sexy jazz vox with ease over Scott Binder's production to create something which feels simultaneously classic and fresh.
Freedom also lays the foundation for a seriously stellar and diverse package of remixes. The Banger Bros remix shows off their signature penchant for massive dirty electro dance beats with a munchy, fast-paced club track. The world of difference between the two versions showcases Scott Binder's diversity as a producer perfectly. Chrizz Luvly also dives down the electro route with a big room electro house stomper infused with glitchy mid-tones and major keyboard chords.
SpekrFreks slow it right down with what can best be described as a wompy Lady Marmalade – just as delicious as it sounds with its mix of sexy 70s disco style and contemporary breaks. Aldo Vanucci's remix wouldn't be out of place in a Pink Panther spy movie remake, replete with jazzy percussion including bongos and a track that's built around an orchestral brass section. Rayner & Wisqo go progressive with a deep interpretation that has a techy, intergalactic feel and Sebaxtian and Adam Nics round out the package with an incisive house mix with tribal elements and a slice of seriously funky house respectively.
Scott Binder has been producing and performing music as part of The Banger Bros. since 2010, while deciding to launch his solo career upon moving to Berlin in 2012. The project speaks to his desire to pay homage to the funky tunes that introduced him to the world of electronic music in the first place. Since announcing his solo project last year he has already worked with house legends Roland Clark and Todd Terry. His tracks are supported by Fatboy Slim, Todd Terry, Eve Carey, Stonebridge, DJ T (Get Physical), DJ Dan, Digital Dog, Sister Bliss and The Flash Brothers amongst others.
In addition to producing and performing music Scott also founded Golden Needle Records in 2010 and is the author of a book called Make Some Noise – Become The Ultimate DJ which he signed to the world's largest music book publisher, Hal Leonard, for release in fall 2013.
Scott Binder feat. Blue MC – Freedom is out from today on Golden Needle Records and available via iTunes and all other online music retailers.