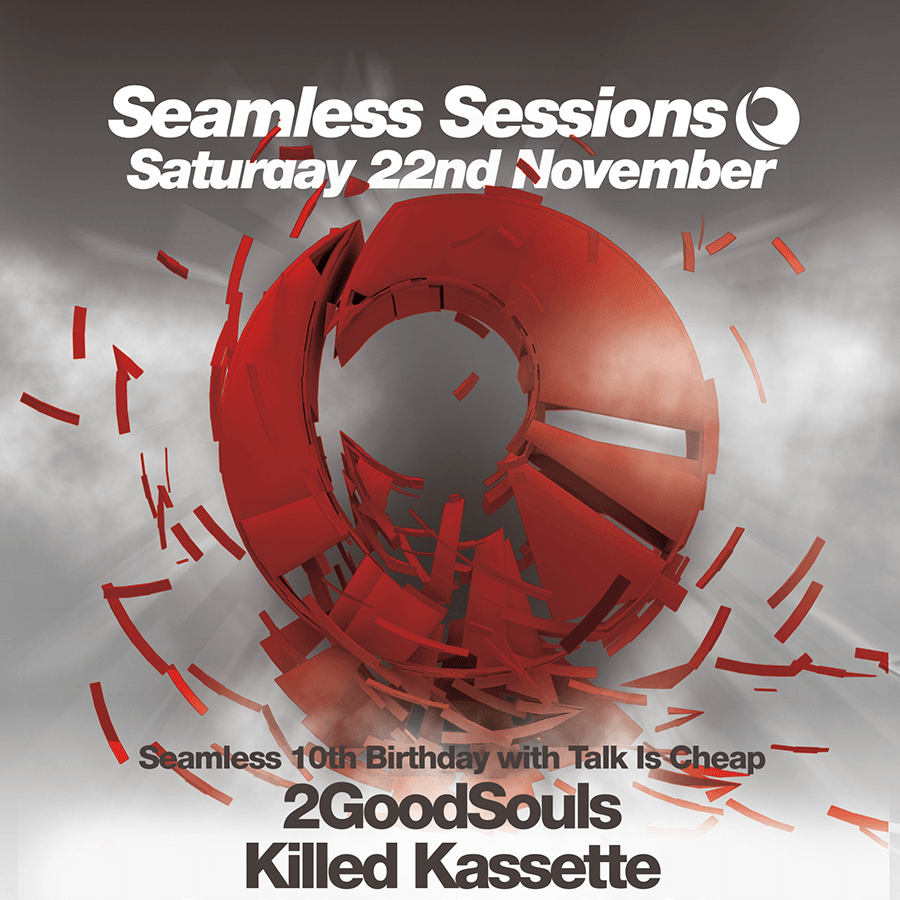 Seamless Sessions 10th Birthday
Seamless Sessions are back in Shoreditch at the multi award winning McQueen for a milestone in an industry that can prove unforgiving for even the strongest.

On Saturday 22nd November Seamless Sessions celebrate a decade of existence at London's No 1 Bar, McQueen. A venue worthy of such a celebration set in the heart of the nation's capital.
Many trends have come and gone during 10 years in the industry, but with Seamless Recordings going from strength to strength there is no sign of stoppage coming any time soon from the label and party brand. This summer saw an unprecedented amount of prolific releases come from the label churning out compilation after compilation with the likes of Hotel Es Vive, Purobeach, Flying Circus, and Ocean Beach with one half of Masters at Work Kenny Dope. The White Isle also bore witness to the Seamless weekly residency taking over Savannah every Thursday with Graham Sahara, this followed with yet another quality release 'Savannah Ibiza 'Sunset Sessions' with Graham Sahara and Jason Bye. It's been a very busy and successful year to mark the 10th with many events planned for the next 12 months…and beyond.

In the meantime, headlining this 10th anniversary celebration, we are joined artists who are creating more than a little buzz of late. Killed Kassette aka Niall Auld, DJ, producer and promoter having collaborated with vocalists including Jocelyn Brown, Abigail Bailey & Katherine Ellis. More recently working as a promoter he's been responsible for putting on acts such as Pete Tong, Felix Da Housecat & Dirty Vegas in his hometown in the Scottish capital of Edinburgh "We are also looking forward to being rocked by 2 Good Souls who are blazing a path to the top having released tracks on great labels, King Street Sounds, Nervous, Maquina, & Stealth Records as well as a prolific gig schedule.. With their current release, 'The Rush EP' with tracks The Rush, Death of Technics and I Heard just out on Seamless ('Must hear track of the week on Beatport), we expect big things to come from these guys."

It's another celebration on the night as we are joined by Talk Is Cheap celebrating an anniversary of their own. With 3 years of high calibre parties in the capital we are excited to be joined by the guys and help blow the candles out on their 3rd Birthday cake.

Expect the usual Seamless touches of signature bespoke décor and a soundtrack that compliments a decade of parties. With Seamless being the strongest it's ever been we invite you down to McQueen to celebrate our 10 year anniversary in clubland and an insight into what we have planned for the next 10 years at the top…

2 Good Souls
Killed Kassette
Donna Love
Dom Makin
Jedd Berry & Chris Solo
Dan Mizuri & Al Mani
Dario Zicchi
Mark Lyman
AlMorgan & J Stoog
Advance tickets available now
£10 in advance more on the door