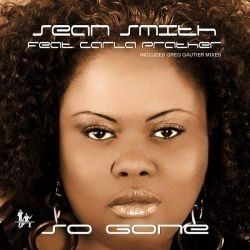 Sean Smith feat. Carla Prather – So Gone
Smooth Agent is proud to present the highly anticipated single "So Gone." Label head Sean Smith comes correct with vocals from the one and only Carla Prather. Smith's production highlights include his classic edits, a remix for Brandy's "Talk About Our Love" on Atlantic Records, and a recent release on Smooth Agent called "The Revival" with Roy Davis Jr. Carla Prather'a voice has been in demand by artists like Jellybean Benitez, Lenny Fontana, and the Mr. A.L.I. project on Nite Life Collective, amongst others.
Together, the singer and producer craft "So Gone" into a soulful vocal mover flavored with latin percussion. Additional classic-sounding piano and synth arrangements are provided by Niles Bess. Carla lays down her exceptional, soulful vocals to lyrics telling a tale of being done with a relationship and ready to move on to a better, brighter day. On remix duties, French dance music legend Greg Gauthier pairs up with fellow Parisian Djoon resident Alex Finkin. Greg and Alex's mix is another stellar performance with smooth, fluid keys and classic organ arrangements. Next, Denz Deverez, an LA transplant and Amsterdam native, adds contrast to the release with a remix of his own. More heads down in nature, Denz's Dub Mix is soulful deep house with a distinct electronic edge for a contemporary club sound. Complete with instrumentals, this is a strong package that should not be missed by DJs with a love for real soulful and classic house music.