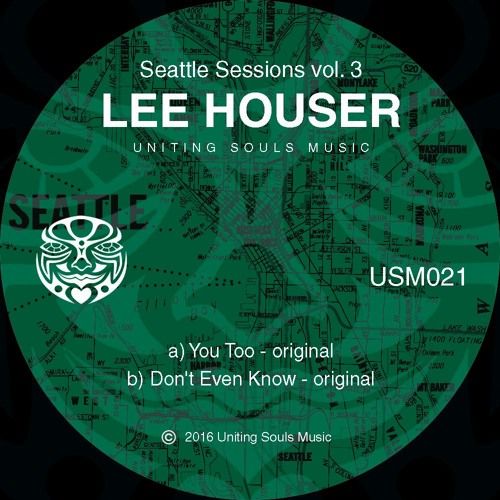 Lee Houser - Seattle Sessions Vol. 3
Uniting Souls Music continues its focus on Seattle's long-standing electronic music scene with a stellar new release from Lee Houser. This may seem to be the name of a single person, but it's actually a 'wonder-twin-powers-activate' type scenario consisting of two of the city's more established players. On one side is Jon Lee, who for two decades has influenced Seattle's house music scene through involvement with area record shops, venues, and the storied Tilted Records label. On the other is Simon Houser, known for spending an abundant time in the studio when not DJ'ing across town. Together, as Lee Houser, the pair have releases on a potpourri of underground labels including Proper Slap, KRecordings, and Filter Music.
With the third installment of Uniting Souls' Seattle Sessions series, Lee Houser delivers two formidable late night deep house tracks primed and ready for dance floor elevation. "You Too" begins with a hypnotic bell-like synth pattern and a subdued, repeating pad over a solid four-on-the-floor beat. The track confidently builds as a punchy low end and a helping of psychedelic sounds lead into a dramatic but tasteful breakdown. It's a delicious combination well-suited for after hours adventures. "Don't Even Know" is next, and it's a more laid-back and heady deep house affair. Calming chords are juxtaposed by a commanding bass line and a mysterious vocal snippet while a pizzicato synth line supplies an exotic melody that adds to the wayfaring feel of the track.
Label and Artist Links:
www.unitingsouls.com
www.soundcloud.com/dj-jonlee
www.soundcloud.com/simonhouser