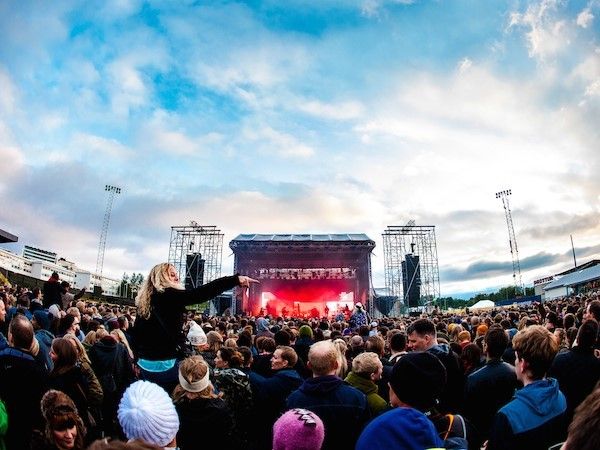 Secret Solstice Festival Announces World's Most Expensive Festival Ticket
Already boasting to be the only major festival on Earth where the sun never fully sets, hosting the world's first party inside a glacier, and an event at a 124 year-old geothermal pool, Iceland's Secret Solstice festival – happening 19-21 June – has just announced what they claim to be the world's most expensive festival ticket. Definitely not for those with an overdrawn bank account, as the ticket costs a massive $200,000 USD for just two people.

Secret Solstice says they were on a mission to create the most exclusive and unique festival ticket on the planet, over-and-above their "Óðinn" super-VIP offering which sells for 89,900 Icelandic krona (approx. $684). From start to finish, their new $200,000 ultimate festival pass has probably achieved this, with inclusions that read more like a millionaire's wish list, rather than a ticket to an event.

Including first class return flights from anywhere on the planet for two people, a luxury five bedroom villa in Reykjavík for five nights, helicopter transfers almost everywhere including to a private experience at the famed Blue Lagoon, personal assistants, a private car service and driver on-call 24/7, private 100ft yacht party (including skeet shooting and golf), private chefs every night, lunch inside the magma chamber of a dormant volcano, aerial tours of Iceland, and more, this would have most globetrotting playboys salivating.

Of course, this includes unlimited access to Secret Solstice 2015 and all side-events (including the world-first music performance inside a glacier for only 70 guests), but to cap it all off, the buyer will be treated to a private performance at their holiday residence in Reykjavík by one of Secret Solstice 2015's headline acts.
Only one ticket is available (the price covers two people), and highlights include the below:

• First class flights for two to Iceland during Secret Solstice festival from anywhere on Earth
• Unbridled all-access passes to every area of the Secret Solstice festival site
• Introductions where possible to any Secret Solstice artists during the 2015 event
• Your own five-bedroom luxury villa in Reykjavík for five nights
• Private performance by one of this years headlining Secret Solstice artists at your holiday residence in Iceland
• Personal chef for every meal upon request
• Two personal assistants, and private security for the entire weekend on call 24/7
• Private executive saloon car and chauffeur on-call 24/7
• Exclusive access to the executive lounge, as well as in-water massages at the world famous Blue Lagoon, with helicopter transfers to and from Reykjavík
• A private tour to one of Iceland's infamous volcanoes, rappelling inside the magma chamber. Lunch will be prepared inside the magma chamber for you, with live music provided by an Icelandic Secret Solstice act
• Your own escorted self-drive tour of Iceland's Golden Circle, showing you sights not listed on any map for a truly personal experience,
• Private whale and dolphin watching tour aboard a 100-foot yacht complete with food prepared by a personal chef, drinks, music, golf & skeet shooting from deck of yacht, and more
• Icelandic food experiences, and meals cooked on the festival site as requested
• Five hour Iceland nature helicopter tour
• Helicopter transfers to all private tours
• Fully stocked bar at your accommodation
• Exclusive bottle service at Secret Solstice festival, and at Reykjavík nightclubs upon request
• All drinks included for the entire duration of the stay
• And much more
Secret Solstice say that while it's extremely difficult to list every inclusion due to the sheer volume of what's involved in their $200,000 festival ticket, a full itinerary is will be available to interested buyers upon request.

So while most people attending the second "Midnight Sun" music festival will take in what's been called the most unique festival on Earth, two people will also take away the bragging rights to being the owner of the most expensive festival ticket on the planet.


More info, full line-ups and more here:

http://secretsolstice.is