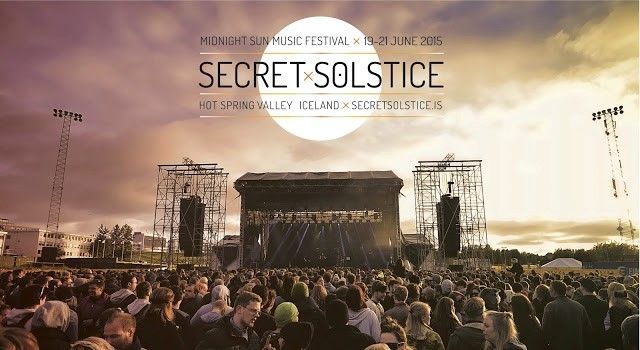 Secret Solstice, Iceland, announce first dance acts for 2015 festival
After celebrating a successful first year in 2014, Iceland's Secret Solstice festival has announced its initial dance lineup for 2015.

Secret Solstice was made famous last year for patrons being able to party in perpetual daylight for three entire days. Due to being held over the summer solstice weekend and longest days of the year in Iceland, this means the sun never ever fully sets, giving a spectacular natural backdrop and a crazy 24 hour daylight energy like no other.

Check the video highlights from last year's event, which included Massive Attack, Schoolboy Q, Disclosure, Banks, Carl Craig, Jamie Jones, Damian Lazarus, Mum, Kerri Chandler and more –



Click to see 2014 image gallery: http://secretsolstice.is/#!/gallery

For the weekend of the 19th to 21st of June 2015 in Reykjavík, the festival has announced dance heavyweights including Moodymann, KiNK, Erol Alkan, Route 94, Daniel Avery, Submotion Orchestra, Zero 7, and many more as part of its initial offering for 2015, alongside well-known home-grown talent including GusGus, FM Belfast, Samaris, Hermigervill and more.

Festival representatives say that this first offering is only an initial dance lineup, with a planned total of 150+ acts to be announced before the event that will feature many more mainstream rock, hip-hop, and pop acts.

Further lineup announcements will be coming over the following weeks, but electronic tourists and Icelandic music fans can already get pumped with the first names added to the Secret Solstice lineup:

MOODYMANN
GUSGUS
ROUTE 94
EROL ALKAN
KINK (LIVE)
ZERO 7 (DJ)
SUBMOTION ORCHESTRA
FM BELFAST
DANIEL AVERY
DETROIT SWINDLE
SAMARIS
DROOG
LEON VYNEHALL
ARTWORK
ANUSHKA
KLOSE ONE
GHOST CULTURE
ROB SHIELDS
KAMERA
AGZILLA
BORG
HERMIGERVILL
SIMON FKNHNDSM
LAGAFFE TALES
INTROBEATS
KSF
MOFF & TARKIN
SEXY LAZER
VIKTOR BIRGISS

Discounted 3-day earlybird tickets are available now for 15,900 ISK (approximately £80/$120/€105) from http://secretsolstice.is/. More information on Secret Solstice 2015 can be found on the web, or by checking out the event's official Facebook at http://fb.com/SecretSolstice.