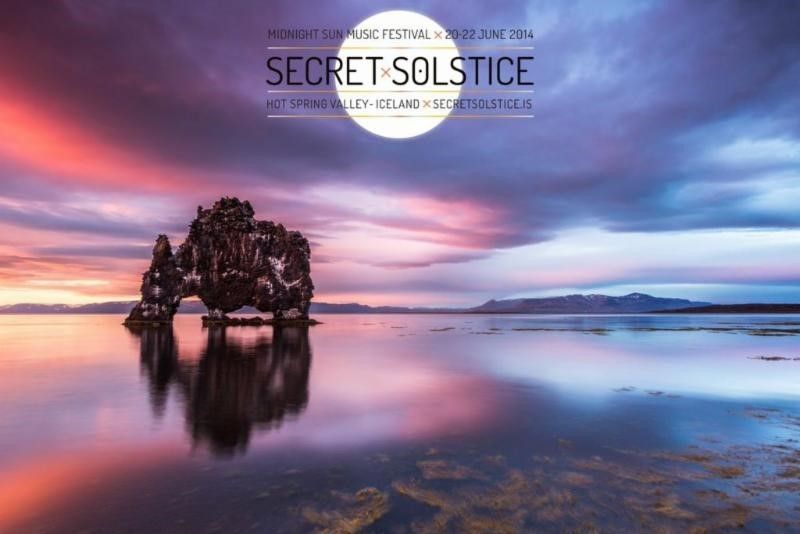 Secret Solstice, Iceland – June 20-22: stages announced
On June 21st, the northern hemisphere will celebrate summer solstice, also known as midsummer, the longest day of the year. Around the world, many tribes and traditions will come together to honor the sun and earth for this annual event.
In Iceland, under the energy giving heat of the 24-hour sun, people will dance. For 72 hours, from June 20th – June 22nd, Reykjavik will be alive with sunlight and music as Secret Solstice invites thousands to celebrate in Iceland for their premier music festival.
Something for all music lovers, there will be the perfect musical mix of artists both native and from around the world. From the weird and wonderful talent of Iceland's own, including Mum, HE, Gluteus Maximus, DJ Spaceship and Airplane, to world renowned live acts including Massive Attack, Schoolboy Q, Banks, Woodkid, to some of electronic music's most in demand talent – Disclosure, Jamie Jones, Carl Craig, Damian Lazarus, Eats Everything, Kerri Chandler, Jackmaster, Rob Da Bank, Boddika, Waze & Odyssey and so many more. Secret Solstice is the brainchild of festival director, Fred Olafsson, he spoke to The Guardian about holding festivals in extreme locations, Secret Solstice's natural power resources and the 24-hour-sun natural light aspect: "Lighting is one of the key parts to creating any festival experience, but we're not going to be able to rely on it much. The upside is that we'll have one of the most spectacular natural light shows on the planet".
Over the three day festival, artists will be spread across five stages, the stage line-ups are now announced below.
VALHALLA STAGE
(The name of the 'heaven' afterlife in Norse mythology)
Friday – Valhalla Stage
Eivør Pálsdóttir(FO)
Bloodgroup
Fufanu
Moses Hightower
HE
Maus
Woodkid (FR)
Eats Everything B2B Skream (UK)
Disclosure (UK)
Saturday – Valhalla Stage
Kaleo
Sísý Ey
Vök
Disa
Hjaltalín
Mammút
Gluteus Maximus
Banks
Múm
Massive Attack (UK)
Sunday – Valhalla Stage
HymnaLaya
Elín Ey
Snorri Helgason
Dj flugvél & geimskip
Sin Fang
Benni B-Ruff
DillaLude
Forgotten Lores
Cell7
Úlfur Úlfur
Emmsjé Gauti
Gísli Pálmi
XXX Rottweiler
Schoolboy Q (US)
GIMLI STAGE
(The place where survivors of Ragnarok are supposed to live)
Friday – Gimli Stage
Rúnar Þórisson
Kött Grá Pje
Mosi
Mafama
Leaves
Gervisykur
Alvia Islandia
Shades of Reykjavik
Real Eyes (US)
Fox Train Safari
Molotov Jukebox (UK)
Saturday – Gimli Stage
RVK Soundsystem
Reykjavíkurdætur
Amaba Dama
Ojba Rasta
Original Melody
Johny and the rest
DISCIPLES (UK)
Brain Police
Jamie Lewis (UK)
Py (live)
Sunday – Gimli Stage
Modesart
Steve Sampling
CryptoChrome Weirdcore
ThizOne Weirdcore
Quadruplos Weirdcore
Tanya & Marlon Weirdcore
Bistro boy
Agzilla
HaZaR
Árni ²
Kiasmos
Heroes in Hiding (IRE)
Sometime
Rum Buffalo (UK)
ASKUR STAGE
(The name of the first man in Norse mythology)
Friday – Askur Stage
Skurken
Kerr
Futuregrapher
Rami Ali (UK)
Intro Beats
Lex Luca (UK)
Artwork (UK)
Oneman (UK)
Subb-An (UK)
Gorgon City (UK)
Saturday – Askur Stage
Micro Pony
Barely Legal (UK)
Monkey Wrench B2B Spoils (UK)
True Tiger (UK)
LaFontaine
Exos
Mushy (UK)
Harrimannn (UK)
Benton (UK)
Doorly (UK)
Sunday – Askur Stage
Viktor Birgiss
Orang Volante
Oculus
Open Source
Rob Shields (UK)
ControlFreqs (US) 40
Housekell
DJ Kári
Ben Pearce (UK)
The 2 Bears (UK)
EMBLA STAGE
(The name of the first woman in Norse mythology)
Friday – Embla Stage
Julia Ruslanovna Lágtíðni
Tandri Lágtíðni
King Lucky Lágtíðni
Russian Girls Lágtíðni
GHST (UK) Lágtíðni
Ewok Lágtíðni
Skeng&B Lágtíðni
Amy Becker (UK)
My Nu Leng (UK)
Klose-One (UK)
Robert James (UK)
Saturday – Embla Stage
Kanilsnældur
Vrong
Lord Pusswhip
Marteinn
Kiddi
Geimfarar
Solaris Sunglaze
KSF
Bensol
Eddie House
Frímann
Sunday – Embla Stage
Atli Kanill
Axfjörð
DJ Hendrik
Lagaffe Tales
Rix
Yamaho
Plastic Love (US)
Casanova
Pettro (MEX)
Ghozt
Sean Danke
HEL STAGE
(The name of 'hell' afterlife in Norse mythology)
Friday – Hel Stage
Clive Henry (UK)
Francesca Lombardo (UK)
Aphrohead (US)
Carl Craig (US)
Damian Lazarus (UK)
Saturday – Hel Stage
Greg Lord &Krysko (UK)
DJ Margeir
Eliphino (UK)
Paleman (UK)
Jackmaster (UK)
Rob Da Bank (UK)
Droog (US)
Boddika (UK)
Paul Woolford (UK)
Jamie Jones (UK)
Sunday – Hel Stage
Py (UK)
Mia Dora (UK)
Voyeur (UK)
Josh Butler (UK)
Waze & Odyssey (UK)
Kerri Chandler (US)

POOL PARTIES
From 8am – 1pm on Saturday and Sunday, Secret Solstice will host two special pool parties.
Saturday is hosted by ATG and Sunday is hosted by Kubicle with Kubipool
REYKJAVIK EXCURSIONS
You can also check out some of Iceland's natural beauty with the Golden Solstice tour:
http://www.secretsolstice.is/#section:5