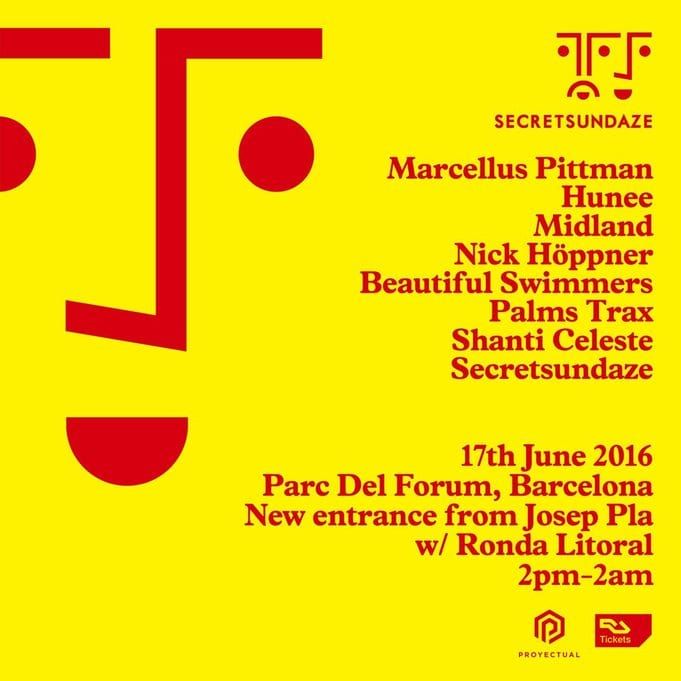 Secretsundaze announce two parties at Off Week Barcelona 2016
Secretsundaze today reveals the line-ups for not one but two parties during Off Week Barcelona 2016! An open-air beach party and their annual extravagaza at La Terrrazza, both with killer line-ups, including Marcellus Pittman, Hunee, Beautiful Swimmers, Palms Trax, Leon Vynehall, Ryan Elliott and more.
SECRETSUNDAZE AT PARC DEL FORUM BEACH
Friday 17th June 2016
2pm – 2am
Marcellus Pittman, Hunee, Midland, Nick Höppner, Beautiful Swimmers,
Palms Trax, Shanti Celeste, Secretsundaze
Secretsundaze are proud to reveal details of an open-air party at Off Week Barcelona, that will run for 12 hours from 2pm to 2am at a never-before-used private beach location at the well known Parc Del Forum. A fresh location and some classic Secretsundaze summer day time action by the sea!
Keen as ever to stamp their own mark on the week in Barcelona, secretsundaze have lined up a series of exclusive performances, with all the artists performing only at Secretsundaze during Off Week (except where denoted with a *).
Headlining the party all the way from Detroit is Marcellus Pittman. Alongside his friends and collaborators Theo Parrish, Moodymann and co he has defined the underground sound of Detroit with his dusty, off kilter and funky drenched sound. The one and only Hunee returns for the second year running. This charming, swashbuckling character has taken the world by storm the last few years with his sets that incorporate jazz, soul, disco and funk to house and techno.
UK talent Midland also steps up. His star has firmly ascended in recent years and alongside Ben UFO and Joy Orbison is very much at the vanguard of the UK's house/techno sound playing across the board. Ostgut Ton and Secretsundaze regular guest Nick Höppner plays for the second year in a row. A true DJs DJ, he is as comfortable playing techno as he is house and also has a penchant for UK vibes with his remix for Bristol finest Livity Sound. Palms Trax* has been the name on everyone's lips since his early release on the red hot Lobster Theramin and subsequent releases on Dekmantel. His classy house sound is totally fitting with Secretsundaze musical backbone.
As big fans of their releases on their excellent Future Times label, Secretsundaze are stoked to have the New York based Beautiful Swimmers onboard for the first time Anyone who has caught their NTS shows will know what great taste in music they have. Bristol based Shanti Celeste has become a regular feature at Secretsundaze and of course released the 'Alma' EP on Secretsundaze last summer. Her monthly show on NTS goes from strength to strength and her sound is perfect for an open air daytime session!
Secretsundaze, two of London's finest residents will of course play as only they know. With recent gigs at Panorama Bar, Robert Johnson, Badaboum and Bloc in Tel Aviv, plus forthcoming festival action at Glastonbury, Electric Elephant, Hideout, Gottwood and Visio and many more there is no stopping their train!
On past track record Secretsundaze daytime parties in Barcelona are something to behold and most importantly PARTICIPATE in. Not only this they have a history of selling out in advance so do not hang around! Secretsundaze very much hope you can share what will be a beautiful day with them in a new stunning location.
Tickets: https://www.residentadvisor.net/event.aspx?808430


SECRETSUNDAZE AT LA TERRRAZZA
Sunday 19th June 2016
Midnight – 5.45am
Leon Vynehall, Ryan Elliott, Nummer – live, Secretsundaze
Secretsundaze's party in Barcelona during Sonar is always one of the most hotly anticipated parties of the week, running for over 10 years and for much of this time at the beautiful venue that is La Terrrazza in Poble Espanyol. In 2016 they have another fine line up showcasing some of their favourite artists.
Headlining is UK's Leon Vynehall (3024 / Royal Oak). Vynehall's ascendancy has been nothing short of momentous be it through his excellent DJ sets that roam across hip hop. disco, house and techno or his amazing double 12' 'Music for The Uninvited' on Martyn's 3024 imprint. His sound is heavily imbibed with soul and funk and his recent track 'Midnight On Rainbow Road' was the stand out of Gerd Janson's Compilation 'Musik For Autobahns 2', prompting a 12" single on Rush Hour.
Ryan Elliot makes his second appearance of the year at secretsundaze! Raised in Detroit, he relocated to Berlin 6 or 7 years ago and very quickly became resident at Panorama Bar / Berghain. He is in fact one of the very few residents there that is trusted with playing across both floors and that is testament to his DJing prowess. His debut LP will drop on Ostgut Ton this year.
The third and final guest for this special date is French hardwear duo Nummer, who will perform live. Their set at secretsundaze in 2015 was without doubt one of the best-received live sets in recent years and the duo have since been selected by FACT as ones to watch in 2015. The future looks bright for them.
Of course Secretsundaze will top and tail proceedings. They have played some of their finest sets at La Terrrazza so expect them to be on great form, no doubt armed with some of the best dance music out there.