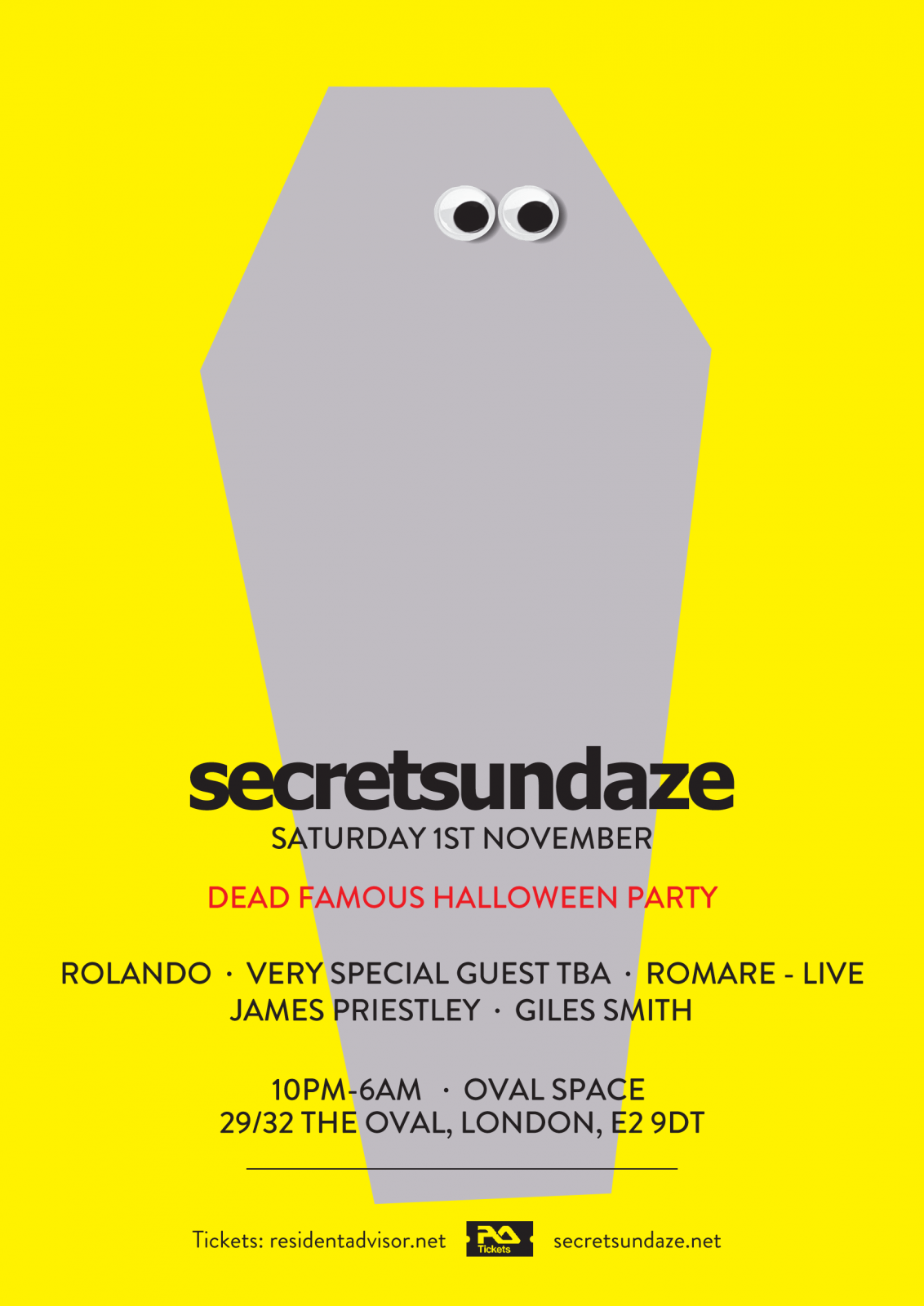 secretsundaze 'Dead Famous' Halloween Party
Original East London party collective secretsundaze are proud to reveal details of their 2014 Halloween Party. After a good run, the Asylum theme of previous years is making way for an exciting new theme: Dead Famous. Think deceased artisocrats, artists, politicians and notorious movie stars from bygone eras.
As with last year the party will take place at the fantastic Oval Space, a venue that the secretsundaze crew have grown close to over the last 2 years having teamed up for an ongoing collaboration with Oval Space Music, and one whose blank canvas provides the perfect backdrop for the Dead Famous production.
Headlining the party is the mighty Rolando. This will be his third appearance at secretsundaze and anyone that saw him play at the opening party on the terrace at Studio 338 in May will know why they've booked him again. Originating from Detroit, Rolando was originally linked to the hallowed UR camp through his huge hit ŒKnights of The Jaguar' and also his amazing output as one half of Los Hermanos. Rolando has continued to find new fans through his work with both Berghain as a regular guest and releasing on their label Ostgut Ton. This year he launched his new label simply entitled Roland Rocha Recordings or R3. His DJing is quite exceptional, high energy but always with plenty of funk and impeccable mixing skills.
The special guest cannot be revealed until later in August but suffice to say he is one of the most hyped producers and DJs to come out of London in recent years.
The third and final guest for this occasion is Romare – Live. Off the back of a couple of very well received EPs, the young Romare has already earned himself a loyal following, regularly DJing with some of the leading left-of-centre artists both here and abroad. Inspired by the American collage artist Romare Bearden, his music draws influence from the traditional rhythms of Africa with the contemporary tempos of footwork and house. With his debut LP due to drop around the time of the party on Ninja Tune, this will be the London debut of his all new live show.