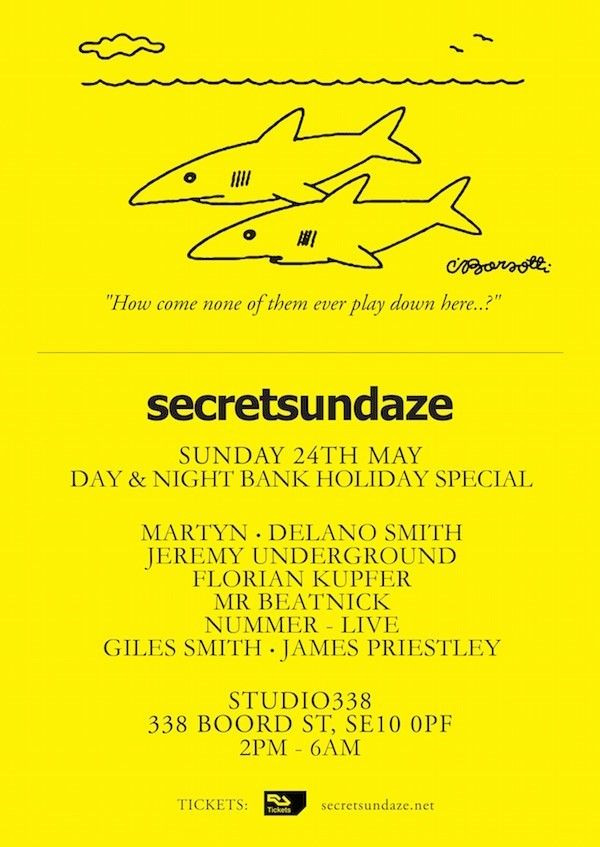 secretsundaze May Bank Holiday
Martyn, Florian Kupfer, Mr Beatnick, Nummer, Delano Smith and Jeremy Underground lined up for the secretsundaze open air party at Studio 338 on bank holiday Sunday 24th May.
secretsundaze today reveal the second wave of artists playing the bank holiday event on Sunday 24th May, taking place on the Studio 338 open air terrace. Not only are there 4 extra guests added to the bill but the party's running times have also been extended by another 8 hours turning it from a daytime party to an all day, all night extravaganza, running for 16 hours 2pm to 6am.
Headlining the party and making a welcome return is Martyn. Born in the Netherlands but residing in Washington DC, Martyn is a truly original artist in the musical landscape. His output on the likes of Ninja Tune, Brainfeeder and his own 3024 imprint is an amalgamation of techno, bass, breaks and house. His sets are aimed firmly at the dance floor but always incorporate lots of colour and detail.
The young German producer and DJ Florian Kupfer will also be playing. Coming to prominence via his releases on the red hot L.I.E.S imprint, his wonky retro house jams with off kilter vocals such as 'Feelin' made an immediate impression. His DJ sets, much like his productions, are funky and uncompromising and should be perfect for the terrace.
secretsundaze also welcome Mr Beatnick for an early afternoon set on the terrace. Originally known best for his love of hip hop he made the transition towards house and techno a few years back. You can still hear his love of hip hop in the dusty, groovy house that he plays. To get a real taste of his style check out his show on NTS that is a cult favourite amongst those in the know.
Always on the look out to expose and promote new fresh talent secretsundaze final guests for the party are the live act and duo Nummer. Originally from France but now residing in London, the pair have only released a few EPs but have already got a lot of love, selected by FACT as one of the 'Ten house and techno producers to watch in 2015'. They will be playing a live analogue set of their trademark raw grooves.
With Delano Smith and Jeremy Underground already announced plus secretsundaze residents Giles Smith and James Priestley at the helm the scene is now set for a bank holiday party of epic proportions at one of London's finest venues and biggest open air spaces. With 8 DJs playing over 16 hours this is surely the highlight of the bank holiday weekend for underground house and techno lovers.
secretsundaze May Bank Holiday Special
Sunday 24th May | 2pm – 6am
Studio 338, 338 Boord Street, SE10 0PF
Martyn
Delano Smith
Jeremy Underground
Florian Kupfer
Mr Beatnick
Nummer – Live
Giles Smith
James Priestley