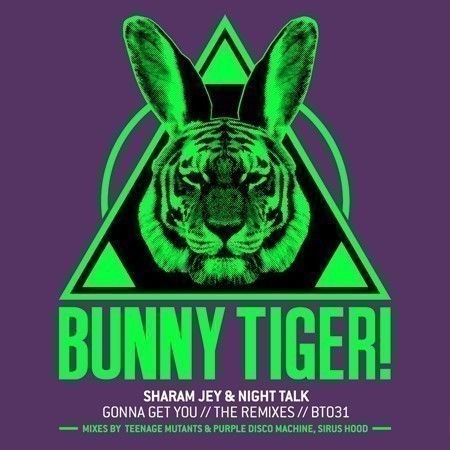 Sharam Jey & Night Talk – Gonna Get You (The Remixes)
Bunny Tiger tracks are so instantly clubfriendly and playable that our philosophy was actually to stick to the strong originals and go without any remixes. But when some of our best buddies came up with remix ideas for their favourite Bunny Tiger tracks, we just had to give in to our enthusiasm.
Next in line are two fresh remixes of 'Gonna Get You' by Sharam Jey & Night Talk. Certainly nothing but a good choice considering the original track didn't only climb to #1 of the Beatport Indie Dance/Nu Disco charts, but was also nominated for an award at the prestigious IDMAs earlier this year.
The first rework comes from a right killer-collab- Teenage Mutants and Purple Disco Machine. With both acts consistently reaching heady heights in the Beatport charts via renowned labels such as Stil Vor Talent, Nurvous and Off Recordings and others, this remix is bound to be a seducer.
On top, it's Sirus Hood's turn to present his very own vision of the track. Sticking to his 'no trends, just good music' motto, the French newcomer proves his fine talent giving 'Gonna Get You' a mesmerizing sexy and deep finesse.
Sharam Jey & Night Talk – Gonna Get You (The Remixes) is out from today on Bunny Tiger and available via Beatport and all other online music retailers.