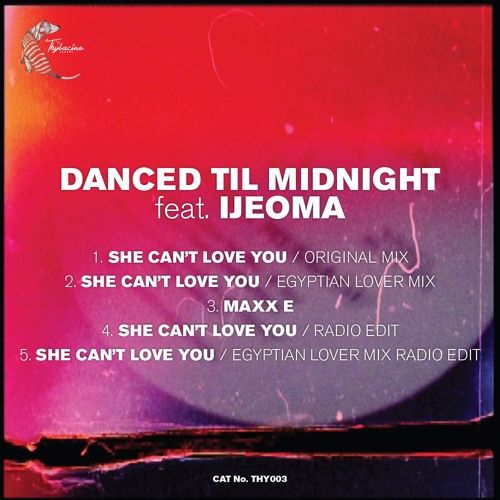 Danced Til Midnight - She Can't Love You
Led by producer and DJ Andy Anderson, the London-based outfit Danced Til Midnight unleashes their latest single "She Can't Love You" via the Thylacine Sounds imprint. With a love of all things funky, Danced Til Midnight embark on a musical mission to create something truly unique: electronic sun-drenched grooves with clear undertones of eras gone past. "She Can't Love You" delivers on the promise with smooth, soulful vocals from Iljeoma and an abundance of attitude, propelled by provocative, somewhat cheeky vocals sitting beautifully over tough, funky rhythms and retro Arp synth lines. The full length version of the song is especially tailor-made for the dance floor, as its inimitable groove is supercharged with a solid kick and tons of nightclub funk.
Speaking of 'old school', Danced Til Midnight are joined by the legendary Egyptian Lover who supplies a body-shaking remix that gives a bright nod to electro's '80s origins. The vocal sits comfortably in these new shoes, providing a classic-tinged alternative glance at this killer tune.
Danced Til Midnight host regular Friday night guest spots on the uber-cool Soho Radio, plus their summer 2016 release – "More of Love" – boasted a remix by kings of disco Faze Action and netted a solid 9/10 score from the mighty Mixmag and coveted approval from seminal online authority Data Transmission.
This is one outfit who will keep us dancing way past our bedtime into 2017.
Label and Artist Links:
www.facebook.com/Thylacinesounds/
www.facebook.com/dancedtilmidnight/