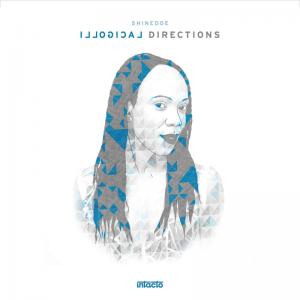 Shinedoe – Illogical Directions
The queen of reinvention, Shinedoe's third album is a culmination of everything she has achieved to date. From the mesmerizing and melodic 'Circle Of Life', to the dark and brooding 'Discourse…' featuring The Knife's Karin Dreijer, 'Illogical Directions' is about letting go, about an artist completely liberated in her studio, making music from the heart and processing all her experiences into one impressive trip.
"I don't want to make rational choices, it's important that music can move in any direction, even if it doesn't really make sense. It's the only way to completely feel free, to avoid getting trapped in some sort of format." Shinedoe
The first lady of Amsterdam, Shinedoe shot into the spotlight a little over a decade ago with a string of omnipresent club hits and an imitable style of stripped back techno with a funky edge. Over sixty releases later, her identity is rooted in techno foundations and Dutch notoriety with a pinch of jazz, funk and dub. Her third album, 'Illogical Directions' is bold and adventurous, introducing a seductive side to her down-to-earth nature.
BACKGROUND
o Her real name, Chinedum, is Nigerian for 'God is leading me'. In the world of Shinedoe, god is music.
o+ As if she's completing a trilogy, the album is a sleek representation of her musical history, a rich tapestry that has spanned releases on the likes of B-Pitch, Cocoon and Get Physical as well as her own imprint, Intacto.
o+o A tour de force of highly organic dance music bringing together the energy of club material alongside more thoughtful and introverted songs, 'Illogical Directions' is exactly the album you'd want Shinedoe to make. Starting with the sultry, dub beats of 'Release Yourself' and the mechanical house infusion of 'Essence', to the deep jazzy house of 'Alto Parisio' and the dark and twisted 'Discourse My New Romance' featuring The Knife's Karin Dreijer, for Shinedoe, the third time's a charm.
o+o+ An exploration of sensations in sound, Shinedoe deftly delivers anthemic tracks such as the single 'Circle Of Life' featuring the infectious vocals of Miss Bunty as well as exploring the darker and more gritty world of 'God's Love' and 'Get Dirty'.
"When I produce music, it comes from my heart and soul", she explains. "As a result, these new tracks all have their own feeling and identity, you can't label them to one particular sound. It was a challenge bringing them together, but it works!"
o+o+o This release marks a decade of her infamous Intacto imprint, the label she founded with 2000 and One that has launched and pushed the career of many notorious Dutch artists such as Lauhaus and Anton Pieete. A full world tour for the label will follow in September 2014.
CONNECT:
www.facebook.com/shinedoe
www.soundcloud.com/shinedoe
www.intactorecords.com