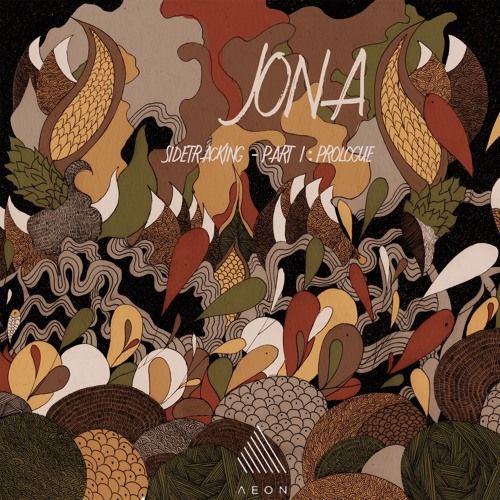 Jona - Sidetracking Part 1 : Prologue
'Sidetracking – Part 1: Prologue' is the first vinyl taste of Jona's debut album project for Alex Niggemann's forward-thinking AEON label. This 'Prologue EP' features 2 stylistically diverse original tracks from the forthcoming album, referencing jazz, afro-beat and dub influences. The originals are complemented by 2 dynamic techno remix interpretations courtesy of Speaking Minds and Trevino. This musical puzzle will be completed in February 2016 with the release of the full-length 'Sidetracking' album, featuring 8 more original tracks to form the 10-track CD package.
Created over the course of two highly creative years, the concept for 'Sidetracking' was for Jona to invite some of his musician and producer friends to collaborate with him in the studio and compliment his album's solo productions. This impressive coming together (to be fully revealed over the coming months) features Varoslav (Rue de Plaisance, Paris), Usio (Studio Barnhus), David K (Cocoon), Bolivian percussionist Daniel Aguilar, Italian pianist Giovanni Verga, and Edinburgh-based producer The Reverse Engineer.
Driven by his desire to explore new sound perspectives and ideas, Jona has carefully forged his career path by consistently creating exciting and forward-thinking music. His previous label outings: 'Traffic' on 'Lost Tapes Volume 1' (AEON010) and 'Gemini EP' (AEON016) have seen him fine-tune his own unique sound. By incorporating a wide range of styles into his tracks, Jona strives to break down unnecessary boundaries and explores new ideas and ways to ignite that hallowed dancefloor flame. It is therefore no wonder that his collaborative creations for 'Sidetracking' have yielded such stimulating aural delights.
Fittingly, the album prologue opens with a track whose style is heavily influenced by the jazz music that Jona was so in love with during his formative years. Calling on the somewhat mysterious Usio (whose 'Kuwa Huru' LP on Studio Barnhus should be checked by everyone) to join him in a studio jam, has resulted in 'The Chase', an utterly compelling afro-beat influenced percussive groove, topped with swirling funk-fuelled stabs and strings, mesmerising chiming piano, and a large helping of pure, hip-swinging goodness.
Taking 'The Chase' on an entirely different and yet perfectly complimentary twisted trip, AEON family members Simone Sinatti and Marco Paladin (aka Speaking Minds) conjure up a futuristic technoid disco demon that is all about throbbing energy, sweat, darkness and hissing smoke machines – perfect ingredients for an unforgettable strobelight serenade.
Changing the mood entirely and cutting the tempo to a dublicious skank, 'Transmission Breakdown' sees Jona's experimental creative juices in full flow, as he teams up with Edinburgh-based digital composer and sound artist Dave House (aka The Reverse Engineer) for a delightfully hazy downtempo jam.
Both as an artist and a DJ, Manchester's Marcus Intalex has been at the forefront of soulful, musical drum & bass for what seems like forever. A passion for techno has always run deeply through his music and under his Trevino moniker he is also a powerful creative force (check his recent 'Front' album to get the full picture). Here, he takes 'Transmission Breakdown' on a magical excursion, filled with subtle, hypnotic, evolving energy, anchored with an irresistible pulsating bassline throb – a perfectly synergetic interpretation to round off Jona's 'Sidetracking' album prologue in style.
Further Information:
https://www.facebook.com/jonaofficial/
https://soundcloud.com/jona_music/
http://www.residentadvisor.net/dj/jona
https://www.aeon-audio.com
https://www.facebook.com/aeonaudio
www.twitter.com/aeon_audio
https://soundcloud.com/aeon-audio
https://www.youtube.com/user/AEONAUDIOTV
https://pro.beatport.com/label/aeon/32877