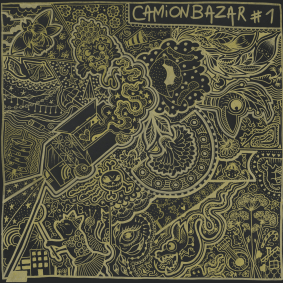 Romain Play - Silent Bloc
Paris DJ and party collective Camion Bazar makes the next natural step by extending their empire to also include a record label. First up is Romain Play, the founding father of the project.
Play is regarded as a 'Prince of the Decks' in his homeland because of his almost live sounding vinyl sets that mix up "drum pads, instruments, Tibetan woods, kitchen pans… anything goes." He has previously released on the likes of Salon Records, has played many times at the legendary Rex as well as other leading Europe clubs, while the Camion Bazar project he co-founded sees a converted transit van that is now a mobile DJ-booth-truck roll up to every conceivable party in France as well as plenty of festivals.
The brilliant opener here is 'Point Mort', a steamy and slow, libidinous and loose offering. It's a downtempo, late night slice of lounging house music to get you in the mood, with one finger bass and dreamy synths leading you into a reverie. Next is 'PO/GO,' a raw and deep house cut with steely hi hats and withering sci-fi synths. It a tension builder that exhibits plenty of freaky synth work and French touch styles to really pump the party.
Last of all comes the masterfully inventive 'Beau Comme un Camion' complete with found sounds of what could be someone opening, entering and firing up the DJ truck. Some superbly loose, funky minimal drums then take you away, laden with samples from horns to vocals, rattling keys to slamming doors. It is very much music that is alive and playful and will get wild reactions.
These are three very different, hugely original tracks that capture the quirky vibe of this party collective in great style.
Tracklist:
1. Point Mort
2. PO/GO
3. Beau Comme un Camion