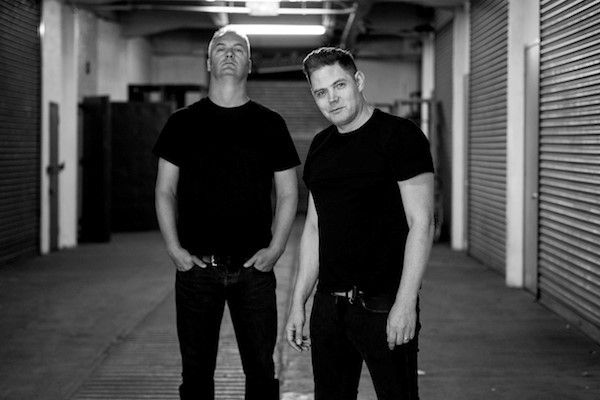 Slam – Reverse Proceed
Electronic music pioneers Slam return to their home base of Soma with their brand new album, 'Reverse Proceed'.

After tireless months in the studio, the Glaswegian duo is ready to unleash what is easily their best body of work to date. Not only does this album capture where the two are at musically at the moment but is an extension of their unending fascination with all things Electronic. Lending their 22 years of experience to this new project, Slam have delved into the past for inspiration whilst simultaneously heralding future technologies in the production process.

'Reverse Proceed' is more than an album; it is a well-defined experience built on the principle of the sequence. Having been meticulously woven together to create a seamless listening environment, 'Reverse Proceed' aims to capture the audience and guide them through the sonic landscape of the album. This method allowed Slam to fully explore the concept of the album being more than just a collection of tracks but rather a thoroughly immersible piece.

With this concept in mind, the album's opening drifts in over the course of several tracks as the malevolent Tokyo Subway opens what is the ambient first third of the album. Tension is built through sweeping pads and dubbed out synths leading perfectly into the more delicate Visual Capture where a sea of field recorded rain splashes over subtle bell tones and dream-state strings. Title track Reverse Proceed begins with intensity as pulsing sub bass fills the void with yet more time induced percussive fluctuations though synthesis, the haunting pads giving more depth to this deep, evolving track. The hardware at the center of the album takes hold now as Cirklon Bells brings a slight edge of melancholy to proceedings. It's natural hang-drum-esq sounds permeate as various layers are perfectly sequenced, breathing life into the track with each touch.

Heavenly pads bring Synchronicity into existence as we hear the first semblance of a 4/4 make its way out of the depths of the ambience. Stuttered percussion and fast paced, filtered synthetic tones give an almost unnatural rhythm whilst holding momentum firmly. A definite step up begins here as Ghosts Of Detroit stamps that typical Slam sound on the album. This ode to the motor city see an almighty melodic upheaval as tones begin to form complete harmonious coexistence and the album sees the shift onto a more dance floor orientated state of being, complete with blueprint style kick-sub bass conformity.

The ethereal interlude of Relevant Question proves to be little rest bite as Pattern A3 stomps in with flourishing modular based sequential tones and sparse, kicking 909 drums, the albums defining heads down Techno moment. Tweeked out, delayed and cerebral, Factory Music continues on perfectly as yet more off kilter sequences makes heads spin with it's subtle use of FX and crisp percussion. The wail of Convolute keeps things in check as discord swells enough to keep you ready for the solid and hypnotic Catacoustics. Dark and brooding it sets the tone for Irritant with its broken beat and roomy percussion riding spaced out, otherworldly forces. The easily recognisable Rotary helps see the album out with its elastic synths and driving rhythms showing Slam's credentials as straight up dance floor killers. As we finally wind down from the journey we are brought into great depths with the sublime Resolved. A fitting title to end to what is the climax of this multi-faceted album.

Slam have always brought new meaning to the world of techno and electronic music over the years and have been instrumental in some of its defining moments over their careers.